These are the descendents of Jesse Hissam's youngest son, Abner, who, though born in West Virginia, moved to Iowa in 1865, at the age of 35. It is the line of my immediate family. Until the researches of the last few years, I never knew there were any other Hissems. The somewhat disorganized, and spelling challenged, lineage below was taken from a photostat of my Grandmother Hissem's Family Bible.
My G-G-Grandfather. Abner was born on 8 January 1830 in Tyler county, [West] Virginia, the youngest son of Jesse Hissam and his first wife, name unknown. I have yet to find an official record of Abner's birth. However, Abner's own recollections were probably reflected in the history below.
Abner's grandfather, David, originally from Northampton county, in northeastern Pennsylvania, had brought his family, including Jesse, out to Westmoreland county, just east of Pittsburgh, in about 1807. Then, just after the 1810 census, they went down the Ohio river to Tyler county.
In the 1830 census of Tyler county, Virginia there was a listing for Abner's grandfather, David Hisam. In the household was one man, aged 60-70 years old, probably David, one woman, twenty to thirty years old, who was perhaps an unmarried daughter, and a woman, aged between 50 and 60 years old, who may have been David's wife, Elizabeth. While there is a separate listing in the census for Abner's uncles Thomas, James, and David, the latter two across the Ohio river in Monroe county, Ohio, I have not found one for Abner's father, Jesse.
In the 1840 census of Tyler county [no township specified], Virginia, Abner's father, Jessee [sic] Hissem, had three sons; 1 born between 1810 and 1820, Levi, and 2 born between 1825 and 1830, Thomas and Abner. The surname can be read as either Hissam or Hissem. They were living next to John G. Morgan, whose daughter married Jesse's eldest son, Levi.
In the 1850 census of District 61, Tyler county, Virginia as Abner Hissam, a 20 year old farmer, born in Virginia. He was still living at home with his parents, and his sister Eleanor.
In the fall of 1850, that is just after the census above was taken, Abner, still a bachelor, moved to Meigs county, Ohio. This is down, and across, the Ohio river from Tyler county. Abner's father, Jesse, also moved to Meigs county. Abner's brother, Thomas, settled just across the river, in Mason county, Virginia. I don't know when these latter moves occurred, my only evidence is the 1860 census, but it was probably at the same time Abner moved.
Abner Hissam married Serena Sayre, of Meigs county, the daughter of Robert and Martha Sayre, on 26 February 1852.
Banta uses the Hissom spelling for Abner and indicates that the couple left no children, but per the above they had a surviving daughter, though I differ as to her real given name. See the Heysham-Sayre Family page for another, earlier connection with the same Sayre family. After their marriage the couple lived in Letart Township, Apple Grove post office, in the southeast corner of the state.
In the 1860 census of Apple Grove, Letart township, Meigs county, Ohio as Abner Hissam, a 30 year old farmer, born in Virginia. Living with him were his wife, Serena, 37, and Thomas, 7, both born in Ohio. Serena's parents were near-neighbors. Abner had real property worth $2,500 and personal property worth $200. At this time Abner's father, Jesse, had also moved to Meigs county, living east of Abner, just beyond Great Bend, in the map below.
Abner's wife, Serena, died on 9 April 1861 in Ohio of unknown causes.
Abner then married Caroline Walker on 24 April 1862.
Tanner's Run is a river (creek?) that empties into the Ohio river. The creek is northeast of Letart township. A web post by a canoe enthusiast, James DiNardo, states,
The one great event of the Civil War for Meigs county, and the only significant engagement fought in Ohio, was the Battle of Buffington Island, on 19 July 1863. Union forces had been chasing Confederate General John Hunt Morgan. He had been raiding through Indiana and into Ohio, hoping to divert forces from the Union advance into Tennessee. After a series of running skirmishes across the width of southern Ohio, Union forces caught up with Morgan at Portland, Ohio, northeast of Tanner's Run. Morgan sought to cross the Ohio river at this point, but was stopped by three Federal gunboats. Confederate forces were surronded by Union cavalry resulting in a Confederate rout. Morgan escaped with 700 men, but was forced to surrender seven days later after the Battle of Salineville. The raid had been of little military value, but spread terror among the population of southern and eastern Ohio.
Abner owned and operated a sawmill in 1863 and through 1864, probably on Tanner's Run.
In the spring of 1865 Abner followed his older brother, Thomas, and moved his family to Van Buren county, Iowa, where they settled near the community of Doud's Station, on the Des Moines river.
Abner's sister Eleanor also appears to have come along to Iowa, making a real caravan with the Nicklins, as well as Caroline's siblings, Vincent & Melissa Walker. I think the Gorrells may also have come along, though I haven't been able to prove this. I believe their surname was the source of my uncle Garrell Hissem's given name [grandma was always a poor speller].
Abner and Caroline settled on a farm in Chequest township, on the western edge of Van Buren county, with a mailing address at the Doud's Station post office. Douds is on the Des Moines river, in the northwest of the county. A son, Arthur, was born early in 1866.
Below are the plat maps for Village and Chequest townships. The town of Leando was shown at this time as Portland.
The families of Thomas and Abner Hissem settled just southwest of Leando, across the river from Douds Station, and had mailing addresses at the Doud's Station Post Office. There is a Hissem-Haney cemetery in Section 5, Chequest township, southwest of Leando, on 167th road, between Acorn and Bethel Rock, which approximates the location of Abner's farm. However, while there is one Haney buried there [see below], none of the identified burials are for Hissems. Tombstones cost money, so this isn't really surprising. There are four Hissem's of the Thomas Hissem line buried in the nearby Leando cemetery.
On the map above, Abner's farm was west of the building shown in Section 5, on both sides of the diagonal road. The farm of his brother, Thomas, was at the southeast end of the diagonal road, just where it turns south.
Note that in the plains states, which included Iowa, the government surveyed a six mile square as a "township" which was then broken into 36 one-mile squares, called "sections." The sections were numbered 1 to 36, starting at the northeast corner. Section 5 would have been on the top row near the northwest corner. A new farmer applied to homestead a quarter section, or a 1/2 mile by 1/2 mile square of 160 acres. An additional 80 acres, an eighth of a section, was added if the farmer promised to plant 80 acres in trees, or refrain from cutting that amount of woodland. The approximately 100 farmers who comprised a township elected a board to determine policy on schools, roads, bridges, etc.
In the 1870 census for Chequest township, Van Buren county, Iowa as Abner Hissam [Hissons in Ancestry.com], a 40 year old farmer, of West Virginia. He had 240 acres of land, valued at $4,800 and personal property valued at $1,163. Living with him were his wife, Caroline, 38, of Ohio, and children, Martha J., 9, who was attending school, and Arthur W. 4. Martha was born in Ohio and Arthur in Iowa. A George W. Harrington, 21, also lived with them. I assume he was a hired hand. Vincent Walker, Caroline's brother, was his next neighbor. The James H. Cresswell family was listed just previous to Abner. Arthur's first wife was a Jessie Cresswell.
In the 1875 plat for Chesquest township we find A. Hissom with a 200 acre farm in sections 5 & 8, below. I believe the J. Lee, just west of Abner's place, was John Lee, the husband of Abner's elder sister, Eleanor. I don't see the farm of Abner's brother, Thomas, which, in 1897, was in section 9, where Thomas Haney's is depicted. Just below Abner's farm see a 40 acre plot for V. Walker. This was Vincent Walker, the elder brother of Caroline Walker.
In the 1880 census of Chequest township as Abner Hissem [Hisseur at Ancestry.com], a 50 year old farmer, of West Virginia. Living with him were his wife, Caroline, 47, of Ohio, and son, Arthur W., 14, of Iowa, who worked on the farm. Abner's parents were both shown to be of Pennsylvania.
In the 1885 state census of Chequest township as Abner Hissem, 54, of West Virginia. Living with him were his wife, Caroline, 52, of Ohio, and his son, Arthur, 18, of Iowa.
In the 1895 state census of Chequest township as Abner Hissem, 65, of West Virginia. Living with him was his wife, Caroline [Croline in Ancestry.com], 62, of Ohio. Arthur had moved out by this time.
In a plat map of Chequest township dated 1897 Abner Hissem is shown with two properties in Sections 5 & 8, one of 80 acres south of the diagonal road, and one of 200 acres north of it. The Free Methodist Church was just east of his property. Thomas Hissem and his son, J.T., had their farms at the far end of the diagonal road, where it turned south. The school on Abner's farm was probably the "Hissem school" my father used to refer to. Just west of Abner's farm was that of Eleanor Lee, his widowed sister.
In the 1900 census of Chequest as Abner Hissem, a 70 year old [January 1830] farmer, of West Virginia. He owned his farm and house free of mortgage. Living with him was his wife, Caroline, 67 [June 1832]. They had been married 39 years and had one child together [Arthur]. Abner could read and write, as could his wife. Also living with him was his sister-in-law, Emaline Church, 74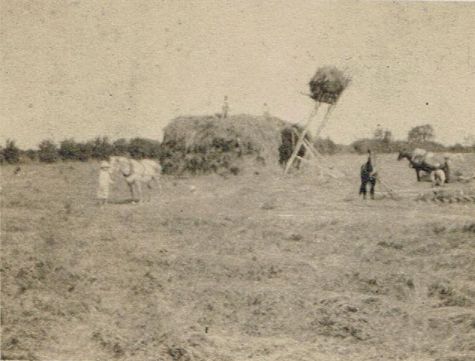 [November 1825]. Emeline was Caroline's older sister. She had married William Church, of Rutland, Ohio. When he died there she moved to Iowa. She had no children. Abner's parents were both shown to be of Pennsylvania.
At left is the Hissem farm at haying time, year unknownn.
"Mr. Hawbaker delivered and set out a fine large orchard of selected fruit trees for Abner Hissem this week." - from the "Ottumwa Semi-Weekly Courier" of 17 April 1902.
In the 1905 state census of Chequest township, Van Buren county as Abner and Caroline Hissem, of Douds-Leando, Chequest township, Van Buren county, Iowa. I believe Caroline's sister, Emeline Walker Church, was living with them. The Plowmans and Nicklins were on the same page.
In the 1910 census Of Village township, Van Buren county as Abner Hissem, 80 years old, of Virginia, and living on his "own income." Living with him was his wife, Caroline, 77. Abner's father was shown as born in Virginia [sic] and his mother in Germany.
Caroline died on 15 August 1912 in Leando, Iowa, 9 years before her husband.
In the 1915 state census of Chequest township as Abner Hissem, 85, a retired farmer, and widower, of Virginia. He had lived in Iowa for 50 years. He had six years of education. His father was from Pennsylvania [Jesse] and his mother [name unknown] was from Germany. Weldon G. Hissem, his brother's grandson, signed the form.
The plat map of Chequest township for 1918, below, shows that Abner's son, A. W. Hissem [Arthur], now had the 80 acre farm south of the diagonal road, in Sections 5 & 8. The 200 acre farm Abner had owned north of the road was now owned by Dudley Nicklin, Abner's grandson, and Dudley's sons, D.C. and C.V. Nicklin. Note that Abner was living with D.C. in 1920. A church and a school were also included in Section 5; the school on the north end of AW's farm and the church just east of it. J.T. Hissem and George Hissem, AW's cousins, had their farms at the far end of the diagonal road, where it turns south.
In the 1920 Census for Chequest Township as Abner Hissem, 90 years old widower and living on his "own income," of West Virginia. The census said that his father was born in England [sic] and his mother in Germany. He was living in the household of Dudley C. Nicklin, his grandson, the offspring of Martha (Serena) Hissem and Lloyd Nicklin. Dudley had a farm in Section 5 of Chequest township, just north of Arthur Hissem's place.
A son of Serena Sayre, he was born in about 1853 in Ohio. He died between 1860 and 1870, perhaps in 1861 with his mother.
A daughter of Serena Sayre, she was born on 3 January 1861, in Meigs county, Ohio. She was referred to as Jennie Hisson in a tax report for one of her sons. In the 1870 census for Chequest township, Van Buren county, Iowa as Martha J. Hissam [Hissons in Ancestry.com], 9, born in Ohio.
I think she assumed her mother's name of Serena in honor of the woman she never knew. Other researchers claim there was a daughter, Serena, born in 1852, but I've been unable to find anything official about her prior to her marriage. There was no daughter of that name in the 1860 or 1870 census. When the name Serena does show up, in the 1880 census with her husband, she was only 19 years old.
From the Van Buren county marriage records: Serrena Hissem married Lloyd Alonzo Nicklin on 5 October 1877 in Van Buren county, Iowa.
Lloyd was born on 16 February 1856 in West Virginia. He was the son of William V. Nicklin and Elizabeth Smith, who were neighbors of the Hissam's. In the 1850 census of District 61, Tyler county, West Virgina as William Nickllin, 19. He was living with his father, Samuel, 51. In the 1860 census of Tyler county as William Nicklin, a 30 year old farmer. Living with him was his wife, Elizabeth, 28, and a son, Lloyd, 5. I have the following from another researcher on Familysearch.org, Rebecca Rasmussen Smith.
The William Nicklin family moved west to Iowa just as Abner had done. In the 1870 census of Salt Creek, Davis county, Iowa as William Nicklin. Living with him was his wife, Elizabeth, and son, Loyd, 14. Davis is the next county west from Van Buren.
In the 1880 census of Chequest township, Van Buren county as Lloyd Nicklin, a 24 year old farmer. He was living in the home of Oloff Friborg, a 63 year old farmer. Living with Lloyd were his wife, Serena J., 19, and a son, Dudly C., 6/12.
L.A. Nicklin had a farm in Section 19 of Village township, just north of his father-in-law, Abner - from the 1897 Plat Book of Van Buren county.
Serena died on 15 February 1899. Lloyd Nicklin lived as a widower in Village townhsip, Van Buren county for many years, but by 1920 he had married a Fanny M.
In 1910, however, his eldest son, Dudley C. Nicklin, had moved into Chequest township and set up his own home with his wife, Blanche.
In the 1920 Census for Chequest Township as Dudley C. Nicklin, 40. Living with him were his wife, Blanche D., 36, and his grandfather, Abner Hissem [Hasen in Ancestry.com], 90.
In 1934 the Iowa General Assembley passed a law creating an Old Age Assistance Commission to oversee the care of the State's needy aged; assistance was to be provided to indigent applicants over the age of 65. A tax of $1 a head, the first year, and $2 a head annually thereafter was collected from all persons over the age of 21 to fund this aid. The names of those to be taxed included:
Lloyd died on 14 September 1935. He and Serena were buried in the Troy cemetery, Davis county, Iowa.


The only child of Abner Hissem and Caroline Walker, he was born on 24 January 1866 in Van Buren county, Iowa. His last name was spelled Hissim in the LDS library. In the 1870 census for Chequest township, Van Buren county, Iowa as Arthur W. Hissam [Hissons in Ancestry.com], 4, born in Iowa. In the 1880 census of Chequest township as Arthur W. Hissem [Hisseur at Ancestry.com], 14, who "worked on the farm." Below is an advertisement for farm implements available in 1885 that give a feel for what 'working on the farm' might have been like.
In the 1885 state census of Chequest as Arthur Hissem, 18, still living with his parents.
According to a source on the genealogy of the Sayre Family (Banta), Arthur was married twice, and the 1910 census agrees, but until now I hadn't been able to find any confirmation. I've now found a reference to the marriage of Arthur Hissom, aged 22, the son of Abner Hissom and Caroline Walker, and Jessie Cresswell [Crisswell], 21, the daughter of William Cresswell and Mary A. Machuos, on 20 October 1888 in Van Buren county, Iowa - from "Iowa, County Marriages, 1838-1934." Jessie was born in about 1867. I don't see her in any other records.
In the 1875 plat there was a farm near that of Abner Hissam's owned by Minter & Crisswell, in the same section, and another by a J. Cresswell, in the adjoining section 7. In the 1880 census the latter appears to be J.H. Criswell. I think this was John Creswell, a son of Matthew O. Creswell, born circa 1848. He had a brother, Willis, born circa 1853.
Jessie died just six months after her marriage. In the Troy cemetery, Davis county, Iowa, just east of Chequest township, there is a tombstone, pictured to the right, for a Jessie C. Hissem, wife of A.W., who died on 17 April 1889 at the age of 23. Jessie and Arthur had no children.
Two years later Arthur W. Hissen [Hissun], 25, married Tillie [Elizabeth] Haney, 22, on 8 April 1891 in Van Buren county, Iowa - from "Iowa Marriages, 1809-1992." Tillie Haney was born on 23 October 1868. Tillie's parents were Francis Marion Haney and Sarah Ann (Sally) Lanman. The Haney's owned a farm in close proximity to the Hissem farm in Iowa. Tillie's father, Francis Marion, and brothers, James T. [shown as I.T. on the map], William E. and Zadok Haney, had farms in Section 6 of Chequest township, just northwest of Arthur's place.
Arthur Hissem owned a farm in Section 12, Union township, Davis county, Iowa - from the 1891 Plat Book. This was just across the border with Chequest township, and almost due west, from where his father, Abner, still lived and farmed. When my father talked about my grandfather, Leo, the son of Arthur, he often talked about two large farms that he owned. He may have been referring to the farms of Abner and Arthur, that he inherited.
In the 1895 state census of Troy, Union township, Davis county as Arthur Hissem [Hissner in Ancestry.com], 28. Living with him were his wife, Tillie, 26, and his son, Leo, 3. Union township is just west of Chequest township. Troy is the near town, just south of Arthur's farm. The Troy cemetery contains the tombstones of Arrila Hissem, Nellie M. Hissem, and Thomas Hissem.
In the 1900 census of Union township, Davis county, Iowa as Arthur W. Hissem, a 34 year old farmer. Living with him were his wife, Tille E., 30 [October 1869], and son, Leo, 8 [December 1891]. Arthur and Tillie had been married for 9 years.
In 1902 Arthur was referred to as "of Oak Hill," - from the "Ottumwa Semi-Weekly Courier" of 25 December 1902. Oak Hill, in Van Buren county, refers to,
This is 15 miles east of Milton. This seems pretty far from his Davis county farm, but I don't see an Oak Hill in that county.

Bloomfield. "Arthur Hissem, of Union township, transacted business Tuesday in this place." - from the Ottumwa Daily Courier of 11 February 1903.

In the 1905 state census of Union township, Troy post office, Davis county, Iowa as A. W. Hissem, a 39 year old farmer. Living with him were his wife, Mrs. A. W. Hissem, and children, Leo W. and Gladys.

In the 1910 census of Union township as Arthur W. Hissem, a 44 year old farmer. Living with him were his wife, Tillie E., 41, and children, Leo W., an 18 year old farm laborer, and Gladdis O., 7. This was Arthur's second marriage, but Tillie's first. They had been married for 19 years.

In a plat map of Union township in 1912 Arthur Hissem's farm of 140 acres is shown in Section 12. This is north of Troy, on the far east border of the township. In a plat map of 1918, A.W. Hissem is shown with 80 acres in Section 5 & 8 of Chequest township, directly to the east, his father's old place. My father said his father, Arthur's son Leo, had two large farms. Did he mean these two?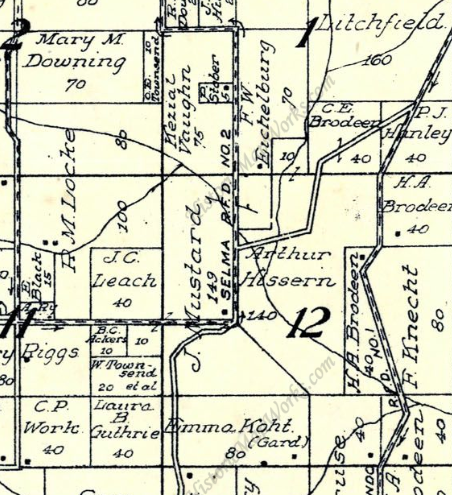 In January 1914 Arthur retired from farming, according to both his obituary and death certificate. He moved to Leando, Iowa where his father's farm was located. Note the plat of 1918, below, where his name, was well as those his aunt's family of the Nicklins, take the place of Abner Hissem. I think this means that Arthur had inherited ownership of this portion, but did not farm it. He probably leased it to someone else to farm, perhaps the Nicklins. This was also the case I presume for his Davis county property since I know from my father that this was still in the family circa 1948.
In the 1915 state census of Douds Leando, Village township, Van Buren county as Arthur Hissem, 49, of Iowa. Apparently Arthur had moved back to the family farm of his father. By 1915 Arthur's mother had died and his father, Abner, now listed himself as retired. Arthur also was retired. Was his son Leo, 23, now running the farm? Arthur's house and farm were valued at $1200. He had 7 years of schooling. This reminds me of the scene in the movie "I Remember Mama" where the mother, Irene Dunne, excitedly realizes that her son can actually go to "High," as in high school. This was an accomplishment that most people, certainly for those that were poor or rural, could not hope for. Also listed was Tillie Hissem, 46. She also had 7 years of schooling. Her father was from Iowa and her mother was from Indiana.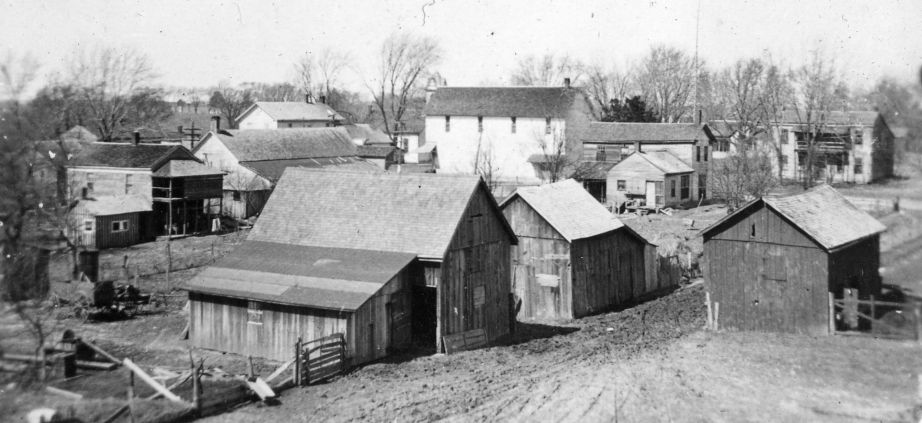 Troy, Iowa circa 1918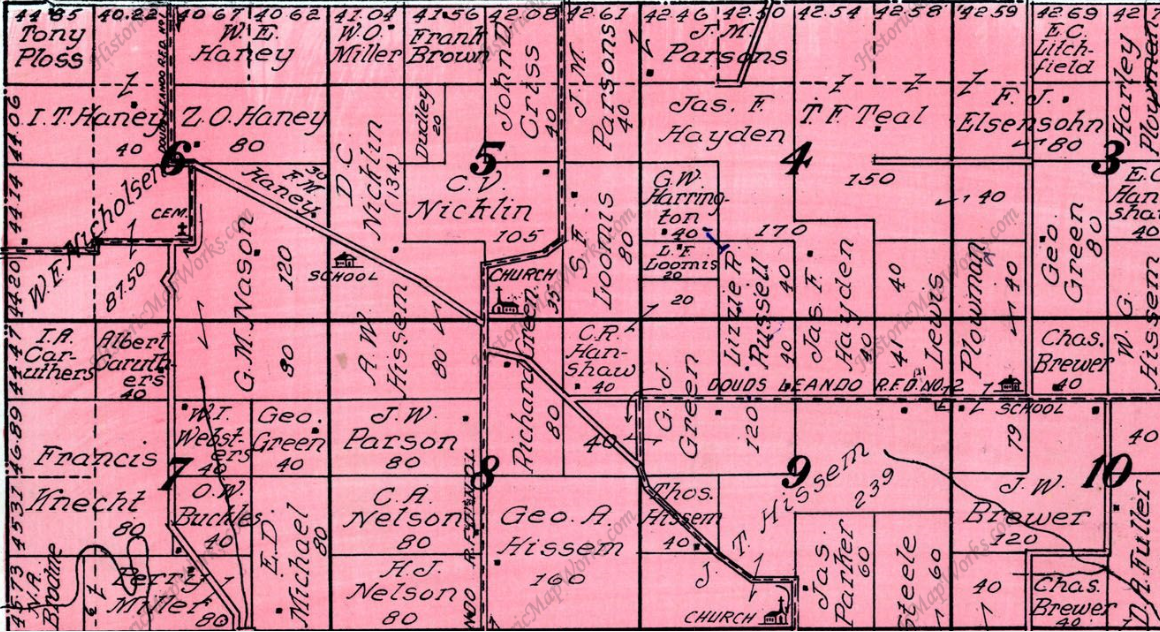 In the 1920 census of Village township, Van Buren county as Arthur [Arther in Ancestry.com] Hissem, a 53 year old without occupation. Had he been so successful as a farmer that he retired to live on his rents? Living with him were his wife, Tillie, 51, and children, Leo, 28, and Gladys, 17.
In the 1925 state census of Village township, Van Buren county as Arthur Hissem, 59. He and Tillie, 56, were living "next door" to their son-in-law, Leslie Boekhoff, 22, and their daughter, Gladys, 22. Arthur had 5 [sic] years of schooling and Tillie 7.
Tillie died on 11 January 1927 in Iowa.
In the 1930 census of Chequest township, Van Buren county, Iowa as Arthur W. Hissem, a 64 year old widower. He was living with his daughter Gladys and her husband, Leslie J. Boekleff. His father was from West Virginia and his mother from Ohio.
In 1934 the Iowa General Assembley passed a law creating an Old Age Assistance Commission to oversee the care of the State's needy aged; assistance was to be provided to indigent applicants over the age of 65. A tax of $1 a head, the first year, and $2 a head annually thereafter was collected from all persons over the age of 21 to fund this aid. The names of those to be taxed included:
Taxpayer: Hissem, Arthur W. Birthplace: Van Buren Co. Birthdate: 1863 Jan 24. Father: Hissem, Abner. Mother: Walker, Sarah. Residence: Cheq
Sarah? I though his mother's name was Caroline Walker?

Arthur Walker Hissem, 70, the son of Abner Hissem of Virginia and Caroline Walker of Ohio, widowed of Tillie Elizabeth Hissem, died of nephritis and heart disease on 17 June 1936 in Village township, Van Buren county, Iowa. This was the home of his daughter, Mrs. Gladys Boekhoff. He had lived with her for only 2 months and 7 days, indicating that he moved there to die. He had been born on 24 January 1866 in Selma, Iowa. He was a retired farmer who, interestingly, had not worked at farming since January 1914. He was buried in Troy on 19 June 1936. Glady Boekhoff was the informant for the death certificate.

My father remembers the "death watch" maintained by the family around the old man's bed; he was 12 years old at the time. Arthur's obituary.
"Arthur W. Hissem

He married Jessie Criswell in 1887 who died a short time later. April 8, 1891 he was united in marriage with Tillie Elizabeth Haney. They were the parents of two children, Leo W., who now resides in Milton, and Gladys Boekhoff of Selma.

In the year 1891 he moved to Davis County where he lived until 1914 when he returned to Van Buren County, living at Leando.

He is survived by his son, Leo W. and daughter, Gladys; five grandchildren and numerous other relatives.

Funeral services were held at the M.E. church in Troy Friday afternoon in charge of the Rev. Charles Fix of Pulaski. Interment was in the Troy cemetery." - from the Van Buren Co. Genealogical Society Obituary Book D, Page 35, Keosauqua Public Library, Keosauqua, IA
Arthur was buried in the Troy Cemetery, Troy, Union township, Davis county, Iowa, next to his wife, Tillie. Also buried in the Troy cemetery were Arthur's uncle Thomas and Aunt Arvilla Hissem, and their son Jessie.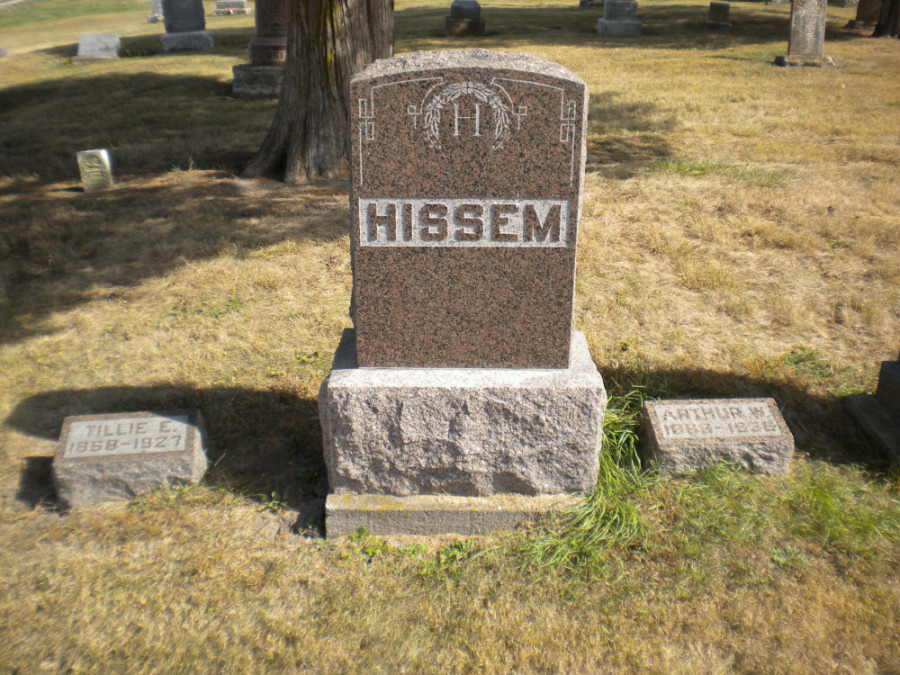 Their children were,
(25) Leo Worth Hissem (1891)
(25) Gladys Opal Hissem (1902)
Historical Timeline: The New Century

The Progressive Politics of the 19th century reached their goals in improving life for the common man. Restrictions on child labor, anti-monopoly legislation, food and drug safety, and pro-union policies acted to humanize and control capitalism. The allure of radical reforms, such as socialism and communism, which racked Europe are significantly reduced.

- 1903 First successful flight by the Wright Brothers at Kitty Hawk, North Carolina.
- 1907 Theodore Roosevelt sent 16 Navy battleships, the "Great White Fleet," around the world announcing American power. The ships were painted white to show their non-belligerence.
- 1908 Ford developed the first Model T.
(25) Leo Worth Hissem (1891)
(15) Raphe Hesome (c1550)
(16) William Hesome (c1577)
(17) George Hesom (c1600)
(18) John Heesom (1650)
(19) Unknown Heesom (c1687)
(20) Thomas Hesom/Hissom/Heysham (c1720)
(21) David Heysham/Hissam (1762)
(22) Jesse Hissam (1795)
(23) Abner Hissam (1830)
(24) Arthur W. Hissem (1866)
My grandfather. A yet unnamed child, the son of Arthur Hissam, 25, and Tillie Haney, 23, was born on 21 December 1891 in Union townnship, Davis county, Iowa. In the 1895 state census of Troy and Union townships, Davis county as Leo Hissem [Hissner in Ancestry.com], 3. In the 1900 census of Union township, Davis county, Iowa as Leo Hissem, 8 [December 1891]. In the 1905 state census of Troy township, Davis county, Iowa as Leo W. Hissem. In the 1910 census of Union township, Davis county as Leo W. Hissem, an 18 year old farm laborer, still living with his parents.
Leo was involved in a tragic accident.
"SAD ACCIDENT NEAR TROY

Young Man Fatally Injured By Falling Tree.

LADY KILLED BY FALL

Mrs. Simpkins of Near Stockport Falls Down Flight of Stairs-Funeral Yesterday.

Paul Work, son of C.P. Work and nephew of Attorney Work of Ottumwa, was almost instantly killed about 3 1/2 miles north of Troy, Davis county, Saturday, while chopping in the timber.

Leo Hissem was felling trees and Paul Work and his father were splitting the wood. A tree cut down by Hissem fell in a different direction, on account of the high wind, from what was expected, coming down with terrible force upon the young man, breaking his neck, his jaw, and his leg in several places and also crushing his skull. He lived only a few minutes after the accident. His father was also struck and knocked down, but was not seriously injured.

Paul was 18 years of age and was esteemed by all who knew him. He leaves a father, mother and two sisters, Mrs. Mary Townsend of Milton and Mrs. Blanche Brewer of Stiles, Ia. C.P. Work, the father, is a brother of Attorney W.A. Work of Ottumwa and also had a brother at Birmingham, where he visited last week.

The funeral was held at the Troy Presbyterian church Sunday at 2 p.m., it being conducted by Rev. Jas. Wilson and attended by a large concourse of sympathizing friends." - from the Van Buren Co. Genealogical Society Obituary Book D, Page 73, Keosauqua Public Library, Keosauqua, IA
In January 1914 Leo's father, Arthur W. Hissem, retired from farming and moved to Leando, Van Buren county, Iowa. I suspect that Leo took over his father's farm at this time. He was 22 years old.
In the 1915 state census of Douds Leando, Village township, Van Buren county as Leo Hissem, a 23 year old farm laborer. He had 7 years of schooling.
Leo W. Hissem, a natural born citizen aged 25, registered for the draft on 5 June 1917. He had been born on 21 December 1891 at R.R. #1, Troy, [Davis county] Iowa. This was were his father's farm was located. Leo was a farmer working for Wm. Wagner, of Ankeny, Iowa. Since Ankeny is north of Des Moines, I'm assuming Mr. Wagner was an absentee landlord. Leo was living in Douds Leando, Iowa. He was described as single, of medium height and build, with blue eyes and brown hair.
Leo Hissem enlisted in the Army on 20 September 1917 in Keosauqua, aged 25. His cousin, Weldon, enlisted on the same day. Cousin Earl beat them both, enlisting on 15 August.
Historical Timeline: The 1910's

World War I marked the end of the Progressive Era of politics in America.

- 1910 Boy Scouts of America were founded.
- 1914 the assassination of Archduke Francis Ferdinand, heir to the throne of the Austro-Hungarian Empire, set off World War I in Europe.
- 1917 Germany's policy of unrestricted submarine warfare forced America's entry into World War I on the side of the Allies.
- 1918 Germany surrendered, ending World War I.
- 1919 the Red Scare gripped America.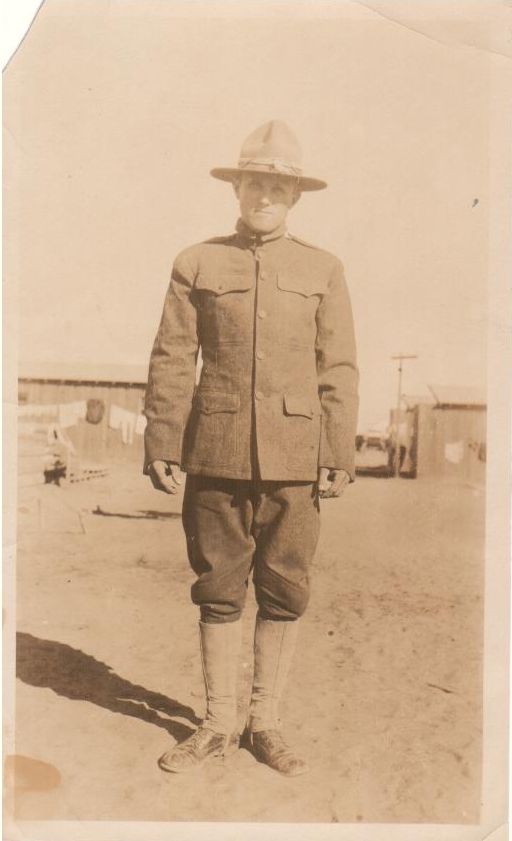 Private Leo W. Hissem was in the Rainbow Division. My Dad remembers him mentioning Douglas MacArthur, their commanding officer when he was still a promising Colonel, but more often referred to General 'Black Jack' Pershing, the head of all American forces in Europe. By the way, the nickname 'Black Jack' came from a period when a young Pershing was placed in charge of a 'negro' battalion. Dad also mentioned that he knew his Father had fought in the battles of the Argonne Forest.
The Rainbow Division & Douglas MacArthur in World War I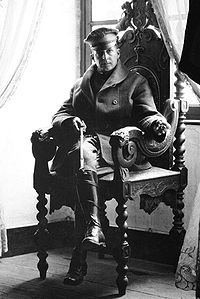 The first U.S. combat division to arrive in France in World War I, it participated in six major campaigns including the second battle of the Marne, the counteroffensive at the Château-Thierry salient where Rainbow's poet, Joyce Kilmer was killed, and spearheaded attacks at Saint-Mihiel and in the Meuse-Argonne sector. On 14 July 1918 the final German offensive was contained by the 4th French Army, in which the Rainbow Division played a prominent role at the famous Battle of the Champagne.
As the war progressed Douglas MacArthur was promoted to commander of the 84th Brigade and finally to commander of the Rainbow Division. Its four infantry regiments were respectively the 165th (formerly New York's 69th); the 166th (formerly Ohio's 4th); the 167th (formerly Alabama's 4th); and the 168th (formerly Iowa's 3rd). The field artillery, machine gun, ambulance, hospital, and other units originated in other states from the Atlantic to the Pacific.
History of the Iowa Third Infantry Regiment

In 1898 America entered the Spanish-American war and a call for volunteers was made. On 26 April Iowa's guardsmen were called up and on 30 May they ceased being state troops and entered into Federal Service as the 51st Iowa Volunteers [see the Hysham family for a member of this group, Verni Hysham]. On 2 November 1899 Iowa accepted them back into state duty as the Third Iowa Regiment of Infantry.

In June 1916 war with Mexico was at hand and the call to arms came again. The Third served nine months in the protection of the southern border against the ravages of Pancho Villa. This campaign was led by a young Pershing. Early in 1917 the regiment returned to its home state, but the country was already drifting towards war in Europe.

On 6 April when America declared war upon Germany, the officers of the National Guard of Iowa at once began the work of getting their units ready for the part they would be called upon to play. On 5 August they were formally drafted by a proclamation of the President into the federal service. The Regiment was enlarged to 3,705 men and entered national service as the 168th Infantry. Eventually they would become a part of what became known as the Rainbow Division.

The Iowa National Guard Third Infantry regiment was made up of fifteen companies under the command of Colonel Ernest R. Bennett, Headquarters Company, Des Moines, Polk County. Other companies included:

Supply Company, Des Moines, Polk County
Machine Gun Company, Des Moines, Polk County
Company A, Winterset, Madison County
Company B, Des Moines, Polk County
Company C, Creston, Union County
Company D, Centerville, Appanoose County
Company E, Shenandoah, Page County
Company F, Red Oak, Montgomery county
Company G, Ottumwa, Wapello County
Company H, Oskaloosa, Mahaska County
Company I, Glenwood, Mills County
Company K, Corning, Adams County
Company L, Council Bluffs, Pottawattamie County
Company M, Red Oak, Montgomery county
Sanitary Detachment, Des Moines, Polk County
The 42nd "Rainbow" Division

The 42nd Division was formed in August 1917 of National Guard units from 26 states and the District of Columbia. It was organized, that is trained, in September 1917 at Camp Mills on Long Island, New York. After the Chief of Staff, Major Douglas MacArthur, remarked that the Division "would stretch over the whole country like a rainbow," the coalesced national guard units were christened the "Rainbow Division." MacArthur had the gift of turning a phrase even back then.
After training the Division departed from Hoboken, New Jersey for St. Nazaire, France, arriving in November 1917. In France, the first home for the majority of the 42nd was the Vaucouleuers Area. This was behind the lines, but close enough for artillery shells to be heard in the distance. The men were intrigued by the fact that Joan of Arc was born in the valleys surrounding them and stories of Joan of Arc's mission inspired much discussion around the camp.
On 11 December the 42nd was ordered to the La Fauche Area for two weeks for route marching and target practice. During the week of Christmas the Division was ordered to march for Chaumont, in the Rolampart Area. The march was to begin on the day after Christmas. Unfortunately heavy snow began to fall and by Christmas Day the area was blanketed in deep snow. The temperatures continued to drop until they reached below zero. Even though the area was engulfed in a blinding snow on December 26, the march commenced on time.
On 31 December the men arrived at their new training area in Chaumont. The men had marched over 100 miles through knee-deep snow and on ice-slicked roads. Many compared the march to General George Washington's troops' winter stay at Valley Forge during the Revolutionary War. Although they endured many trials, by the end of the march a deep bond existed between the men that would outlast the war.
The Chaumont Area remained the home of the 42nd Division for the next six weeks. The intensity of the training was very demanding on the ranks of the division, however, the men endured all hardships because they knew that they would soon be entering combat. The Rainbow trained in all aspects of trench warfare under the 32nd French Regiment. From Chaumont, the 42nd rode the train to their final training destination on the front in Lorraine. The 42nd was never behind the lines again for the duration of the war.
In Lorraine, the 42nd began to experience its first direct contact with German forces under the tutelage of the VIIth French Army Corps. The Lorraine area had been relatively quiet for the previous years, but with the addition of the presence of the 42nd the action increased. The 42nd's artillery began to bombard the German forces in the area. The Germans were not pleased with the increase in activity in the area and responded with two very brutal retaliation attacks against the Americans and the French.
On the night of 2-3 March the Germans attacked. Shortly after midnight the Germans began the bombardment. After six hours of shelling the enemy's infantry attacked at dawn. The 168th Infantry had been hit hard by the shells. Many lay dead or wounded. However the regiment, despite the destruction inflicted upon it, held its ground and the Germans never entered the 168th's trenches. On that night the 168th began a string of successful defenses by the 42nd Infantry Division. Throughout the duration of the war the Germans were never able to penetrate the 42nd's lines. In the second attack, the Germans included shells filled with mustard gas in their bombardment, however, the 168th Regiment withheld this onslaught as well.
Germany's Last Offensives

By the winter of 1917-1918 the German people were sick of war. Strikes erupted at a number of large factories in December and in January almost half a million worked engaged in a stop-work in Berlin's metals industry.

General Ludendorf, who was then running way, responded by demanding solidarity on the home front and planning a major offensive to knock the French out of the war before American troops could make their presence felt. The Russians were finally out of the war and 100,000's of German troops were on their way France. Plan Michael, as it was known, began on 21 March 1918 with an all-out attack on the British line. Ludendorf hoped to create a split between the British and French positions through which the Germans armies could pour.

A gap did develop. Anxious to improve coordination with the French in order to contain the situation, the British agreed to make General Foch the supreme command of all forces in France. The United States troops were already beginning to arrive in significant numbers and their commander, General Pershing, volunteered Americans to fill the gap. The French were pleased, especially France's premier, Clemenceau, and General Foch. Britain's press was ecstatic, while the British commander-in-chief in France, Douglas Haig, dismissed the Americans, claiming they were a lot of untrained rabble and would be of little help.
The 42nd "Rainbow" Division

On 27 March 1918 the 42nd was given orders to march back to the Rolampart Area. However, the orders were withdrawn as fast as they were given. Instead, the 42nd Infantry Division was instructed to stay in the Lorraine Area and take over its own sector. On 28 March, as the 42nd took over the Baccarat Sector, a rainbow appeared over the skies. The men of the Division believed it was their destiny to have good luck in the area.
Germany's Last Offensives

Plan Michael was complete by 5 April. The Germans had taken almost 90,000 British prisoners and had inflicted 164,000 casualties on the British and 70,000 casualties on the French. The Germans had captured an enormous amount of men and material, and at points, they had pushed the Allies back as far as forty miles. However, the Germans had suffered enormous casualties as well and their momentum was spent. Much of the blame goes to Ludendorf who had neglected the use of tanks and had not reinforced the break-through effectively when it occurred.

The Germans struck again on 9 April at another point on the line and pushed the Allies back again. And yet again suffered as many casualties as his foes. The French, British and German armies were all plagued with low morale, it was only a question of who broke first.
The 42nd "Rainbow" Division

By the middle of April the Germans had lowered their military activity in the sector. In place of active warfare, the 42nd was required by the French command to complete many reconnaissance missions to acquire intelligence about the Germans. The soldiers of the 42nd observed that the Germans evacuated their lines during the day and reoccupied them at night. The fighting between the two forces became almost repetitive. The Americans would lead day raids against the Germans. The Germans would retaliate at night against the Americans. In early May the Germans surprised the Americans with a huge gas strike. The 168th Infantry lost almost 100 men in this assault.
Germany's Last Offensives

Ludendorf, still believing the American's were not yet ready to fight, began his next offensive, Plan Hagen, on 27 May. Once again the German's made gains and by the end of the month lead elements were within 39 miles of Paris when the offensive petered out. The Germans had made three bloody assaults, exhausted themselves, and been left with an extended front making them more vulnerable than they had been in the beginning.

The American army, trained, rested and ready to fight, entered the war in force on 9 June, attacking the tip of the last German assault at Belleau Wood. The French followed with a counter-offensive that sent the Germans into retreat. The front stabilized again, but German morale was now even lower.

General Ludendorff planned another offensive to commence on 12 July. It would be his last. See Fischer's excellent book, "Germany's War Aims in World War I" to understand just how confident the Germans were, even this late, in their eventual victory. Their draconion plans for captured French and Belgium territory mirrored the excesses of the Brest-Litovsk treaty with the Russians.
The 42nd "Rainbow" Division

Because of the lessening activity in the Baccarat Sector, the 42nd Division was withdrawn from the area in the third week of June. The division would never again return to trench warfare. After Baccarat, the 42nd was assigned to the front in Champagne. The area of Champagne where the front was located was bare and desolate. Except for the poppy fields in full-bloom when the division arrived, the area had almost no color. Plans were immediately formed to use the 42nd in a small offensive thrust against the Germans. However, those plans were never carried out. Instead, an attack large enough to bring an end to all hostilities was being planned. Intelligence reports gathered from German prisoners of war had confirmed French suspicions that the Germans were preparing for an all-out assault. On the night of 14 July the Germans were planning to strike the Allies, but the French and Americans attacked first. Thousands of French artillery guns began firing simultaneously. For four hours the barrage continued. The Germans retaliated and wave after wave of German infantry troops attacked the lines. Every attempt by the Germans to penetrate the lines was eventually repelled. The battle was a devastating loss for the Germans.

After the German defeat the 42nd was withdrawn to the Marne. For the first time in a long while the Allies went on the offensive. On 27 July, a day after the division's arrival in the Marne, the 42nd attacked and captured the Croix Rouge Farm in hand-to-hand combat. This position was vital for the crossing of the River Ourcq and an attack of the German strongholds on the other riverbank (known as the Tardenois). After repeated attacks the 42nd was able to cross the River Ourcq, but sustained heavy casualties in doing so. On the other side of the lines, the Germans had been ordered to hold the Tardenois Area at all costs. After a week of heavy fighting, in conjunction with the 32nd Division, the 42nd attacked. The divisions met no resistance. The Germans had withdrawn during the night. In eight days of fighting the 42nd Infantry Division had recorded one of the greatest advances in the war. It had cost them dearly, however. The division sustained heavy losses, 184 officers and 5,469 enlisted men were killed or wounded.
Germany's Last Offensives

As the Allies pushed forward in August General Ludendorff realized his massive offensives had been a failure and finally began to see the war as a lost cause. The German army too knew this and no man wanted to be the last one to die in the defeat to come.
The 42nd "Rainbow" Division

After the fighting in the Tardenois, the 42nd was withdrawn from the front lines and sent back to the valleys of the Marne. The uniforms of the men were tattered and torn from months of heavy fighting. During the first days the men were able to bathe in the waters of the Marne. Replacement equipment and clothing were supplied. On 30 August 1918 the 42nd was ordered north. It had been rumored that a major operation was being planned for the St. Mihiel Salient. After its arrival, the division waited for its orders to attack. On 11 September the order was given. The 42nd, in support of the IVth Army Corps, attacked the German forces. The Corps' artillery met with little response from the Germans. American artillery began a four-hour bombardment. With artillery guns laying a perfect line of fire in No Man's Land, American infantry troops began to attack the Germans in wave after wave. After initial difficulties in the regions of St. Baussant and the Bois de la Sonnard, the 42nd was able to roll on to its first-day objective. On the morning of the 13th, the division reached its final goal in the city of St. Benoit.

On 14 September the 42nd began digging fortifications around the St. Benoit. The 42nd occupied the area for the next two weeks until it was relieved by the 89th Division. On 1 October the 42nd began a movement to the Meuse-Argonne front. After marching for two days, the 42nd arrived at the Bois de Montfaucon. From there the 42nd was ordered to take over the city of Exermont. For the next two weeks, the men were continually deluged with rain.

On 14 October the 42nd was ordered to attack. In two days the 42nd had reached its objective of the bastion of the Kriemhilde Stellung. For the next two weeks the 42nd continually attacked the Germans before being ordered to Sedan. In Sedan the 42nd was ordered to advance towards the retreating German forces. For most of November 5 and 6 the 42nd was trailing the Germans by less than an hour. The only resistance the Germans offered was the destruction of roads and bridges. The 42nd was still in pursuit of the Germans when the Armistice was announced on 10 November. On 11 November 1918 at 11:11 a.m. hostilities ended between the Germans and the Allies.

For the next three and half months the 42nd Infantry Division became part of the Army of Occupation in the Rhine, remaining in Germany until the spring of 1919. Before it left the Rhine a commendation was delivered by the command of the "Rainbow" Division:
"The arc of the Rainbow will, it is understood, shortly touch the shores of the United States. Before leaving, the Rainbow renders its deep reverence to those who so gallantly met their death under its flag. To those others who have either been with the division or are now with it, it accords its admiration for their splendid, devoted and most courageous services. It wishes them all the best of fortune, it hopes that each of them will find, at the end of the Rainbow, the storied pot of gold."
At the conclusion of hostilities, the 42nd Division was credited with 164 days of actual combat, the third longest of any American division. They suffered a 30.6% casualty rate with 2,810 killed and 11,873 wounded. Of this total the 168th Infantry suffered over 700 killed and 3,100 wounded.

The division counted in its leadership Douglas MacArthur, William J. "Wild Bill" Donovan, later known for his service as the head of the OSS in World War II and for founding the CIA, soldier-poet Joyce Kilmer, Father Francis P. Duffy, plus future secretaries of the Army and the Air Force and two who would become Army Chiefs of Staff. George S. Patton's tanks supported the Rainbow Division during the St. Mihiel operations, the first time the legendary Patton planned for the use of tanks on the battlefield.
My Grandfather fought at least through the battles of the Argonne, but did not take part in the occupation per to my Father. In one of these last battles Leo was gassed. According to information gathered by my Uncle, Richard Six, "Leo was a disabled veteran of WWI, seriously wounded and exposed to mustard gas during his service in Europe. His injuries included the loss of one lung and a wound in his side that was left open to drain for the remainder of his life. In later years he lost an eye as a result of his war injuries."
Leo returned to America and, I assume, spent some time in Army hospitals recovering. He was discharged on 30 May 1919. I recently found the following narrative on the Van Buren county, Iowa website.
"Country Facts and Folklore
By Andy Reddick

An Injured War Veteran From Douds

The men were intrigued with the stories that circulated around camp. Legendary Joan of Arc was born in the hills surrounding them, and stories of her mission seemed to inspire them. They were behind the lines--close enough that they could hear artillery shells in the distance.

Iowa National Guard units joined those from other states and formed a division under Major Douglas MacArthur, who said that it "stretched over the country like a rainbow," and the phrase caught on and became the 42nd division's nickname.

It was November, 1917. Among the excited Iowa farm boys was a blue-eyed 25-year-old from the Douds community. In August, Leo W. Hissem, had enlisted in Keosauqua along with his cousin Weldon.

After much marching and target practice, the 42nd Rainbow Division was ordered to march to Chaumont in the Rolampart area, in December. They were to begin the march on the day after Christmas, but the area was blanketed with heavy, knee-deep snow, and the temperature dropped below zero. Still, the march began on schedule, with the wind whipping the snow into a white-out blizzard. General Washington's men at Valley Forge had nothing on these men.

The Rainbow went through intense, demanding training in all aspects of trench warfare during the next six weeks, then took the train to Lorraine, to the front lines, where they experienced direct contact with the German forces. The area had been quiet until the 42nd arrived, but they began bombarding the Germans who responded with brutal retaliation.

In the dark, wee hours of March 3, they were attacked by German bombardment shortly after midnight. After six hours of shelling, the infantry attacked at dawn. Along with the 168th, they held their ground and the Germans couldn't penetrate, even when the Germans included mustard gas in their attack. The 42nd took over Lorraine and the Baccarat Sector, and as they did, a rainbow appeared over the skies--to them, a sign of good luck.

German activity lessened by mid-April, and the 42nd began reconnaissance missions to observe the Germans and acquire intelligence. When the Americans led day raids, the Germans responded by nightly retaliation. By June, activity was infrequent, and the 42nd was sent to a bare, drab, desolate front where only a few poppy fields provided color.

The Germans planned an attack on July 14th, but the Americans and French surprised them by attacking first. For awhile the Germans defended, but suffered a huge defeat, and began retreat. It cost them dearly, but the 42nd recorded one of the greatest offensives of the war.

With torn, tattered uniforms, the 42nd withdrew from the front lines to the Marne, then moved north and attacked the Germans on September 11 with a four-hour bombardment. By the 14th, they occupied that area and advanced toward the retreating German Army. For 2 weeks it rained, but they took over the city of Exermont with little resistance, and continued chasing the Germans until the Armistice was signed. Then, the 42nd became part of the Army of Occupation of the Rhine. In a commendation issued to the 42nd, they were recognized for their dedicated, devoted service and each man was given hope that he might find a storied pot of gold at the end of his rainbow.

Leo did not take part in the occupation, because he had been gassed during one of the raids, lost a lung, and had a wound in his side that was left open to drain for the rest of his life. Later, he lost an eye as a result of his war injuries. He was discharged in May, 1919 and returned home to Iowa, where he married in 1920 and raised a family.

Leo did not find much gold at the end of his rainbow. He suffered through his many injuries, and as all who served in the war could tell you, life on the farm was never quite the same." - Contributed to the Van Buren Co. IA GenWeb Project by Andy Reddick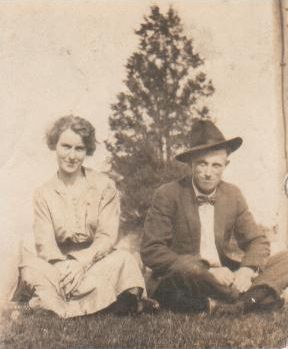 In the 1920 census of Village township, Van Buren county as Leo Hissem, 28, living at home with his parents, Arthur and Tillie, and his sister, Gladys.
Leo Worth Hissem, 28, the son of Arthur Walker Hissem and Tillie Elizabeth Haney, married Lena May Six, 25, the daughter of George Washington Six and Lucy Orr, on 28 July 1920 in Lee county, Iowa. See the Six Family page for more information about her family. She was born on 2 November 1894 in Illinois. Lena and Leo Hissem are at the right.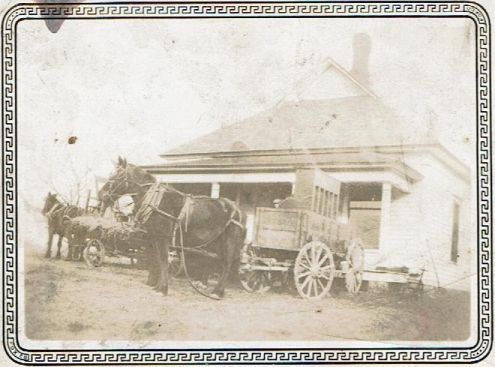 Farm house of Leo and Lena Hissem
Historical Timeline: The 1920's

An era of prosperity and rapid social change. Prohibition, the last gasp of the Progessive movement, led to the illegal manufacture and distribution of alcohol, a huge boon to organized crime. Movies and radio, both wildly popular, spread new ideas and eroded traditional social values.

- 1927 Charles Lindbergh became the first man to fly solo across the Atlantic Ocean and achieved international fame. - 1929 After reaching an all time high in September, the stock market crashed creating a worldwide economic crisis.
In the 1925 state census of Chequest township as Leo W. Hissem, 33. Living with him were his wife, Lena M., 30, and children, Alice P., 2, Gerall G., 1, and Derall D., 1. both Leo and Lena had 8 years of schooling. There seems to have been a lot of confusion with the spelling of the twin's names.
In the 1930 census of Milton, Jackson township, Van Buren county, Iowa as Leo W. Hissem, a 38 year old with no occupation. According to my father Leo was too ill to farm so instead he rented the two 160-acre farms he had inherited, including to his in-laws. He apparently invested wisely because the family weathered the Depression with no more than expected problems. Living with him were his wife, Lena M., 35, and children, Alice P., 8, Gerald [sic] G., 5, Derall [sic] D., 5, and Herbert R. [sic], 6/12. Leo also had a seven-acre plot in town and a family residence of another two-acres, also in town. The census indicated that he owned his own farm, worth $700 [I assume this was just the in-town farm he resided on], and he had a radio.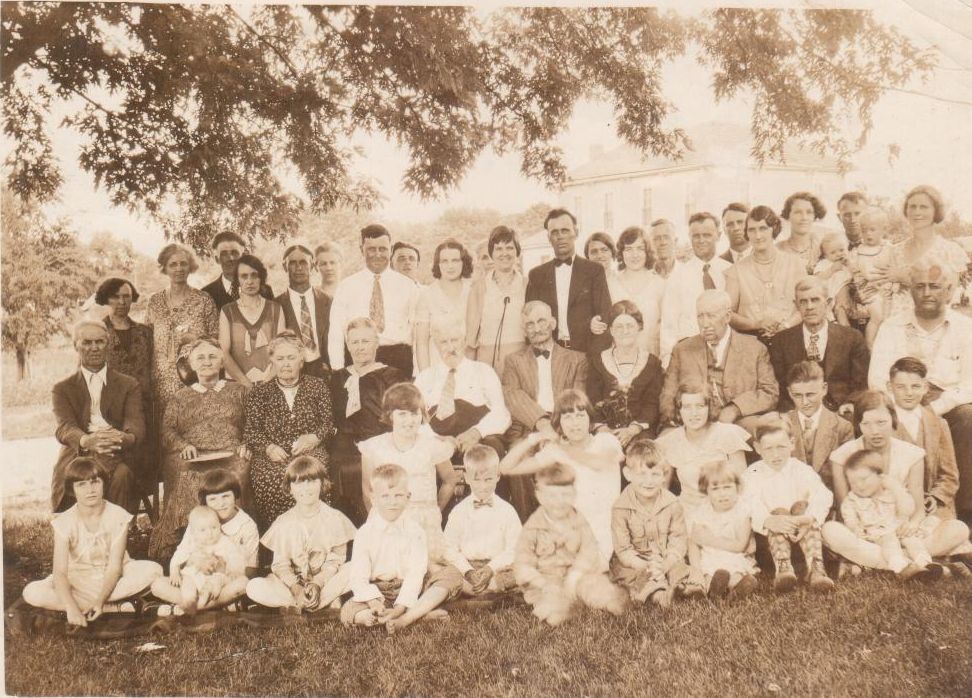 Golden Anniversary of George and Lucy Six at Lena and Leo Hissem's residence in Milton, Iowa.
Front row: Evelyn Six, Clara Six, Baby - Bob Six?, Alice Hissem, Garrell Hissem, Darrell Hissem, Kenneth Six, Junior Six, Marian Six, Donald Six, Iva Six and Frances
Second row: Juanita McNeff, Ruth Six, Opal Six, Roy Six and John Six
Third row: Uncle Albert Orr, Aunt Nettie Orr, Aunt Ary [?] Orr McNeff, ____, Uncle Mark Orr, George Six, Lucy Orr Six, ____, ____, ____
Fourth row: ____, ____, Mildred Six, Uncle Loren Six, Otis McNeff, Hilda Six, Nina? McNeff, Leonard Monson, Violet Six Monson, J.O. McNeff, Essa McNeff, Aunt Gladys Six holding Richard, Leo Hissem, Lena Hissem holding Lozelle
Fifth row: Everett Six, Elva Six, Harold Six, ___, Margie Six, Ralph Six, Earl Six
Leo and Lena's baby son was injured in 1931. I assume this was Lozelle, who would have been about a year and a half old.
"Separator Mangles Child's Fingers Left Hand Is Caugbt In Gear of Machine and Two Fingers of Boy Are Injured Milton Herald The little baby son of Mr. and Mrs. Leo Hissem met with a very painful accident Tuesday aftenoon while playing around a cream separator. He caught his left hand in the gearing in some manner and two of his fingers were badly mangled. He was brought to Doctor Stephenson's office where he was given an anaesthetic and the wounds repaired." - from the Pella [Iowa] Chronicle of 11 June 1931
In 1934 the Iowa General Assembley passed a law creating an Old Age Assistance Commission to oversee the care of the State's needy aged; assistance was to be provided to indigent applicants over the age of 65. A tax of $1 a head, the first year, and $2 a head annually thereafter was collected from all persons over the age of 21 to fund this aid. The names of those to be taxed included:
Taxpayer: Hissem, Leo W. Birthplace: Iowa. Birthdate: 1891 Dec 21. Father: Hissem, A W. Mother: Haney, Tillie. Residence: Cheq

Taxpayer: Hissem, Lena May. Birthplace: Illinois. Birthdate: 1894 Nov 2. Father: Six, Geo. Mother: Ore, Lucy. Residence: Cheq
In the 1940 census of Milton, Jackson township, Van Buren county, Iowa as Leo Hissem, 48, with no occupation and listed with code U, "unable to work." Living with him were his wife, Lena, 45, and children, Gerald [sic], 15, Darell, 15, and Lozelle, 10. Where was Alice? Leo owned his own house, which was worth $1000; he did not live on a farm. Leo and Lena had completed 8 years of schooling. Garell and Darrell were in their second year of high school; Lozelle was in the 5th grade. Interestingly, Lozelle Hissem was also shown living with his grandmother, Lucy Six, also in Milton.
Leo Worth Hissem, aged 50, registered for the draft again on 27 April 1942 in Milton. He was unemployed. His wife was Lena May Hissem. Leo was 5' 6" tall and weighed 136 pounds.
Leo died on 26 November 1945 and was buried in the Sunnyside Cemetery in Milton, Iowa.
"Services Pending For Leo Hissem

Await Word Of Arrival Of Son Enroute Home From Pacific; Wife, Four Children Survive. **Handwritten: Nov. 26 - 1945

Leo Hissem, 53, died at 3 a.m. Monday at his home in Milton following a lingering illness. a veteran of world war one, he had been in failing health for many years.

Surviving are his wife, Lena; a daughter, Mrs. Alice Rogers of Des Moines, and three sons, Lozelle at home and twins, Darrell with the air corps in Berlin, and Garrell en route home from Los Negros island, where he was with the 503rd parachute infantry.

The body was taken to the Brown funeral home in Milton to await definite funeral arrangements. These arrangements are pending the arrival of his son Garrell, who they hope will arrive in time for the funeral." - from Van Buren Co. Genealogical Society Obituary Book C, Page 334, Keosauqua Public Library, Keosauqua, IA
I remember my grandmother telling me that Leo had no gravestone because she could not afford to erect one. She mentioned this upon seeing a monument to a horse, which set her off. See more about Leo in the section about my father, below. Apparently someone erectred a monument in the Sunnyside cemetery, in Milton, Iowa, at a later date.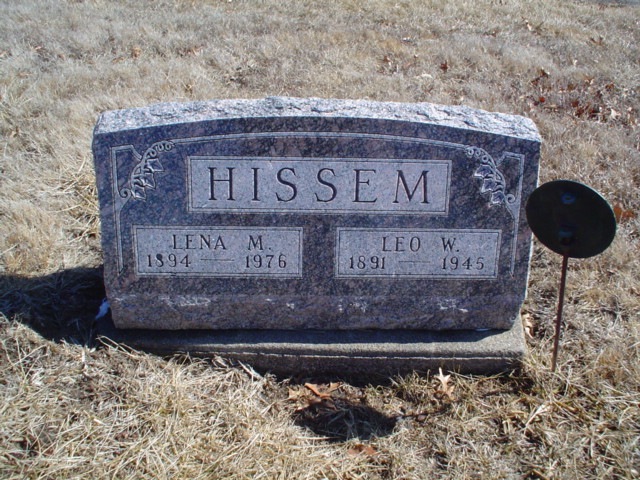 In 1949, 1953-54 Lena M. Hissem was living at 2800 Eastern avenue, Davenport, Iowa, a matron at the Annie Wittenwmyer Home. See below for more abou this orphanage. In 1956 she was referred to as a housemother.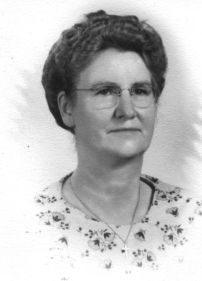 Lena died on 28 April 1976, at the age of 81. She was buried in the Sunnyside Cemetery, next to Leo. Leo and Lena had the following children,
(26) Alice Pearl Hissem (1922)
(26) Garrell Gene Hissem (1924)
(26) Darrell Dean Hissem (1924)
(26) Herbert Lozelle Hissem (1929)
(26) Alice Pearl Hissem (1922)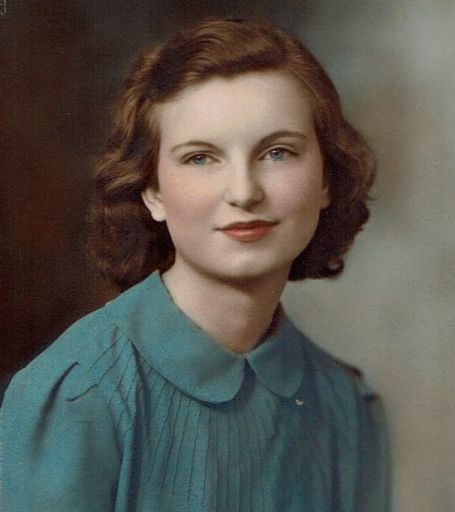 (15) Raphe Hesome (c1550)
(16) William Hesome (c1577)
(17) George Hesom (c1600)
(18) John Heesom (1650)
(19) Unknown Heesom (c1687)
(20) Thomas Hesom/Hissom/Heysham (c1720)
(21) David Heysham/Hissam (1762)
(22) Jesse Hissam (1795)
(23) Abner Hissam (1830)
(24) Arthur W. Hissem (1866)
(25) Leo Worth Hissem (1891)
Alice Pearl Hissem, the daughter of Leo W. Hissem and Lena Maye Six, was born on 20 April 1922 in Van Buren county, Iowa. In the 1925 state census for Birmingham-Henry, Van Buren county, Iowa as Alice P. Hissem, 2. In the 1930 census of Milton, Van Buren county, Iowa as Alice P. Hissem, 8.
My Father indicated that Alice did not live in her parents house, but rather with her grandparents. I assume these were the Sixes since Tille Haney Hissem had died by 1927. I guess the house was too small for all the children. She apparently spent a lot of time at her parents house, but slept apart.
Alice Hissem graduated from Milton High School in 1939. The photograph is of Alice, circa 1939.
In the 1940 census of . . .
In the early 1940's she was a stenographer at the Conneticutt Mutual Life Insurance Company. She was residing at 921 Pleasant street, in Des Moines, Iowa.
She married Carrol Lester Rogers. He was born on 23 June 1923. They resided in Urbandale, Iowa. They had five children.
(27) Marlena Kay Rogers Murphy (1947), she was born on 9 April 1947, she married a Murphy, second she married Richard R. Heitman, she lived in San Diego at one time, but now may live in Enumclaw, Washington
(27) Carla Marie Rogers (c1949)
(27) Shawn Carrol Rogers (1951), born 14 June 1951, currently living in Des Moines, Iowa
(27) Leora Janine Rogers Russell-Sourwine (1957), she was born on 28 December 1957, she is a breakfast server and computer operator at an elementary school in Urbandale, Iowa
(27) Zena Alice Rogers Mitchell (c1961), "Zena Rogers Mitchell, 47, daughter of Carrol and the late Alice . . . Urbandale died October 28, 2008" in St. Charles, Missouri
Alice died on 10 April 1999 in Des Moines, Polk county, Iowa. Uncle Carrol died on 1 July 2017. His obituary,
"Carrol Lester Rogers of Urbandale, Iowa passed away on July 1, 2017 after a three year battle with G.I.S.T. cancer. Per Carrol's wished his body has been donated to the University of Iowa in Iowa City. No services are planned.

Carrol was born in Runnells, Iowa the son of Lester Clyde and Mary Edith (Mix) Rogers. They resided in Hartford, Iowa.

Carrol married Alice Hissem in 1942 and moved to Des Moines to work at Meredith Publishing, where he retired after 43 and a half years. He moved his family to Urbandale in 1952 where he and Alice raised five children.

Left to remember him are his children, Marlena (Dick Heitman) Murphy, Carla Rogers, Shawn Rogers and LeOra Russell-Sourwine; brother, Don Rogers; sister, Helene Hillisted; second cousin, Gwendolyn Mix; his best bud, Buzzard and many friends and family. He was preceded in death by his parents; his wife, Alice; and daughter, Zena Mitchell.
Historical Timeline: The 1930's

The Great Depression dominated the domestic political arena while world-wide economic problems and unresolved issues of World War I resulted in the rise of dictatorships in Germany, Italy and Japan.

- 1930 In an attempt to protect American industries in the face of a developing depression, the Smoot-Hawley Tariff Act brought the U.S. tariff to its highest level in history. Retaliatory tariff acts from foreign countries caused U.S. foreign trade to suffer a sharp decline, worsened the economic downturn and caused a world-wide economic recession.
- 1939 Germany attacked Poland starting World War II.
Historical Timeline: The 1940's

World War II fought and won. America rose to the status of a super-power as she led the Allies to the defeat of the dictatorships. The Nuclear Age begins.

- 1941 Japan attacked Pearl Harbor and America entered World War II on the side of the Allies.
- 1945 America dropped nuclear bombs on Hiroshima and Nagasaki, Japan. Japan surrendered ending World War II.
- Tensions with Soviet Russia and her occupation of Eastern Europe result in the Cold War, a global competition that stopped short of major conflict, but which played out in wars and revolutions in proxy states.
- June 1950 North Korea attacked the south starting the Korean War.
(26) Garrell Gene Hissem (1924)
(15) Raphe Hesome (c1550)
(16) William Hesome (c1577)
(17) George Hesom (c1600)
(18) John Heesom (1650)
(19) Unknown Heesom (c1687)
(20) Thomas Hesom/Hissom/Heysham (c1720)
(21) David Heysham/Hissam (1762)
(22) Jesse Hissam (1795)
(23) Abner Hissam (1830)
(24) Arthur W. Hissem (1866)
(25) Leo Worth Hissem (1891)
My uncle, my father's twin, was born on 7 December 1924. While this may have no relevance what so ever, note that the Gorrell family, near neighbors of the Hissam's in West Virginia, pronounced their name as "Garrell." Was this the origin of Garrell's name? My father, unfortunately, can't remember the story of his brother's naming, though he's sure he was told.
Gorrell Family in Van Buren County

I have always wondered if Uncle Garrell had been named after some local man admired by his parents; a minister, a doctor, or politician are likely, or . . . a childhood friend or sweetheart?

The Reverend Isaac Harper Gorrell, the son of Ralph Gorrell and Abiah Smith Andrews, of Burlington, Iowa, was born in January 1854 in Elvaston, Hancock county, Illinois. In the 1880 census of McDonough county, Illinois as Harper I. Gorrell, 25. McDonough is the next county east of Pike county, Illinois, where Lena May Six Hissem's father, George, was born and lived from 1861 to at least 1880. Isaac married Nancy Olive Horton on 6 January 1886 in Lockridge, Jefferson county, Iowa.

In the 1900 census of Chequest township, Van Buren county, Iowa as Isaac H., a 46 year old minister, and Nancy O. Gorrell. Their chidren were Edward J., 13, Bertha A., 11, and Roy A., 5. In 1901 he was in the Ottumwa, Iowa city directory. In 1905 he was listed in the state census for Jefferson county, Iowa.

In the 1910 census of Fairfield township, Jefferson county, Iowa as Isaac N. [sic] and N. Olive Gorrell. Jefferson county is just north of Van Buren county. The Sixes had lived in Jefferson county in 1900, and in Van Buren county in 1910.

However, sometime between 1912 and 1920 he moved to Wisconsin. His children were,
(25) Joseph Edward Gorrell (1886), he died in 1912, at the age of 25, in Iowa
(25) Bertha Gorrell (1888)
(25) Charles Wesley Gorrell (1891), he died in 1892
(25) Roy Adolphus Gorell (1895), he died in 1901
(25) Berna Lucille Gorrell (1904)
(25) Samuel Burton Gorrell (1908), died in 1909 [I think]
In the 1925 state census for Birmingham-Henry, Van Buren county, Iowa as Gerald G. Hissem, 1.
In the 1930 census of Milton, Jackson township, Van Buren county, Iowa as Gerald [sic] G. Hissem, 5. In the 1940 census of Milton, Jackson township, Van Buren county, Iowa as Garell Hissem, 15, in the second year of high school.
Garrell joined the Army about the time of his 18th birthday in December 1942. This is an estimate based on my father's joining in April 1943, which he termed as "four to six months after" his brother joined. They both entered the Army, but Uncle Garrell, the more adventuresome of the two according to my father, opted to become a parachute combat infantryman in the Airborne.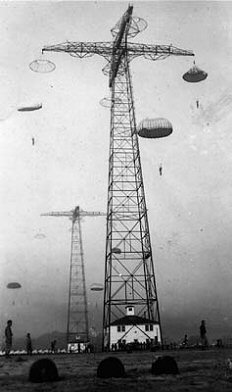 Garrell served during WW II as a paratrooper in the Pacific. He probably was assigned first to Fort Benning, Georgia, where the Army's Jump school is located. At left are jump towers at Fort Benning in 1944. He became a member of the 503rd PRCT (Parachute Regimental Combat Team). The 503rd was comprised of the 503rd Parachute Infantry Regiment, 462nd Parachute Field Artillery Battalion and 161st Parachute Engineer Company. See The 503rd P.R.C.T. Heritage Battalion Online for more about the unit.
On 20 October 1942 the Regiment had left San Francisco on the MS POELAU LAUT. See Certified Survivors of the POELAU LAUT for a description of the ship and the voyage. They stopped first in the Panama Canal zone to pick up the 501st Parachute Battalion, which was redesignated the Second Battalion of the 503 PIR. They eventually landed in Cairns, Australia on 2 December 1942. During more than three years service in the Southwest Pacific theater, the 503rd served in five major combat operations.
Garrell joined the PRCT no later than when they arrived in Australia because he fought in New Guinea, their first jump. On 5 September 1943 they jumped into the Markham Valley, New Guinea in the first successful Airborne Combat jump. The Regiment forced the Japanese evacuation of a major base at Lae to take a route which proved to be disastrous for them. The third Battalion of the 503d had a major skirmish with the rear guard of this exodus. The successful employment of Parachute troops in the Markham Valley has been credited with saving the concept of vertical envelopment from being abandoned following several less than successful engagements in Europe [I remember my Dad telling me about Uncle Garrell's time in New Guinea].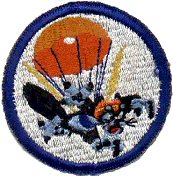 Shortly after their assault on the Markham Valley the 503d adopted the "descending wildcat" to become their official insignia. The 503d proudly wore their "wildcat" during the next two years. The "Wildcat Patch", right, which was soon nicknamed the "Cat Patch", had been dreamed up by the Walt Disney Studios some time shortly after 7 Dec 1941, and several paratroop units adopted similar Disney based patches. The backgrounds remained the same, and the number of the unit was added, so the design was hardly unique to the 503d.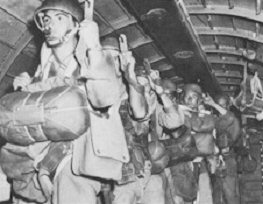 It was only after the unit's successful liberation of Corregidor that the symbolic "Rock Patch", created by one of the unit's own men, was adopted for wear on the sleeve as a unit patch, below.
The 503rd's penultimate mission was the combat jump on Corregidor on 16 February 1945 to liberate the island from occupying Japanese forces. Left, the 503rd prepares to jump into Corregidor. This was the premier combat jump of the Pacific War and was the most vicious combat action in which the combat team was engaged. There were an estimated 6550 Japanese on the island when the 503d landed. Of those, only 50 survived. The 503d lost 169 men killed and many more wounded. The drop on Corregidor was done at 700 feet with just enough time for the chute to open and slow the men's fall before they hit the ground, see above. They carried a huge amount of gear and had to be in excellent physical condition.
Below are shots of the jump and subsequent action.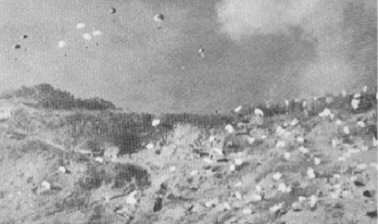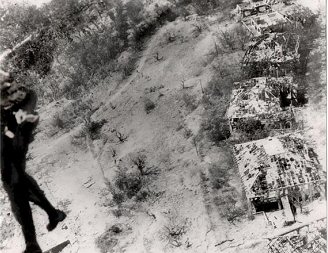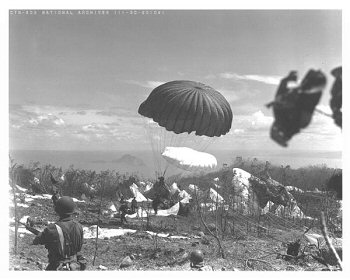 On the units return to Mindoro from Corregidor a series of photographs was taken of the surviving members of the 503d PRCT. They were photographed in their State of Origin groupings. The photo below shows 503rd members from Iowa.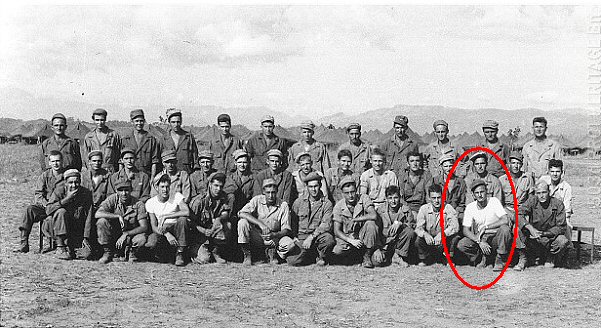 In the 1st Row are, L. to R., Pfc. Smuth, Pvt. Morgan, Pfc. Heflin, Pfc. Kock, Pfc. Clark, Pfc. Jordan, Pvt. Anderson, Pfc. Lary, Pfc. Ashlack, Pfc. Hissem (in the white t-shirt, second from the right), Pvt. Swafford. During this campaign Garrell was listed as a Corporal [sic?] in Second Battalion HQ & HQ. His photo is in Harold Templeman's "The Return To Corregidor."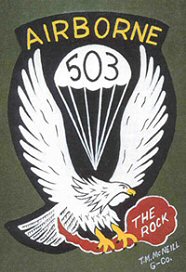 After Corregidor Uncle Garrell also saw action in Mindanao, the Philippines. The 503rd Parachute Infantry Regiment finished WWII fighting on Negros island in the Philippines.
By early November 1945 the 503rd Parachute Regimental Combat Team ceased to be operational. All men with lengthy service in the Southwest Pacific had been rotated to the United States while those who had served the Combat Team for a shorter time had been reassigned to the 11th Airborne Division and sent as occupation troops to Japan. The Regiment was inactivated on 24 December 1945 at Camp Anza, California.
After the war, I assume in late 1945, Garrell came home. His combined pay and leave from his extended combat duty allowed him to take six months off duty at home. He had a girlfriend who he had written to throughout the war and, perhaps, thought to marry on his return. When he got home, however he found she had planned out his life for him, a life that did not include the military that he had learned to love. There was a falling out and when he met Margie Smith of Rock Island, he married her. His brother, my father, served as his best man.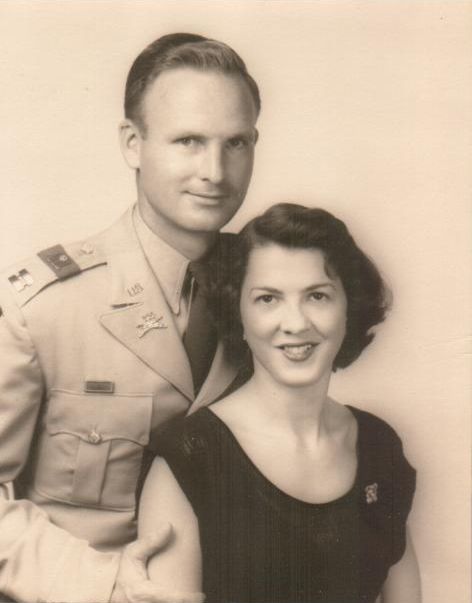 Garrell G. Hissem re-enlisted in the Army as an Infantry Staff Sergeant on 15 January 1946 at Fort Snelling, Minnesota. He had always enjoyed the service life and was good at it. My Dad remembers that soon after marrying he was sent to Fort Snelling, Minnesota. Was this a return trip or the actual time of his re-enlistment? I think he also went there for processing and to pick up further orders. His enlistment was for the Hawaiian Department [never heard of it]. He had three years of High School and was classifed a machine operator, the same as my Dad.
Fort Snelling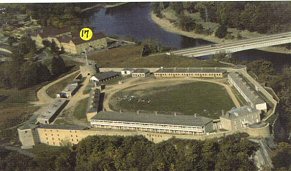 On September 21, 1805, Zebulon Pike arrived at the confluence of the Minnesota river and the Mississippi, and proceeded with a purchase proposal for 100,000 acres of land in exchange for $200 worth of trinkets, a keg of whiskey and the promise of a trading post. Fifteen years later, Colonel Josiah Snelling took command of the fort and established its permanent character.
The Fort was also used as a supply base for the Dakota Territory and a training center for soldiers assigned to the Indian Campaigns, the Spanish American War, and World Wars I and II. It was closed in 1946 (I have records showing it was still processing servicemen on 1 July 1946).
See the Heysham-Gibbon page for the story of a relative, Colonel John Gibbon, who commanded the fort in the late 19th century.
After Fort Snelling, and probably because of his excellent combat record, Garrell was assigned as a jump instructor at the Fort Benning Parachute school. The U.S. Army Parachute School has been known by a variety of names over the years. In 1946 it was the Airborne School. By the end of the year it was the Airborne Army Aviation Section, of the Infantry School. Garrell's superiors at the jump school pushed him to seek a commision and he eventually did. He attended officer training at Fort Riley in Kansas, probably in 1947-1948, and was commissioned a Second Lieutenant.
Army Officer Candidate School

OCS is a 14-week program which graduates commissioned officers in the United States Army. Army OCS was established in 1941 to provide Infantry officers for World War II. After World War II the military services of the United States were disbanded rapidly, and ,by late 1946, all Army OCS training had been transferred to the Army Ground School at Fort Riley, Kansas. Only 542 candidates graduated from OCS at Fort Riley in 1950.

Through all of the years OCS has remained an important commissioning source for the Army. Officer Candidate School (OCS) is currently located at Fort Benning, Georgia and is the Army's only active duty Officer Candidate School, commissioning over 800 lieutenants annually.
Garrell's first assignment after OCS was to Trieste, Italy where he served in the 351st Regiment of the 88th Infantry Division. This was in the early 1950"s, a period when Trieste was one of the "hot spots" on the globe and it drew many "hot" officers who wanted to make their mark. The 351st was considered at this time to be an "elite" unit by the U.S. Military Academy. I should also point out that this was probably less onerous duty than war in Korea, the other hot spot.
The Free Territory of Trieste

Trieste, in northeastern "armpit" of Italy, had been a part of Italy since the First World War, and before that of the Austro-Hungarian Empire.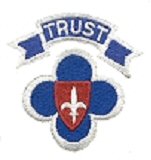 In 1947, President Truman formed TRUST (Trieste United States Troops) to carry out a dangerous mission to prevent Yugoslavia's communist forces under Tito from seizing the city of Trieste and the Italian province of Venezia Giulia. An initial unit of 5,000 of the top soldiers from the 88th "Blue Devils" Infantry Division -- the core of which was the 351st Infantry Regiment -- engaged Tito's force in the first live-fire encounters of the Cold War. TRUST maintained posts along the Italian-Yugoslavian border until 1954.
The first years of the occupation were stormy. While the predominant Italian population of Trieste was generally friendly, a determined minority of pro-Yugoslav Communists tried to stir up trouble with the aim of annexing Trieste to Yugoslavia. In September 1946, seven U.S. MPs were injured in the the explosion of a hand grenade thrown during a Communist demonstration. A year later, after the signing of an Italian peace treaty, the borders of the Free Territory of Triest were adjusted and the Yugoslavs seized on this opportuiny to provoke other incidents. Coolness and firmness on the part of everyone from the Allied Military Governor to the non-commissioned officers at the outposts prevented the mutual hostility from flaring up into open hostility. At one outpost, manned by five enlisted men and one lieutenant, a Yugoslav colonel demanded the right to march 2,000 men through the U.S.-British zone. The colonel threatened to use force, but the American officer talked to him patiently, delaying him until higher authority could be brought to bear on the fiery Yugoslav, who finally withdrew. A smart junior officer who knew his job had prevented what easily might have become a very unpleasant and perhaps world-shaking incident.
The intent was to create a free city, belonging to neither Italy nor Yugoslavia. In 1949 the populace, largely Slovene, had voted against reunifying with Italians they saw as oppressors. In 1954 Italy, however, invaded and seized Trieste.
I believe Uncle Garrell was in Armor, or tanks, as his final assignment, below, attests. Below are pictures of "tankers" of the Trieste United States Troops. I don't know that any of the pictures are of him, though the top left shot looks very like him. If nothing else, it gives a flavor of the men, their equipmenta and mission.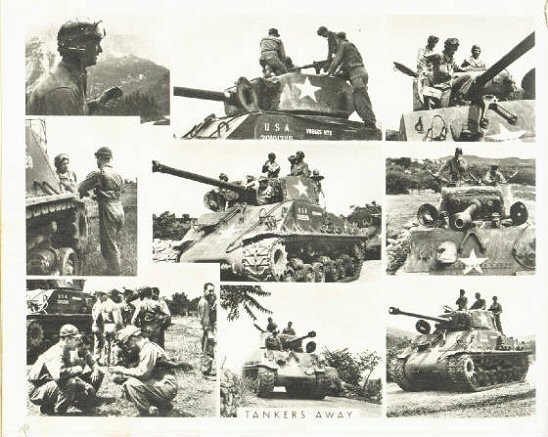 In a recent email, Charles Nobles wrote,
"I stumbled onto your genealogical website last night when I googled Garrell Hissem. I was a young recruit when I was assigned to Tank Company 351st Infantry Regiment in the Free Territory of Trieste. We were miles apart in rank as he was Executive Officer in the company while I was the newest of the new. You mentioned that you had no picture of him over there. Yes, you do. On that page of tankers (I have the same copy of the book), he is shown in the upper left. I put together a reunion association of the officers and men who served in Trieste during the years of the Free Territory (1947-54). We meet annually. Although our numbers are dwindling rapidly, we have formed a strong bond with the TRUST Tankers."
In answer to my questions whether Garrell was in Armor at this time, Charles wrote,
"Yes, Garrell was a tanker, at least, he was wearing Armor Brass on his labels."
He wrote again,
"I'm sending you a link to the second page of the "Old Soldiers Home". It is a website for the Yanks and the Brits who served in Trieste. On this pg 2, is a massive document that I transcribed from the magazines, newspapers, and Army documents from the end of WW II to the end of October 1954 concerning Trieste. It is in PDF format. I would recommend that you check out the index before you import any of the three sections to see if there is anything that particularly interests you. On page one of the Old Soldiers Home is a guest book that is used by former members of TRUST to communicate with one another on a daily basis. You may want to check the links. TRUST (Trieste United States Troops) was indeed the finest command in the Army at the time. I had just turned 18 when I arrived in Trieste and it was my home for over two and a half years. Crudely put, our mission was to keep the Italians and Yugoslavs apart while the politicians settled on the fate of the port city of Trieste. It was awarded to Italy at the end of WW I as a prize for joining the Allied side in that war. Tito wanted it and was willing to take it by force. The members of TRUST became my brothers and remain so to this day."
The link is The Old Soliders' Home. Charles also sent me a "Roster of Tank Company, 351st Infantry" as of 17 June 1952 in which Garrell is shown to be the unit's Executive Officer, or XO:
McNeese, Frank J. Capt
Hissem, Garrell G. 1st Lt
Bell, John E. 1st Lt.
Blazins, Joseph J. 2d Lt.
My Dad had implied that Garrell didn't go into Armor until his last tour, at Fort Hood.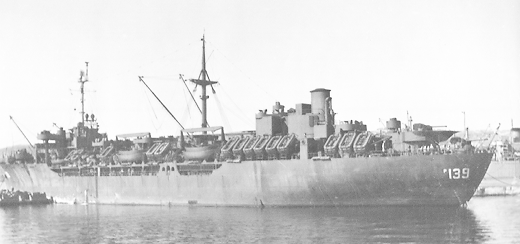 Garrell's wife, Marjorie, and his daughter, Linda, came home from Trieste in 1952 on a WWII troop transport.
"From Trieste, FTT, 17 October 1952, USNS GENERAL R. E. CALLAN (T-AP139) [photo above], arriving at port of New York, NY 1 November 1952 . . .
Hissem, Marjorie E., 27, Female, 546 22nd St., Rock Island, Illinois, Married, Iowa
Hissem, Cinda [sic] J., 5, Female, 546 22nd St., Rock Island, Illinois, Single, Georgia" - from the "New York Passenger Lists, 1820-1957"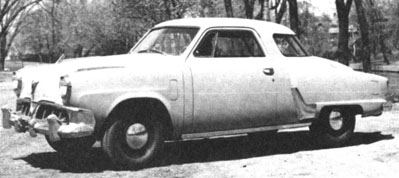 Dad says he knows Garrell had returned from Italy by 1952 because he remembers the Studebaker Garrell bought . . . it wasn't a very good car.

In 1953 Garrell was stationed at Fort Bragg, just west of Fayette, in Cumberland county, North Carolina. Oddly, it is the home of the Airborne, of which Garrell was no longer a member. His daughter, Susan, was born there in 1953.

He was assigned to duty in Korea, as an infantry officer according to Dad, probably from 1955 to 1956. It is impossible at this point to say which unit he was attached to. It was while in Korea that Garrell had the first indications of the illness that would kill him. The doctors there, however did not feel competent to treat or even fully diagnose the problem.

In 1956 "Hissem Garrell (Marjorie) USA" was residing at 449 23rd street, in Davenport, Iowa.

According to research by my cousin, Richard Six, Garrell sometime later graduated from the Command and General Staff College, Ft Leavenworth, Kansas.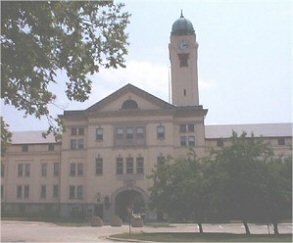 The Command and General Staff College (CGSC)

This the Army's senior tactical school. It develops officers able to lead fighting units at the tactical and operational levels of war. Mid-career officers, majors and some promotable captains, attend the 10-month Command and General Staff Officer Course. The course educates selected officers in the values of the profession of arms, and in the conduct of military operations during peace, conflict, and war with emphasis at corps and division level. Students include Army active and reserve component officers, international officers, and officers from other branches of the U.S. Armed Forces. The college was established at Fort Leavenworth, Kansas in 1881.
I assume that the Staff College tour came fairly late in this career, probably just before his last assignment. Garrell's final tour of duty was as a Captain, Headquarters Company, Second Medium Tank Battalion, of the Patton 37Th Armor (known as the Iron Dukes), Second Armored Division, at Fort Hood, Texas. General Patton created the Second Armored Division in the mold of the German Panzer divisions of Field Marshall's Guderian and Rommel. It is famous for its drive across France after the break-out from Normandy and its relief of Bastogne. The Battalion had been stationed in Germany, returning to the United States in early 1958. It remained at Fort Hood until 1963 when it returned to Germany, where it remains today.
Historical Note: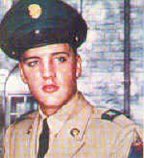 Elvis Presley, the most famous rock & roll star in America at the time, was drafted into the Army in 1958. Between 28 March and 17 September 1958 he was assigned for basic and advanced training to Company A, Second Medium Tank Battalion, of the 37th Armor, Second Armored division, stationed at Fort Hood, Texas.
Private Presley then transferred to Germany, serving there from October 1958 to March 1960 as a member of the 1st Medium Tank Battalion, 32d Armor. He was attached to the battalion's Headquarters Company in Friedberg.
Below, Elvis in the uniform of the 2nd Armored Division during basic training; note the patch on his shouler.
"All I want is to be treated as a regular GI. I want to do my duty and I'm mighty proud to be given the opporutnity to serve my country". ~ Elvis Presley
"If I had to rate Elvis as a soldier, I'd rate him very high - the highest. He really knew the basics, and they say he'd done well in basic training at Fort Hood - caught on fast". ~ Ira Jones, Master Sergeant
SGT Presley was Honorably discharged from active duty on 23 March 1960.
Did Uncle Garrell know Elvis when they were together in the same Battalion? My guess is no. Garrell's illness had probably shown up by this time, distracting him from any other concern than for his family's future.
We visited Garrell's family at least once while they were stationed at Fort Hood. Dad was stationed at Bryan Air Force Base, Texas at this time so the drive wasn't long. I do remember the visit. The base was huge and it seemed we drove forever from the front gate until we got to their house. They lived in a white frame row house [base housing] that was situated on a rise above a parking lot below. I remember this because we played on the hill. There is a picture of my family in front with our 1956 Buick Special when we visited. Georgia and Linda, Garrell's eldest daughter, were, according to Dad, ga-ga over Elvis and could barely control their excitement at being so close to him. Dad and my Uncle were unimpressed.
Dad says he and Garrell went riding while there. Garrell was a good rider and possessed a full Patton-esque riding regalia. Again, according to Dad, Garrell looked every inch the rising officer.
Garrell Gene Hissem, the son of Leo W. Hissem, died in the US Army Hospital at Fort Hood, Bell county, Texas of colon cancer on 9 January 1959. He was buried at the National Cemetary on Rock Island, across from the city of Davenport where his mother lived. I believe he received what is known as a "deathbed" or "tombstone" promotion to Major.
"Hissem, Garrel Gene, b. 12/07/1924, d. 01/09/1959, CAPT HQ 2D MED TANK BN PATTON 37TH ARMOR 2D ARMORED DIV FT, Plot: F 1242, bur. 01/16/1959"
His obituary,
"Capt. Garrell Hissem

MILTON. - The funeral of Capt. Garrell G. Hissem, 34, will be held Friday at 2:30 p.m. at the Hodges and Son funeral home at Rock Island, Ill. Burial will be in the Rock Island arsenal cemetery.

Captain Hissem died Friday at the army hospital at Ft. Hood, Tex. He had been ill of cancer for a year and death resulted from gastro-intestinal hemorrhage.

A service was held Sunday at Killeen, Tex., where he had been making his home.

He was the son of Leo W. and Lena Hissem of Milton.

He is survived by his mother, now living in Davenport; his wife, the former Marjorie Smith of Rock Island, Ill., and two daughters, Linda, 11, and Susan, 5. His twin brother, Tech Sgt. Darrell D. Hissem, with the air force, lives in Leland, Miss. His sister, Alice Rogers, makes her home in Des Moines.

A younger brother, T/Sgt. Herbert Lozelle Hissem of the air force, died of cancer about a year ago. His father also preceded him in death." - from Van Buren Co. Genealogical Society Obituary Book D, Page 254, Keosauqua Public Library, Keosauqua, Iowa
Rock Island, Illinois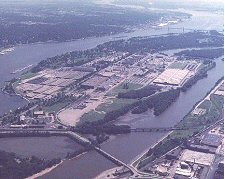 Rock Island lies in the Mississippi river, between Davenport, Iowa on the west and the city of Rock Island, Illinois on the east. It is the location of the Rock Island Arsenal and the Rock Island National Cemetary. It was also the site of a Confederate Prisoner of War camp during the Civil War.
After the War of 1812 a fort was built on the island to protect river traffic, but this was abondoned in 1836 after the Black Hawk war. With the outbreak of the Civil War, however, the Federal Government needed to replace the arsenal at Harper's Ferry, which had fallen to the Confederates. The western end of Rock Island became the location of one of three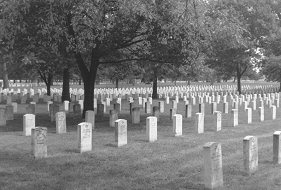 arsenals constructed in 1863. The Arsenal continues to produce military equipment to this day.
The cemetary was established in 1863, originally for the Arsenal. It is located on the extreme southeast end of the Arsenal. There are approximately 18,000 internments.
The POW camp was established in 1863 on the north central shore of the island and housed over 12,000 Confederate soldiers during the war. All that remains are the graves of the soldiers and their guards who died there.
The brothers looked quite a bit alike, but not identical, at least to my eye. I remember Uncle Garrell as a smooth and urbane version of my father. As an example, for a Christmas present he gave my father a smoking jacket. Dad never knew what to do with it.
Garrell's widow later married Thomas Woods, now retired as a Lieutenant Colonel in the Army. They live in Columbia, South Carolina. Both Linda and Susan were adopted by Tom Woods.
Marjorie died in March of 2013. Her obituary:
COLUMBIA - A memorial service for Marjorie E. Woods, 87, will be held at 4:00 p.m. Saturday, March 23, 2013, at Shandon United Methodist Church, with burial in the church memorial gardens. A reception will follow the memorial service in Wesley Hall. The family will receive friends from 6 until 8:00 p.m. Friday, March 22, 2013, at Dunbar Funeral Home, Devine Street Chapel.

Mrs. Woods died Sunday, March 17, 2013. Born in Preston, Iowa, she was a daughter of the late Herbert Earl and Gertie Elizabeth Brake Smith. Mrs. Woods was one of five children and graduated from Miles High School in Miles, Iowa. Mrs. Woods was an avid bowler in three bowling leagues at Fort Jackson. She was a homemaker, active in her community and a volunteer Red Cross worker at Moncrief Army Hospital. Mrs. Woods was active at Memorial Chapel, Fort Jackson and a member of Shandon United Methodist Church.

Surviving are her daughters, Gigi Woods Addahoumi of Columbia, Linda Dull of Redmond, Washington, Susan Perryman of High Point, N.C.; three grandchildren, Jessica Cox, David Perryman, Jamel Woods Addahoumi; step-grandson, Sammi Addahoumi; sister, Jean Quast of Rock Island, Ill.; brother, Stanley Smith of Rock Island, Ill.

In addition to her parents, she was predeceased by her husband, LTC Thomas George Woods; son, Thomas B. Woods; sister, Catherine Spangler and brother, Gerald Smith and her first husband, Garrell "Jerry" Hissem.
Garrell's children were,
(27) Linda W. Hissem (1947)
(27) Susan W. Hissem (1953)
(27) Linda W. Hissem (1947)
(15) Raphe Hesome (c1550)
(16) William Hesome (c1577)
(17) George Hesom (c1600)
(18) John Heesom (1650)
(19) Unknown Heesom (c1687)
(20) Thomas Hesom/Hissom/Heysham (c1720)
(21) David Heysham/Hissam (1762)
(22) Jesse Hissam (1795)
(23) Abner Hissam (1830)
(24) Arthur W. Hissem (1866)
(25) Leo Worth Hissem (1891)
(26) Garrell Gene Hissem (1924)
I received the photo of Linda from a high school friend of hers.
"About the picture of Linda. I was in the class ahead of Linda when she lived in Lansing, Kansas while her father was attending the Command & General Staff College at Ft. Leavenworth. Don't know if that is what it was called then! I have old year books from those days that I occasionally look thru and saw Linda's picture and the laptop was near so I goggled her name and up came your website. She had given me a couple of pictures of herself, one is the one I sent to you.

I wonder what she remembers of her time in Lansing!

Living in a military community all my life I have seen a lot of friends come and go and often wonder how their lives turned out!"

Loren Russsell
Linda teaches gifted children in Sammamish, Washington, in the Lake Washington School District outside of Seattle, which has been her life's work. She has 120 students, 1st-6th grade, who come to her one day a week from about seven different schools.
She first married James Cox, with whom she had a daughter, Jessica, now 27. Jessica is currently attending graduate school at McGill University in Montreal, Canada, studying atmospheric physics. Linda married a second time, but without children. She then married Steven Dull, a Navy man and lived in Florida, California, and now Seattle [actually I think she lives in the suburb of Redmond]. Steve was an S-3 'Viking' pilot and retired as a Captain. He is now the 737 project director at Boeing.
(27) Susan Anne Hissem (1953)
(15) Raphe Hesome (c1550)
(16) William Hesome (c1577)
(17) George Hesom (c1600)
(18) John Heesom (1650)
(19) Unknown Heesom (c1687)
(20) Thomas Hesom/Hissom/Heysham (c1720)
(21) David Heysham/Hissam (1762)
(22) Jesse Hissam (1795)
(23) Abner Hissam (1830)
(24) Arthur W. Hissem (1866)
(25) Leo Worth Hissem (1891)
(26) Garrell Gene Hissem (1924)
Susan Anne Hissem, the daughter of Garrel G., was born on 31 March 1953 in Cumberland, North Carolina. Fort Bragg is located in Cumberland county. Susan married Clyde Perryman. She now lives in Highpoint, North Carolina with her son, David, who will attend Jr. College next year. He is an Eagle Scout.
(28) David Garrell Perryman (1985)
(26) Darrell Dean Hissem (1924)
(15) Raphe Hesome (c1550)
(16) William Hesome (c1577)
(17) George Hesom (c1600)
(18) John Heesom (1650)
(19) Unknown Heesom (c1687)
(20) Thomas Hesom/Hissom/Heysham (c1720)
(21) David Heysham/Hissam (1762)
(22) Jesse Hissam (1795)
(23) Abner Hissam (1830)
(24) Arthur W. Hissem (1866)
(25) Leo Worth Hissem (1891)
Garrell's twin brother, he was born on 7 December 1924 in Milton, Iowa. I believe he was born second, but I'm not certain of the fact. In the 1925 state census for Birmingham-Henry, Van Buren county, Iowa as Derall D. Hissem, 1. In the 1930 census of Milton, Jackson township, Van Buren county, Iowa as Derall [sic] D. Hissem, 5. In the 1940 census of Milton, Jackson township, Van Buren county, Iowa as Darrell Hissem, 15, in the second year of high school.
My Grandfather, My Dad and I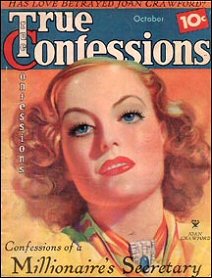 My Dad grew-up on a small, but prosperous farm in Milton, Iowa. While in the years of the Great Depression there was very little actual money to be had, the family did not want for food, clothes or housing. Most of what they needed that could not be obtained on the farm was gained by barter, something like the small-town doctor who is paid for his services in chickens. The house was small enough that my Aunt Alice had to live with her Grandparents, but they were close by and Alice spent most of her time at home. The adjacent barn was painted a red and white candy-stripe, so clearly my Grandfather had style and was not just some dour, American Gothic type. A pall was cast over the family, however, by the lingering effects of his war wounds. Troubled by a wound that never fully healed and the after effects of gassing, he was never an entirely well man again. I never knew him. He appears to have been prosperous, owning two 160 acres farms northeast of Milton, near Douds-Leando, which he rented out, a 7 acre property in town which he farmed and on which his house was located, as well as other properties he bought and sold throughout the Depression. Another odd clue to Leo's character - Dad remembers he had a subscription to "True Confessions" magazine.
My grandfather married Lena May Six. Her father, George Six, had a reputation for being less, perhaps, "serious" than my grandfather. Certainly he was not the nose-to-the-grindstone type. As he told the story, George went prospecting in the Klondike, struck it rich, but was robbed on the way home, explaining his destitute condition. On more than one occasion Leo Hissem had to support his father-in-law, so I'm told, and rented one of his farms to him.
Mechanization came to the farm in my father's youth and Dad told me about the excitement engendered by the arrival of the Steam Tractor, like the one to the left. A number of farmers wouLd go in together to rent this huge, slow moving machine and my father clearly remembers the awe inspired by its slow approach - it only went about 2.5 miles an hour. It was quickly superceded by diesel tractors, but during my father's life horses continued to be important work animals.
Darrell and Garrell: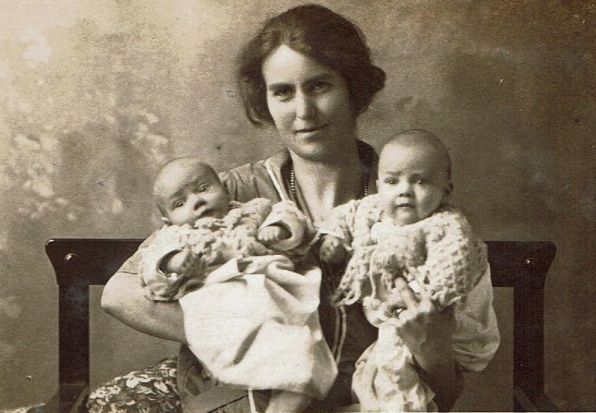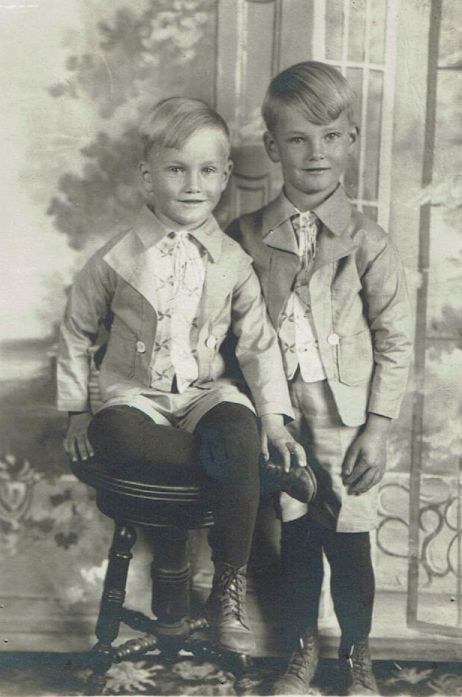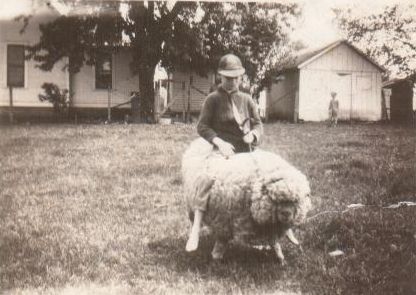 The family also kept a ram named "Billy" and my father and his twin brother used to harness it to a cart. To encourage it forward they would squeeze its testicles, which would cause the animal to bolt. Because the traces were somewhat elastic the cart would take off some time after the ram did, then quickly gather speed, bumping into the ram further exciting him. I suspect all such excursions ended in disaster. At right my Dad is riding Billy in a quieter moment. Lozelle is in the background, in front of the shed.
My Dad and his brother mowed yards to make a little extra money, charging between 35 and 75 cents, depending on the yard's size. The 75 cent yard was an all day affair. Dad was delegated the duty of collecting payment and found some of his neighbors slow to pay off. Later they were offered a job mowing the Sunnyside cemetary. They quickly took up the offer when they realized it included a power mower.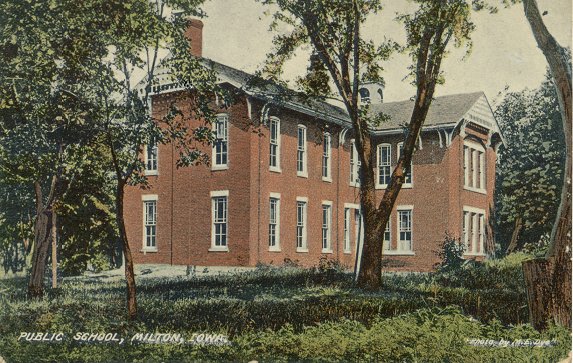 The other story my Dad had from his childhood was when his twin, Garrell, carved his name in the school house door. He was caught, of course, and forced to sand down the door. His father imparted one bit of good advice to Garrell, "If you're going to carve something in the school house door, let it be something other than your own name." There was a one-room school house in the area known as the Hissem school, but I don't know if my Dad ever attended it. He went to the two story, brick school house in town, shown above. My father played baseball as a boy, doing well at third base. He did not finish high school.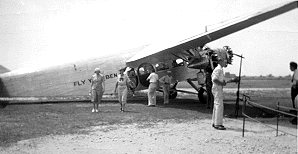 My Father took his first airplane flight in a Ford Tri-Motor in about 1940. "Big" Ben Gregory offered 50-cent plane rides out of Cram Field in the "Tin Goose." The airplane he flew is to the right. Note on its side the logo "Fly with Ben." The plane carried 14-passengers who sat on wicker seats for their light weight.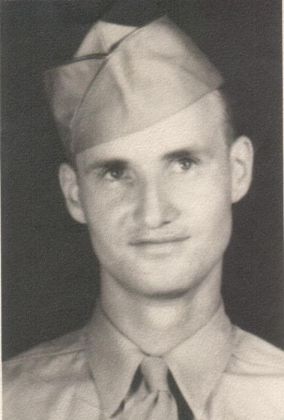 7 December 1941 was my father's seventeeth birthday and he heard the radio broadcast announcing the Japanese attack on Pearl Harbor while cruising in a Chevrolet convertible. His brother, Garrell, entered the Army first, I think on his eighteenth birthday, but Dad delayed some months, not going until April 1943. During his youth my father had a heart problem and he assumed he would be refused entry. This was a kind of secondary, echo heartbeat (I have the same thing). I think this perceived debility embarassed him which explained, in part, his delay in entering the Army. However, the heart arrhythmia had either disappeared or this doctor was none too picky because my Dad was accepted and eventually became a part of the Army Air Corps, as an aircraft mechanic.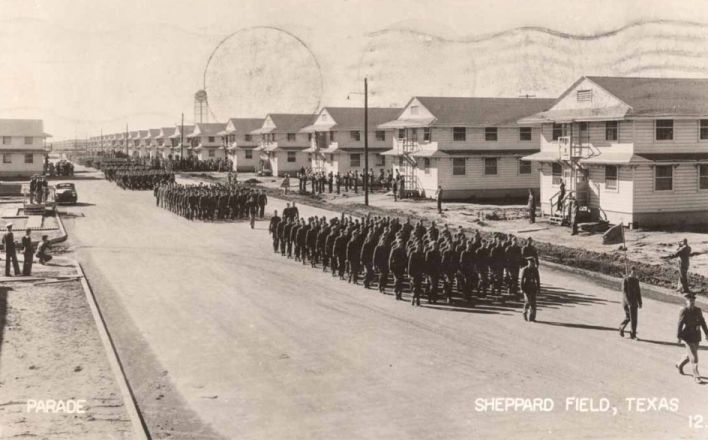 Darrell D. Hissem of Scott county, Iowa enlisted as a Private in the Army on 12 April 1943 at Camp Dodge Herrold. He had three years of High School and was classified as a machine operator.
Darrell was first sent to Sheppard Air Force Base in Wichita Falls, Texas for basic training and aviation mechanics school. To the right is a postcard of trainees marching to class at Sheppard. I have a pass issued to Pfc Darrel D. Hissem on 1 January 1944. It required him, during off-duty periods, to remain within 35 miles of the base. While the card has a tear, I think it says he was in the 314?SS (Technical [?] School Squadron), HS TS & BTC No 3, Army Air Force Western Technical Training Center (AAFWTTC). Organizations at Sheppard within the 1st Prov. Group included the 311, 312, 313, 314, 315, 316, 317, 318, and 319.
His first assignment after training was to the 309th Bombardment Group (M), Columbia Army Air Base, South Carolina where he worked maintaining B-25G's. They were part of an advanced bomber training squadron. Like most young men, however, he wanted in the fight and badgered his superiors for a transfer to Europe, finally winning approval, but not until 1945, after the war was over. By the way, the B-25 pilots of the Doolittle Raid on Tokyo were all volunteers from Columbia Air Base and began their training there, though they did the majority of their training at Eglin Air Force Base in Florida.
The 309th Bombardment Group (Medium)

The unit was constituted as 309th Bombardment Group (Medium) on 28 January 1942 and activated on 15 March 1942. It was assigned to Third Air Force and trained medium bombardment groups and later trained replacement crews, using B-25 aircraft in both the operational and the replacement training programs. It was stationed at Columbia Army Air Base in South Carolina from 16 May 1942 to 1 May 1944. The Group was disbanded on 1 May 1944.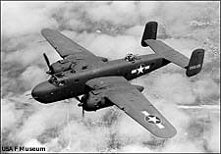 The B-25G

The B-25 "Mitchell" was an excellent medium bomber. The G-model had the green-house nose replaced with a solid structure housing a 75mm M4 cannon and two fixed .50-cal. machine guns. The cannon was manually reloaded after each shot; twenty one 75mm rounds were carried onboard. Since the -G model was primarily intended to fill the ground attack and strafing role, more armor plating protecting the crew and ammunition storage areas was added to the aircraft.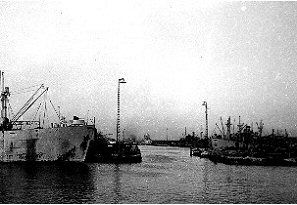 My Dad had campaigned for transfer to the European theater and, probably on the disbandment of the 309th, he finally got his wish. He traveled to Europe in a troop transport and told me of the boredom of the trip. Not one to gamble, he used to watch the porpoises riding the ship's bow wave. Years later, while we watched the "Flipper" TV show, he noted that while this porpoise was blue, all those he had seen during his transit had been brown.
He landed in the port of Le Havre, right, in October 1945. After the city had been secured by Allied troops in September 1944, the area had been ringed with camps to serve as staging areas for new troops entering the area. MOst of these camps were named after cigarettes, Camp Chesterfield, Lucky Strike, Pall Mall, etc.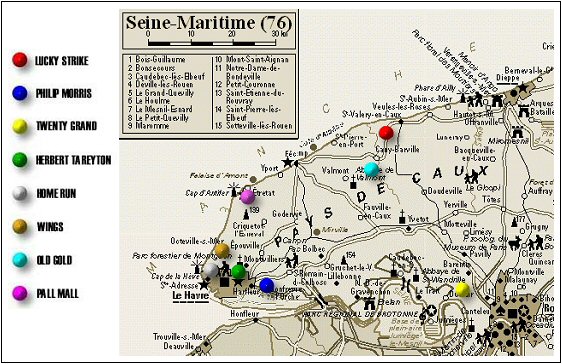 Dad had arrived in France with orders to move on to Tempelhof airbase, in Berlin, which we had received from the Russians. For the first few weeks in France, however, he lived at Camp Lucky Strike and during that period made many trips to Paris. The camp was little more than a tent city and was extremely cold. They slept on cots in thin sleeping bags, the cold creeping in from underneath the cots.
If you believe the story I've told about our family's very earliest origins, then Dad was camped not many miles up the coast from the lands of his forefathers, in Fecamp, circa 1050.
Camp Lucky Strike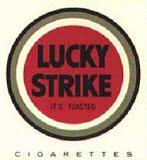 This camp was situated in the town of Saint-Sylvian, 5 kilometers from Saint-Valery-en Caux. The heart of the post was situated near the Janville Chateau.
The camp became the most important military encampment in Europe. It extended over 600 hectares (1 hectare = approximately 2 ½ acres). It was a mandatory port of entry for practically every American soldier, and 1½ million spent from a couple days up to 18 months there. It was the principal camp used for repatriated soldiers and liberated POWs, but also as a reception station for soldiers on leave. It was also a staging area for the Pacific Theater and — until August 10, 1945 — for the invasion of Japan. There were 100,000 men in the camp each day — 100,000 men to lodge, feed, train, and entertain. (Regarding repatriation, there were 6,000 daily departures by plane or boat from Le Havre, the only port liberated on the western coast that could accommodate large ships.)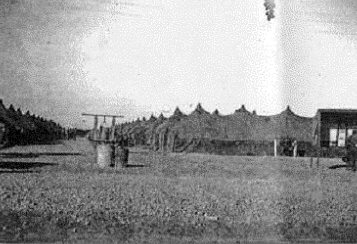 The camp, where the 89th Infantry Division managed the reception of troops, was a veritable American city for 18 months. Life was therefore rhythmical with this enormous hub of military personnel, short stopover for some, several months for others. One could find, like in any American city, a hospital, church, movie theater, post office, police station, barber shop, and a supermarket. There were also concerts and shows with famous celebrities (Bob Hope and Mickey Rooney, among others). And around the camp, there were the usual prostitutes and easy access to the local black market.
The city was divided into four sections: A, B, C, and D. Each section was made up of 2,900 tents under which were housed 14,500 men. These virtual neighborhoods even had public parks, and in certain places, statues of pretty women. The Red Cross also had offices in the neighborhoods: nurses and girls who would serve hot coffee, cake, and newspapers day and night. A little further down were the bars: one for officers; another for NCOs and soldiers. One could drink everything they used to in pre-war France: the best liqueurs, good champagne, cognacs, and water of life (aqua vita), as well as Coca-Cola, whiskey, gin, and American beer. The bars were only open from 7:00 to 10:00 p.m., which was not enough time to satisfy the customers. Each sector aslo had its own auditorium, which served as a theater, cinema, and chapel all in one.
There was a PX and several gift shops. The PX carried everything — one could find handkerchiefs, electric razors, chocolates, condoms, cigarettes, cigars, toothbrushes, lighters, watches, and knives. In the gift shops GIs could find items from Paris which they usually sent to their mothers, wives, and girlfriends such as perfume, scarves, lace, and jewelry.
A military tribunal was located in the Chateau and was presided over by a Colonel. And very near that, behind the bars, was a prison composed of a tent without heat and the guard shack. Each sector had a repair shop with thousands of repair parts and a gas station which received fuel from the harbor via tanker trucks carrying millions of liters. The lifeline of the city was assured by an administration housed in the Anglesqueville Chateau in the city of St. Sylvain. Potable water was pumped from the Durdent River, after which it was sterilized and carried by pipeline into the camp.
The living conditions in the camp were very hard for the GIs, especially because of the cold, but it was infinitely more comfortable than for the French civilian population, who lacked everything, particularly food, medicine, and clothing. There was a certain feeling of bitterness on the part of the population due to the wastefulness of certain goods by the GIs. U.S. soldiers bound for the camp landed at Le Havre and were carried to Camp Lucky Strike by trucks and trains to the station at St. Valery-en-Caux.
After the unconditional surrender of Germany on May 8, 1945, the camp was used for the return of troops to the United States. Before their departure, the soldiers were given new uniforms and their old ones were burned or buried. Likewise, other worn-out equipment was either burned or buried.
Most of the above derived from The Cigarette Camps.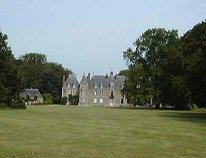 At the heart of the camp was a chateau, left in a modern photo, and Dad often talked of living in a chateau while he visited Paris, but I think he merely meant that he camped out near one [or, in those latter days after V-E day, perhaps some of the soldiers did move into the main building].
The men took frequent liberty to Paris. On one of those excursions the gendarmes decided Dad did not have the proper documents or pass and locked him in an elevator between floors in place of a jail cell while they resolved the matter. I suppose they thought he was a deserter. His pass probably wasn't valid, because he had no one in real authority to sign it.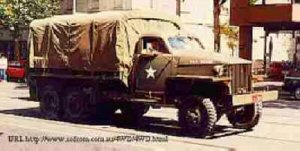 The gendarmes finally let him go, but did not offer transportation back to the camp. The usual transport had already left by this time and my Dad realized he did know how to get back on his own. He eventually found his way into the center of the city by the simple expedient of walking downhill and there found transportation.
An officer had been in charge of the group of men ordered to Berlin that included my father, but at some point, and for reasons unknown, he decamped and my father took charge.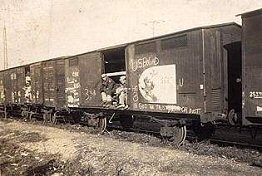 The situation in occupied Europe sounds chaotic to modern ears, but Dad was expected to make his own way to Berlin, leading a small group of men with similar orders. They would jump aboard any truck or train that was headed the right way. He noted that for transportation they usually traveled in unheated boxcars. He was always amused that these boxcars were denoted by their capacity in human beings or horses. They were known as "40 and 8's," so called for the French designation "40 hommes et 8 cheveaux," which meant the boxcars had a capacity of 40 men or eight horses. The photo at left shows the typical French boxcar.

When Dad got to Berlin in November 1945 he was promoted to Staff Sergeant, but if that was due to the action of a promotion board or as a reward for leading his men successfully to Berlin, he didn't know. He was assigned to the European Air Transport Service at Templehof airport in Berlin where he did maintenance on the C-47's. Dad mentioned that he got ribbed a lot because the patch he wore on his uniform had the outfit's acronym, EATS.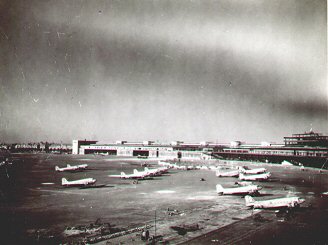 Tempelhof Air Drome, Berlin, Germany

This base was the home of the 301st Troop Carrier Squadron (squadron code "Z4") beginning on 4 July, 1945. They had C-47's including five modified to the VC117B standard. After 1945 Tempelhof was taken over by the U.S. as an air base. The 473rd Air Service Group, United States Army Air Forces, led by Col. William Booth, took command of the U.S. Army Air Force Station, Tempelhof following the end of World War II, on May 27, 1945.
While at Tempelhof Dad was approached to take charge of a hangar full of aircraft, including a P-51 the Operations office pilots wanted to fly, a P-38-F5, a P-47 that was to be transferred once it got a propeller swap, an L-4 the general wanted to fly for currency, and some Stinson L-5's (4 of them?) used for weather recce.
The P-38

The final variants of the Lightning design, the F-4 and F-5, were photo-reconnaissance models used in Europe and the Far East. Pilots loved the airplane for its maneuverability, high-altitude capabilities and long flight endurance, which could reach almost 12 hours with a full external fuel load. They had the nose armament replaced with various cameras.
The Stinson L-5 Sentinel

The L-5 was the military version of the commercial Stinson 105 Voyager. Also known as the Flying Jeep. Unlike other pre-war civilian aircraft that were adopted pretty much off-the-shelf by the military, the Voyager underwent a substantial redesign and emerged as a new type specifically tailored for the liaison role. The military command really wanted an aircraft comparable to the impressive German Fiesler 'Storch' yet they didn't want to spend a lot of money or wait years for development of a new type. Many good designs were already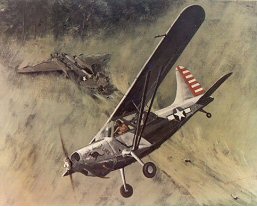 around that could match the Fiesler, but all were found wanting because they either required too many strategic materials in their construction, had high maintainance requirements, were too complicated for rapid production, or simply cost too much. In the end, the excellent aerodynamic qualities and relatively simple maintainance and construction of the Voyager won out, but not before it underwent a major redesign. Although a large number of components were retained, the upgraded version was substantially different from its parent in both appearance and structure. The slotted wing was substantially stiffened to endure greater aerodynamic stress. A new fuselage featuring tandem seating and 'greenhouse' windows increased visibility all around. A telescoping oleo strut replaced the bouncy leaf-spring tailwheel support and greatly improve its rough-field capability. The fin and rudder were enlarged and the number of aluminum components throughout the airframe were reduced. Many other changes were also incorporated. Most importantly, all these alterations required only a small change in factory tooling and assembly procedures so that production could commence almost immediately. Known conceptually as the Model 76, the new design was tested with various engine configurations before the 185 horsepower six-cylinder Lycoming O-435-1 was finally selected. The new features and performance so completely impressed the Army that a contract for 275 airplanes was immediately awarded and the normally required evaluation period was waived. The Stinson Model 76 was originally given the designation O-62 but this was changed to L-5 by the time the first airplanes were delivered. It was eventually replaced by the Cessna L-19 Bird Dog.
The foregoing was derived from the work of Jim Gray, president, Sentinel Owners and Pilots Association.
The Piper L-5 Grasshopper

The L-4A liaison aircraft, originally designated the O-59, was the military version of the famous Piper J3 "Cub."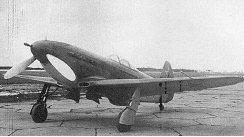 Dad jumped at the chance to maintain this diverse group of aircraft and was given a few junior personnel to assist him. He made a PFC, who had experience with the Mustang, the crew chief for the P-51. Dad took the P-38, though, in the end, this aircraft was never flown. It seems that on a regular basis a Soviet YAK-3, like the one to the left (though he may have meant YAK-9, which was in use at the end of the war and more of a match for the Mustang), would fly over the field, "taunting" the Americans, and the P-51 was used to respond.
The L-5's went out almost every day on weather recce's and Dad would grab a back seat ride whenever he could. He said he had always idolized pilots and this was when he first realized that flying wasn't really all that hard and he might be able to do it himself. When he returned from Europe he immediately started flying lessons in Davenport. His experience was obvious to his flight instructor and Dad eventually soloed in under 8 hours.
Dad thoroughly enjoyed his time at Tempelhof and sought to extend on active duty, but extending was rarely granted - it was assumed you must be in the black market - and Dad went home on time. He left Europe, through Le Havre and Camp Lucky Strike again, in April 1946 after a brief stay in the Alps at what he called a "repo depot".
Repo Depot

GI slang for a Replacement Depot, a holding area for in-coming and out-going troops. At least one GI claimed it was just one step above the stockade as a place to be. For those on their way home, they would be billeted here while they awaited transport. They would check a bulletin board daily to see if they were on the list to ship out.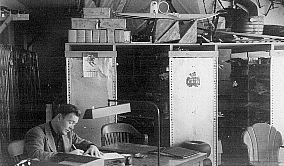 The north Atlantic was rough in April and my Dad, who does not suffer from sea-sickness, reported that he had the mess decks pretty much to himself. He arrived in New York and went by train to Camp McCoy, a separation center in Wisconsin, where he was honorably discharged. On the train he spent a good deal of time in the bar car and, he reports, it was one of the quickest trips he can remember taking. At Camp McCoy he met, against all odds, an old friend from Milton, Iowa.
When Dad got home he began flight instruction in the Piper J-3 Cub at Elliott Aviation. This was a fixed-base operator (FBO) located on Cram field, on the west side of Davenport. His instructor was Roy Moses. At right is a picture of Roy sitting at a desk in the Parts department. Dad solo'ed in 7 hours and got his license with 40 hours of flight time.
Cram Field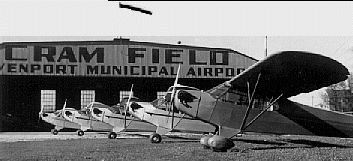 Cram Field was Davenport's first municipal airport and operated from 1926 to 1949. It was named in honor of Ralph W. Cram, the editor of the "Davenport Democrat and Leader" newspaper. He was a pioneer aviation booster and one-time Vice President of the National Aeronautic Association. Cram Field was a grass stip located on the west side of Division Street. The street runs north to south through the western part of the city.
In the picture to the left are a line-up of J-3 Cubs in 1937. The Cub was the prototypical light-plane of the 30's and 40's. While slow, and only able to carry two people, it was inexpensive to buy and to maintain. It was an excellent trainer that highlighted the student's mistakes without making him pay for them.

Elliott Aviation was owned by pioneer Iowa pilots Herbert and Arlene Elliott. Herb is still alive today, one of the few men to have made money in general aviation. In the picture to the right are the gas pumps and the "admin" building of Elliott Aviation where the pilots checked-out their airplanes. Division road is on the right.
The field was later abandoned and the area is now homes.
After he learned to fly his logbook was filled with the names of friends and relatives he took flying. These included his finacee, my Mom, his brother-in-law, Carrol Rogers, and his younger brother, Lozelle, whose name filled the book. Lozelle wanted to learn to fly as well and grabbed as many flights as he could. My Dad reports that when Lozelle began his flight instruction he did so in the Aeronca Champ. This aircraft was similar to the Cub, but the pilot sat in the front seat whereas in the Cub it was flown from the rear. The Champ was also a little faster. The airplane my Father flies today, a Citabria, was a development of the Champ.
The photo below was taken, I think, soon after the war. That's Darrell, Garrell and Lozelle.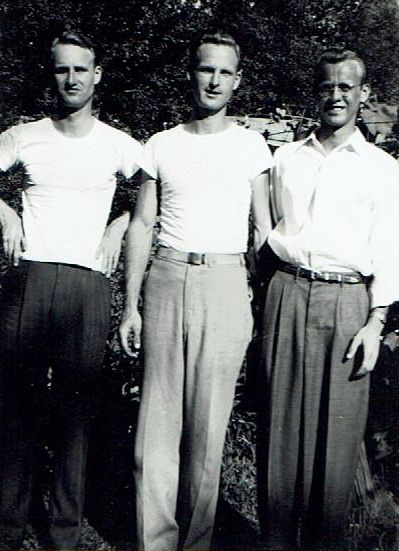 The Hissem Boys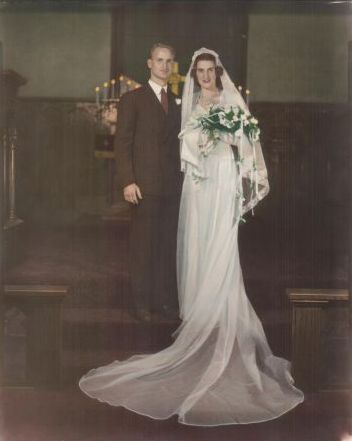 On 6 October 1946 Darrell Dean Hissem, 21, the son of Leo W. Hissem and Lena Six, married his girlfriend, Jeanne Catherine [sic] Offerman, 21, my mother, the daughter of Elmer Offerman and Edna Dengler, in Scott county, Iowa. One of my favorite stories is that, while in Europe, Dad had bought Mom a bottle of French perfume [in Paris or at the PX in Camp Lucky Strike on the way home?]. During all of his subsequent travels he had been careful to keep this fragile bottle safe and when he arrived back home he proudly showed off the gift he was going to give to a friend of his mother's. Of course the bottle slipped, hit the hard wood floor and burst. Dad was inconsolable – and the finish on the floor was never the same.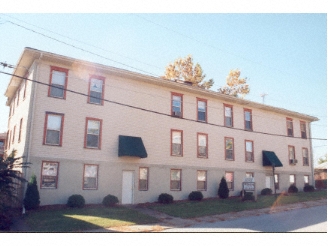 Dad spent about eight months out of the service, working as a tool salesman, selling the Stanley line to the local farmers. They lived into an apartment in Davenport.
"Hissem Darrell D (Jeanne) slsmm [salesman] h217 E 10th apt 5W" - from "Polk's Davenport (Scott County, Iowa) City Directory of 1947
These were the Bixby Apartments. This apartment building, shown above, was built in 1910.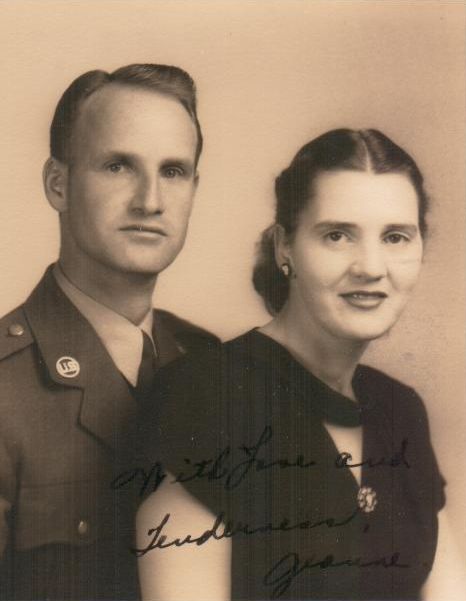 He did well in the job, but disliked the uncertain nature of sales, so when a local recruiter offered him his old stripes back and duty in the local area as a recruiter, he jumped at the chance. Another perk of the job was that he would receive per diem, an important point for the newly married Sergeant. Before starting his new job he was sent to Omaha where he was trained by insurance salesmen in the art of sales. It was said they best understood the selling of intangibles, whether that be a secure future for your family or a career.
Having learned the love of flying in Europe Dad started flight instruction in the J-3 Cub. He solo'ed before re-upping.
Later, when he was working as a recruiter, he signed up his brother Loselle. Losie afterwards learned to fly in imitation of Dad and owned a war-surplus Vultee trainer for a couple of years.
I know Dad worked in the Musketeen area for a while, as an Air Force recruiter, because my sister was born in Davenport, Iowa in 1948, but soon after that they moved to Nellis Air Force Base, Nevada, just outside Las Vegas.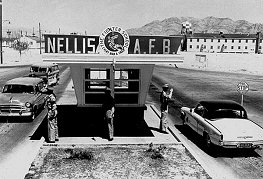 Nellis Air Force Base

Nellis had started out in World War II as the Las Vegas Army Air Field. This training facility was shut down after World War II, but reopened in 1948 as an Air Force advanced single-engine training base. On the advent of the Korean War it became a jet fighter base.
In the immediate post-WWII years housing was hard to get and while at Nellis my Mom and Dad bought a house trailer. They didn't really like it, however, or the trailer park. I believe Dad worked on P-51's at this time. Below, a young Darrell Hissem being flash, at a gunnery competition.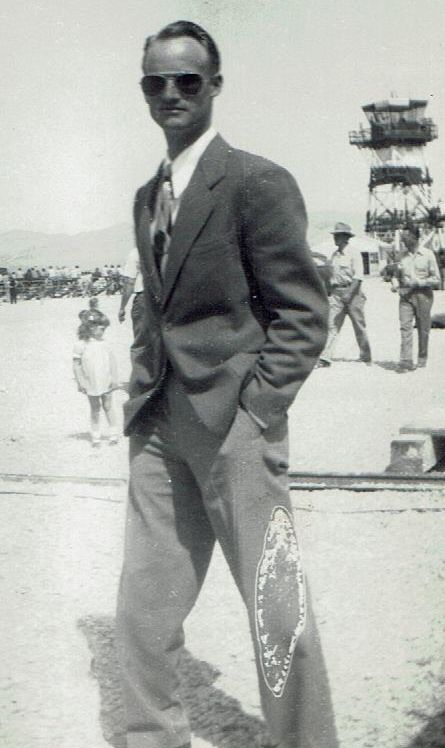 Historical Timeline: The 1950's

An era of unprecedented prosperity for America. Pent-up demand and new technologies, such as the transistor, drove consumers to buy, while the GI Bill boosted large numbers of veterans into the white color ranks. The Cold War with the Soviet Union dominated and poisoned international diplomacy.

- 1952 The Korean War ended with both sides basically where they started.
- 1957 The Russians launched Sputnik, the first man-made satellite. The Space Age began.
After Nellis, the family moved to Luke Air Force Base, on the west side of Phoenix, Arizona. Like Nellis, Luke had been a training base in World War II and closed soon after. It was reopened in February 1951 as an Air Force base, part of the Air Training Command. Students at Luke progressed from the P-51 Mustang to the F-84 Thunderstreak. The Air Force demonstration team, the Thunderbirds, was formed at Luke AFB in 1953.
In 1952 my parents lived on 1135 West Culver street - from the Phoenix City Directory of 1952. This was just south of Encanto Park. This is today an area of cute bungalows. West 1135 looks like a suburban gothic. I remember my parents taking my sister and I to this park, and cruising the neighborhood looking at houses. I wonder if they visited their old residence?
I was born at the Luke Air Force Base hospital and spent the first two years of my life in a craftsman-style home in the suburbs of Glendale, just east of the base. Georgia still remembers Dad telling her about "tying down the Mustangs" at the end of his work day, which horrified my horse loving sister. He was, of course, securing the P-51 fighter aircraft. My Dad was then transferred to Okinawa, where he maintained a squadron of F-86's. He found the commanding officer, the ace Frank Gabreski (who died on 31 January 2002), to be one of his best. Gabreski was the top American air ace of World War II, having shot down 28 German aircraft over Europe. Later, during the Korean war, he downed a further six enemy jets. In the meantime my Mom took my sister and me back to Iowa to live in Davenport. Here my first real memories begin. As I remember it, we lived in a white frame, two-story row house. My Grandma Hissem, now a widow, was a matron in a home for orphan boys, the Annie Wittenmyer Home. My impression is that this orphanage was just around the corner from our house, but, being only a few years old at the time this could be wildly inaccurate. I enjoyed visiting the orphanage, though my grandmother warned me to stay away from the boys, who were much older than I was and a bit too wise in the ways of the world. Here I'd frequently meet my cousins Shawn and Keating, as well as my many female cousins. The orphanage was in the shape of a quadrangle, with one end open. Each "house" was separate but connected by a colonnade. Terrifying and intriguing to me was the fire escape. Simply a tube shaped like a child's slide, but enclosed, it was pitch dark inside and went from the second story of each house to the ground. I never dared use it, though my cousins did.
Below are pictures of some of the individual homes taken after the home closed. The Wittenmyer home had originally been a Soldiers' Ophans home, much like the one that George Heysham, of the Robert Heysham branch of the family, put his children in after the death of his wife. My grandmother was the matron of the house to the right. Just right of that, across a sidewalk, was the chapel.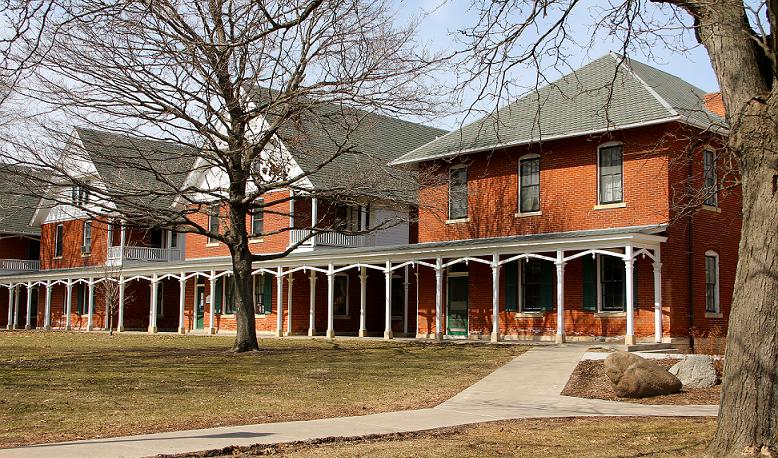 The Iowa Soldiers Orphans' Home

During the Civil War Annie Wittenmyer, who was a volunteer working on issues of food, clothing and medicine for the soldiers, received a letter from the field that said, in part,
"We are grateful for all the kindness shown us . . . but we prefer you should forget us . . . if you will but look after our wives and children, our mothers and sisters, who are dependant upon us for support . . .Succor them, and hold your charity from us."
She followed this advise and, after establishing a temporary home in Farmington in 1864, Annie founded the present home for orphan's in Davenport, Iowa in 1865, initially with 150 children. She died in 1900 and in 1949 the orphanage was named in her honor. In 1975 the home closed. Over its 110 year life some 12,000 orphans passed through its doors.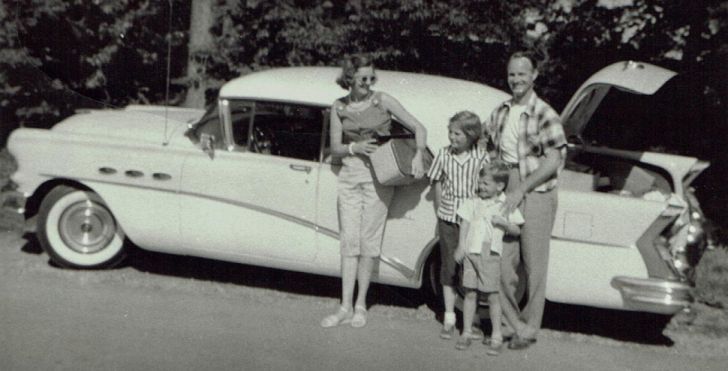 When my Dad came home from Okinawa we moved to Bryan Air Force Base, Texas, near College Station and the University of Texas. My memories of these years are of moving, usually every two years or so. Always rising well before sunrise, I'd sit, half asleep in the back seat of the car, watching the black highway illuminated only by the headlights of our car. For the next several assignments my father was in the Air Training Command, working on T-33's and later T-38's. In Texas my folks bought a small blue house on Mockingbird Lane in a new suburban neighborhood. I think it had two bedrooms, a single bath, with just a living room and kitchen in addition. It also had a single carport. I don't remember much about the interior of this house, but outside is indelibly imprinted on my brain. There was a large forest behind the houses across the street and my friends and I spent every waking Moment there. There was a lightning-struck tree, which had fallen over onto another tree, creating a perfect ramp to climb into the higher branches. There was also a creek in which we sailed model boats and, on at least one point, sailed and sunk my sister's dog, Buttons.
The family car was a blue and white 1956 Buick Special, pictured to the right. It was always spotless. I think the photo was taken during a visit to my Uncle Garrell, at Fort Hood, Texas.
I didn't go to either pre-school, which probably wasn't available, or to kindergarten, which was considered new-fangled and unnecessary. "The Mouseketeers Club" was our favorite TV show, though I remember something about the "Lives of the Bengal Lancers" whose antics we aped. I would up in the emergency room because of that show.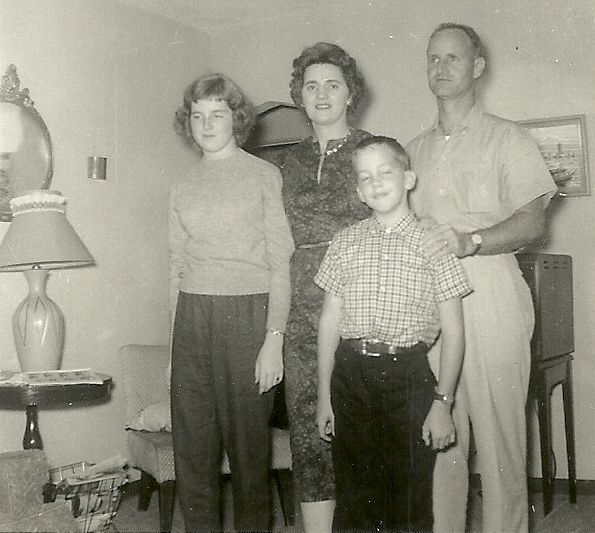 Our next assignment was Greenville Air Force Base, Mississippi, which was a huge culture shock. Greenville is in northwestern Mississippi, not far from Vicksburg and the river. The area was depressed, poverty was endemic, and I had never seen a black person before. Finding housing was more difficult than ever. My folks had not sold their house in Bryan, so they were looking for a rental. I remember going with them looking at houses and, in particular, one that reminded me more of a shed whose floor tilted noticeably. They finally found a place in Leland, Mississippi, but it was still pretty horrible. Leland was a small time due east of Greenville. A two-bedroom tar-paper shack with chickens in the back yard. Very rustic. Later we moved across the street to a frame house with a finished attic that became my bedroom and playroom. I had complete privacy up in my room, for the first time ever, and I loved it. I had a model railroad set, not the Lionel, but the cut-rate American Flyermodel, which I played with endlessly.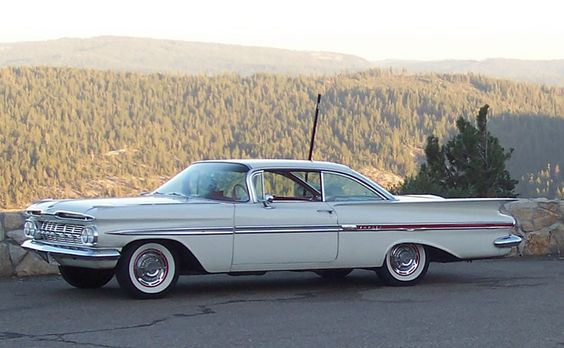 My Dad traded the Buick in on a White 1959 Chevrolet Impala, but . . . he didn't tell my Mom until we showed up at the dealership to pick it up. She immediately went to the blue Buick and had to be told that was a non-starter.
I attended first and second grade in Leland in a segregated school. Blacks did not live in town, but on the other side of the tracks in a place called "Black Dog." Their school was held in a small Baptist Church. My best friend was Smitty Reeves, whose father ran the lumberyard. Smitty gave me my first taste of beer, the warm remains of a Budweiser that I found awful.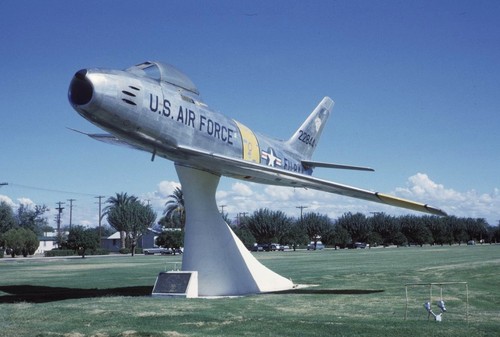 We then moved to Williams Air Force Base, Arizona, pictured to the right, on the east side of Phoenix. We lived on base in military housing. The houses were built along semi-circles with large grass areas in the middle, and just to the other side of the road was the desert. It was a perfect place for play and we engaged in endless games of army, cowboys & indians, and football. Once again, we spent as little time inside the house as possible. The only exception being when the TV show "Combat" came on. All games were put on hold for that event. I attended third, fourth and fifth grades there. I had a lot of trouble in the third grade, perhaps because of the poor schooling I had received in Mississippi, and had to attend summer school at the end of that year to improve my reading skills. After that, however I learned to like school and love reading. My best friend was Steve Lloyd, who lived next door. My Dad bought a used Vespa, hand-painted red, to get and forth to the flight line because my Mom was using the car to drive to her work. She now worked as a secretary in the Civil Engineering Department of the base.
As a boy, I and my friends spent long hours out in the desert, playing complicated games and mimicing our heroes from TV shows like "Combat!" There were old ammo dumps out beyond our housing, see below, but unused when I lived there. We used to take our bikes to the top and ride them down. It seemed a pretty steep descent at the time and I remember taking a header on one ride down.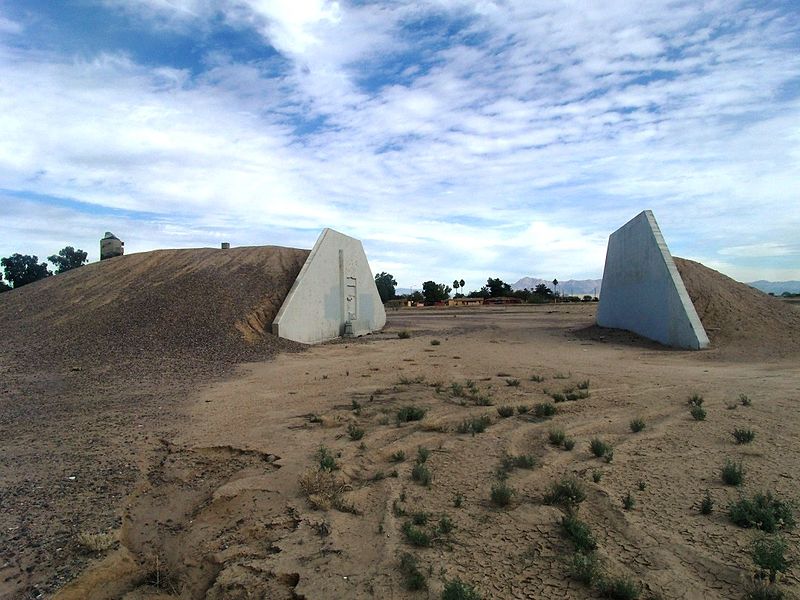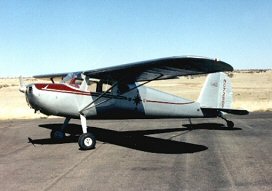 My Dad started flying again after a long hiatus as a member of the Air Force Flying Club that used the base's runways. I had my first flight when my Dad put me in the jump seat of a Cessna 140 while he got his check-out from a club pilot. The Club had the 140, a Navion and a T-34. At other times they had a Cessna 120 and a couple of Travel-Airs, however by then I had become contrary and decided I didn't like flying so I never flew these aircraft.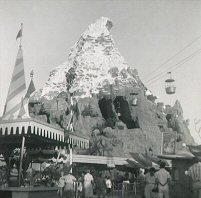 We almost never went on vacations, usually just visiting relatives while enroute from one base to another, but in 1960 we drove to Los Angeles and went to Disneyland for a day. I remember I was terribly disappointed that the Jungle Cruise was closed. I've made up for it by taking my family to the park every year.
My Dad was strict in our upbringing and somewhat remote, as Dad's of that era were, but the atmosphere was always loving. I did get "whuppin's" for various transgressions from both my Mom and Dad, though I don't remember thinking any of them was undeserved.
My father was then transferred to Iceland. Choosing not to take his family on this arduous tour, he was able to limit his term to just a year. However, the family had to leave base housing, so we moved to Chandler, Arizona, the nearest town to the Air Force Base where my mom continued to work. I attended sixth grade in Chandler. While in Iceland my Dad worked on the F-102 as the Chief of Maintenance Control. The aircraft were assigned as Interceptors, used to patrol the northern skies and intercept Soviet bombers, like the Bear and the Badger. Later, when I was in the Navy, we intercepted the same type aircraft [considering their out-of-skew economics, perhaps the very same ones].
Just before my Dad got to Iceland the squadron had failed its Operational Readiness Inspection. A big part of his job was getting the squadron maintenance back on its feet. He related how satisfying this tour was because he was able to have such a significant impact on the squadron's performance.
57th, "Black Knights," Fighter Interceptor Squadron, Keflavik AFB, Iceland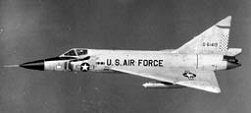 The 57th probably made more interceptions of Soviet aircraft than any other F-102 squadron. Iceland was considered to be a hardship post, and a stay of only one year for unaccompanied personnel became the rule. The conditions at Keflavik were harsh to say the least. The airfield is situated on a plateau in the center of the Reykjanes peninsula and is a rather desolate place.
F-102As replaced the squadron's F-89's between August and October 1962. The strength was established at 12 single seat F-102As and two TF-102A (affectionately called TUBS) two seaters. This strength was maintained until 1973 with most of the aircraft like the two seaters staying for the entire eleven years. Soon after the F-102As took over the alert duty the Russians started their long distance flights from Murmansk down into the North Atlantic. These sorties were of various types. Flights to Cuba, and then Africa; reconnaissance flights down along the east coast of Iceland and the up along the west coast between Iceland and Greenland and then flights where the aircraft went back along the same route they came. Almost all of these flights took the Russians into the Iceland's MADIZ (Military Air Defence Identification Zone). Of course all were unannounced and without any flight plans being filed with Air Traffic Control (ATC). The indication of approaching aircraft usually came from the Norwegian radar stations which practically look down on the Kola peninsula airfields. Until 1965, the USN had the Barrier Atlantic in operation with Lockheed WV-2 Super Constellation radar pickets. This meant that one aircraft was at all times supposed to be on station east of Iceland, and another to the west.
The nearest alternate airfields for the F-102As were Lossiemouth and Leuchars in Scotland. The 57th often had to use these facilities and diverted to Scotland when bad weather at Keflavik was likely to make landings there unsafe. The 57th "Deuces" became a frequent sight on these bases.
When my father came home we found that he had been ordered to Webb AFB in Big Spring, Texas. My Mom had hoped to return to Williams AFB and worked hard to turn these orders around, but to no avail. My Dad traded the Impala in on a gorgeous maroon 1964 Chevrolet Chevelle Malibu SS convertible. I was the envy of all, or so I thought, and especially loved it when my Mom would pick me up at school - with the top down of course. Actually, my Mom almost never picked me up and these were very special occasions. I either walked or rode my bike to school. Dad had also brought home a 1963 Volkswagen that he had used in Iceland. Later both my sister and I learned to drive in this car.
Historical Timeline: The 1960's

An era of prosperity and turmoil. As the Vietnam War heated up the young turn to protest and a counter-culture dominated by drugs. Perhaps spoiled by the wealth in which they were raised, they turned their backs on their parents way of life and sought a spiritual life (they got over it and became the Boomers, the most fiercely materialistic generation in the nations history). The Civil Rights movement made significant gains.

- 1961 the Soviets launched the first man, Yuri Gagarin, into space.
- 1962 the Cuban Missile Crisis.
- 1963 President Kennedy assassinated.
- 1964 After his election, President Johnson significantly boosted America's role in the Vietnam War.
- 1969 America landed a man on the Moon.
Big Spring, Texas was another big shock. It was a small town of about 30,000 isolated in the middle of a vast scrub-land. The closest town of any size was Midland, about an hours drive away. Collocated with an oil refinery, the town always smelled of rotten eggs. By the way, the opening sequences of the movie "Midnight Cowboy" were filmed in Big Spring. It's the town John Voight can't wait to get away from and I shared his feelings. Below, from the opening credits, is the Motel we stayed in when we first got to Big Spring. It was a hell hole, right off the departure end of Webb Air Force Base's main runway. The T-37's used to roar overhead with a particularly noxious whine.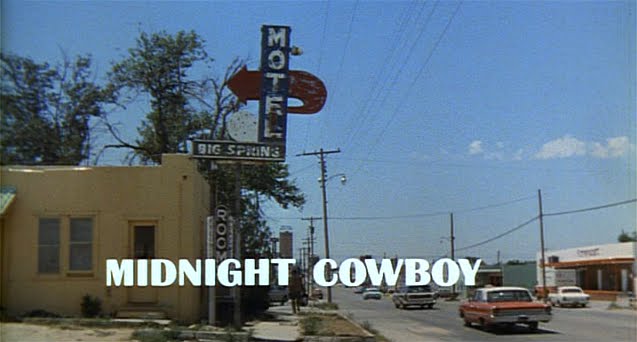 I attended seventh, eighth and part of ninth grades in the Goliad Junior High School. The locals were all the sons of ranchers or oil workers and had little use for the "cosmopolitan" Air Force kids. I had a lot of run-ins with the local toughs and had a difficult time of it.
A Webb AFB aerial view is below. The Air Training Command side is to the left, while the Air Defense Command site is the ramp on the far right side of the photo. The complex in front of this ramp, between the taxi way and runway, is an addition that wasn't there when my father worked there. By the way, look at the bottom right corner of the photo, off the end of runway 17, and just across the road from the air field. Those are the remains of the motel we lived in when we first arrived in Big Spring.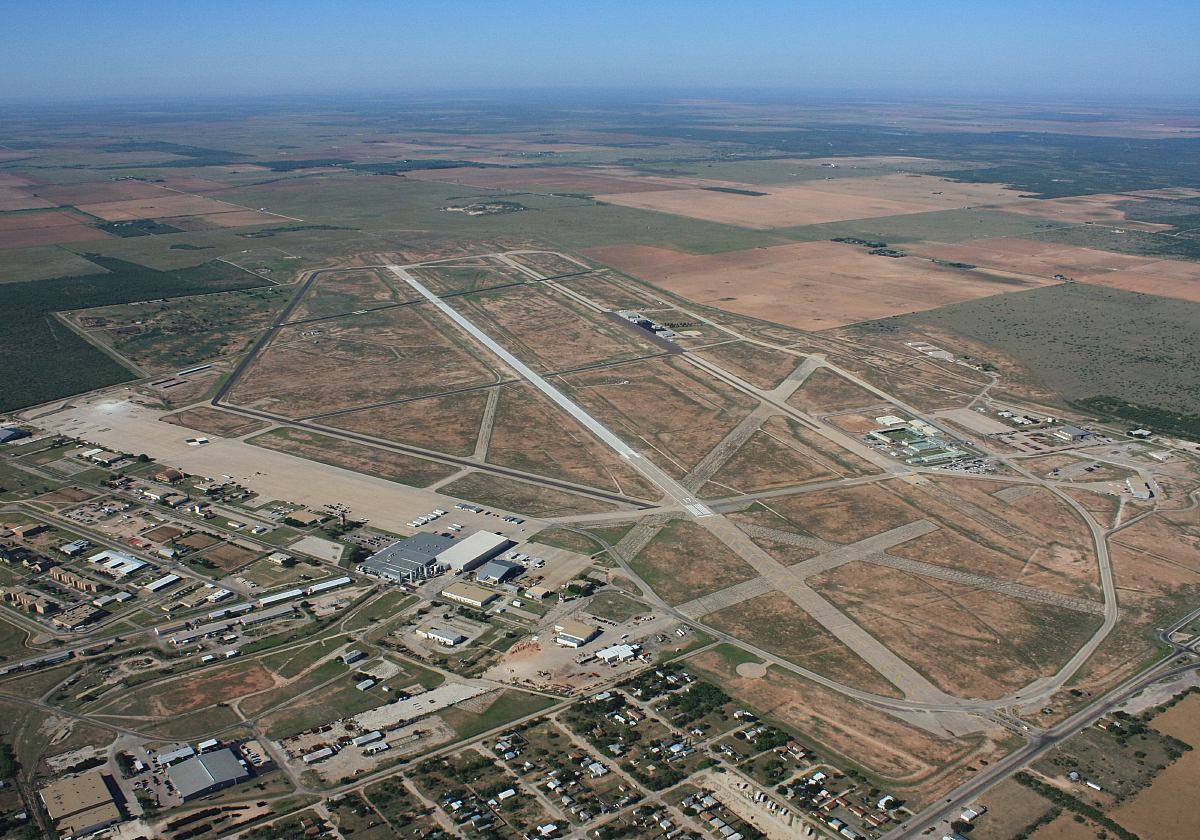 My Dad was assigned to the 331st Air Defense Command squadron, which flew F-104's, a beautiful, if ineffectual aircraft. He was again in charge of Maintenance Control, but here there was a more senior enlisted man who kept Dad from putting in place those improvements he thought necessary. The squadron was never, in my Dad's opinion, as "hot" as the 57th.
331st Figher Interceptor Squadron

Activated in February 1953 with F-51 "Mustangs," it received F-86Ds later in the year, as well as F-86Ls from early 1957. The 331st converted to the F-102A in early 1960. It then transitioned to the F-104A.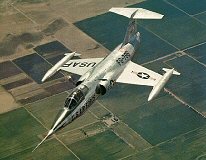 In 1956 the 331st Fighter Interceptor Squadron was transferred to Webb AFB from Stewart Air Force Base in New York to defend the southern United States border on air intercept missions. In March 1967 the 331st was redesignated the 4760th Combat Crew Training Squadron and charged with training Jordanian Air Force students. It was inactivated when the Jordanians were recalled because of the war with Israel in the summer of 1967.
Much of west-central Texas is a relatively flat, dry region noted for its geographic monotony.
My Dad also belonged to the Air Force Flying club there. They flew out of the local general aviation airport, Howard County airport, and had a Cessna 150 and 172.
"M.Sgt. Darrel D. Hissem, president of Webb Aero Club, announced this week that the club has been awarded the Federal Aviation Agency's Flight Safety Award for 1965. The award is given to Air Force aero clubs posting accident-free flying records during the year." - from the "Big Spring Daily Herald" of 8 May 1966
It was a good club and we frequently met for picnics at the airfield. There would be spot landing contests, we'd wash the planes, and eat. I remember my Mom was always careful to bring extra for the bachelor officers in the group.
"Contestants of the spot landing contest held last Saturday by Webb Aero Club at the airport, put on a good showing with Darrell Hissem winning first place, commercial class, by landing eight feet from the marker." - from the "Big Spring Daily Herald" of 26 June 1966
I remember I was in the right seat when Dad won this contest.

Fearing transfer into the developing Vietnam War, my Dad retired from the Air Force after about 22 years of service and we moved back to Arizona, settling in Tempe to be near the University. When my Dad put in his papers his commanding office let him know that the squadron was moving into an "exciting new mission," training Jordanian pilots in the F-104, and was quite disappointed, per Dad, when this failed to sway my Dad into staying in. We then moved to Tempe, Arizona. I completed high school at McClintock High School, a fairly new facility and then attended Arizona State University, as did my sister. My Dad was concerned with getting a job as quickly as possible and when an aircraft maintenance job didn't come along soon enough, he accepted a position with the Post Office and worked there for another twenty years. I don't think he was ever happy being a mail-man, but he did a good job at it. When the people on his route found he was retiring, they threw him a very nice party. Not something I can imagine doing for my mailman. My folks had built a new house in Tempe where they lived for many years.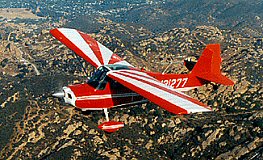 While in college I learned to fly and then took an aerobatics course in a Citabria with Cliff Sterrenberg. My flying encouraged Georgia to learn and we determined to buy an airplane together. When our discussions got serious my father joined us making the ownership a true possibility. We bought a brand new 1973 Citabria 7ECA, an aerobatic two-seat aircraft like the one on the left, and Georgia and I picked it up at the factory in Osceola, Wisconsin. We kept the aircraft at various places at first, finally settling at Falcon Field in Mesa. My Mom, tired of family conversations that revolved exclusively around flying, finally decided she'd learn to fly too, and did, getting her license at the age of fifty. The photograph below is of the four of us at an airshow at Williams Air Force Base. The base newspaper thought our story was interesting and did an article about us, using this photo. I was in my long hair hippy phase.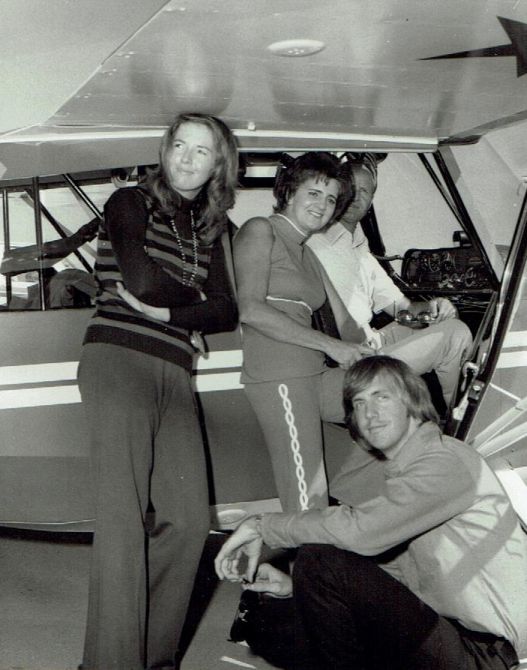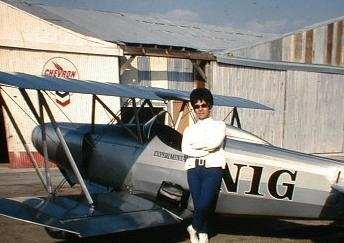 When I left to join the Navy, Georgia and Dad bought me out. Later Dad bought out Georgia and she purchased a Smith Mini-Plane, N1G, a tiny single-seat biplane, to the right [the woman pictured is not my sister, however. This woman was the wife of the original builder circa 1968].
"This Smith Mini Plane N1G was started in mid 1961 and was first flown on November 12, 1967 at Chino, California. It was built by Norm Ginn who operated a small company named Aircraft Spruce Co. selling spruce lumber in the early 1960's. In 1965, Norm sold the company name to Flo and Bob Irwin who began to build the business into what is today Aircraft Spruce & Specialty Company. Thus, N1G is the first homebuilt using materials from "Aircraft Spruce". Norm sold N1G in 1970, and today it is with its seventh owner in Texas. "
Mom and Dad sold the Citabria later and bought a 1961 A33 Beechcraft Debonair, N1111Z. I was to get many hours flying this aircraft on my returns home. Below is a picture of the plane, with my Mother boarding it as pilot while I wait to step up as navigator. We were about to take-off on an air race, the annual Kachina Doll air rally. My Mother took part in this race a number of times, a few times with me as co-pilot, but also with my Father and Sister at other times. Sadly, while at a stop overnight in Sedona, Arizona, the airplane was caught in a hailstorm. While my Dad was able to fly it home, the cost to repair it was prohibitive and the insurance company totaled it.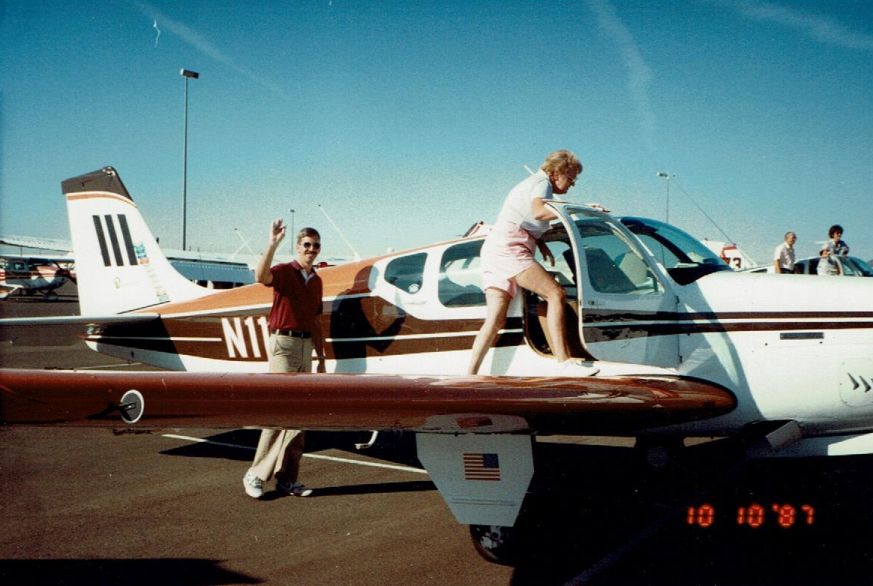 N1111Z, the "Debby"

Sadly, the Debby was to sustain further damage. On 14 January 1996 the current owner was executing a go-around from runway 27 in Houston, Texas. At about 200 feet AGL, the engine failed. The pilot attempted a restart but was unsuccessful. The aircraft came to a stop about 1/4 mile beyond the departure end of the runway after rolling through a rough field. Inspection of the aircraft revealed no usable fuel in the left fuel tank, and the right fuel tank was full. The fuel selector was found in the right tank position. The National Transportation Safety Board determined the probable cause(s) of this accident was a loss of engine power for undetermined reasons.

I've also found that the aircraft had an accident previous to my Dad owning it. On 23 July 1967 in Versailles, Missouri, while operating out of a farm strip, the pilot aborted take-off and was not able to stop the aircraft before it collided with a fence and the trees beyond. The accident was attributed to insufficient runway for the prevailing conditions. While the temperature was only 80 degrees, the grass on the field was 4 to 5 inches tall, significantly slowing acceleration. Damage was described as substantial.

Today the aircraft, rebuilt and repainted, is located at Montgomery Field, San Diego from which I fly.
My Mom and Dad used the insurance money from the Debbie to buy a 1970 V35B Beechcraft Bonanza, N4002A, a truly beautiful airplane. In the mean time, to have a simpler, cheaper airplane for local hops, my Dad joined several of his friends to buy an Aeronca Champ. Years later the group traded this airplane in on their current aircraft, a Citabria GCBC.
In the final years of their lives both my Grandma Hissem and Grandma Offerman lived with my parents in Tempe. I was gone, deployed with the Navy, when Grandma Hissem died and I missed her funeral, but I was home on leave when Grandma Offerman passed away. The family flew back to Iowa for the funeral in the Debonair, the last leg into Davenport under a quickly lowering sky and growing snow storm. I flew this leg and was happy that my folks were familiar enough with the countryside south of Davenport to be able to direct the flight based on the roads we could see underneath us.
After my Dad and Mom retired they moved to a smaller house located on the Camelot Golf course in Mesa, Arizona to be closer to the airport, as well as the golf course. Dad had a perfect retirement. Every morning he would get up early and head to the airport, or "to work" as he sometimes called it. He might make an early flight, or just work on the airplane. With the hangar open, it was a sign to the other aviators to come calling, and after a little conversation, everyone headed over to the cafe for coffee and perhaps a little breakfast. Afterwards they'd decamp to someone's hangar to help a buddy with a maintenance problem or to the administration building where they could get another cup of coffee and watch the aircraft takeoff and land, critiquing the performance. Some day's they'd get several aircraft and go out for lunch. Other times they'd stay local, but still go out in a convoy. Meanwhile my Mom played golf and took positions of authority in the local league. She also joined the 99's, writing their newsletter and in general being a ball of fire.
My Mom developed heart trouble and died, suddenly, on 15 October 2001. Her death was a terrible blow to my father. My Dad died on 3 May 2006. When he collapsed he was at the airport, surrounded by his friends. It was the way he would have wanted it to happen. Darrell and Jeanne's children are,
(27) Georgia Jean Hissem (1948)
(27) Steven Dean Hissem (1952)
(27) Georgia Jean Hissem (1948)
(15) Raphe Hesome (c1550)
(16) William Hesome (c1577)
(17) George Hesom (c1600)
(18) John Heesom (1650)
(19) Unknown Heesom (c1687)
(20) Thomas Hesom/Hissom/Heysham (c1720)
(21) David Heysham/Hissam (1762)
(22) Jesse Hissam (1795)
(23) Abner Hissam (1830)
(24) Arthur W. Hissem (1866)
(25) Leo Worth Hissem (1891)
(26) Darrell Dean Hissem (1924)
Georgia was born in Iowa and, like me, went to a variety of schools throughout her young life. This included a stint at the Howard County Junior College in the year before Dad retired. At that point she entered Arizona State University and earned a Bachelors degree in Microbiology. She held a variety of positions early on, but settled into work in a local hospital on the western side of Phoenix.
She continues to live in the Phoenix are on a small ranch on the western end of the valley, underneath the White Tank mountains. She married Charles T. Mulhern (1956) and had two children.
(28) Kerry Jean-Marie Mulhern, who graduated from Arizona State University. She married Austin Farris on 8 April 2011.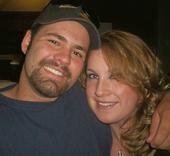 They had a daughter, Addison, and son, JD [Joshua Dean].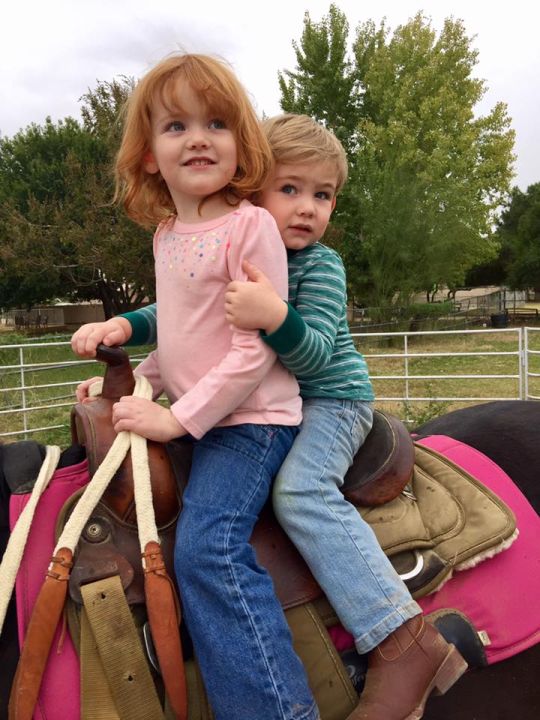 (28) Charles Phillip Mulhern, he works for the local power company.

Historical Timeline: The 1970's

An era of retrenchment following the defeat in Vietnam. Politics were dominated by President Nixon and the Watergate controversy.

- 1970 America began to withdraw troops from Vietnam. Bombing of North Vietnam continued.
- 1973 Paris Peace Accords end the Vietnam War and Henry Kissinger won the Nobel Peace Prize.
- 1976 North Vietnam invaded the south and quickly conquered our old ally. American did nothing and Henry did not return his peace prize.
- 1979 Iranian protesters seized the U.S. Embassy and hold its staff hostage. A nadir in American self-confidence and prestige.




Historical Timeline: The 1980's

The era of Ronald Reagon and his slogan of "Its Morning in America." A huge increase in Defense spending and a policy of aggressive confrontation with the Soviets, called an "Evil Empire" by Reagon.

- 1980 Soviets invaded Afghanistan.
- 1981 IBM launched their personal computer establishing a new standard and significantly accelerated the home PC market.
- 1983 The Compact Disc created.
- 1989 The Berlin Wall fell as citizens of Berlin reject communism.


(27) Steven Dean Hissem (1952)
(15) Raphe Hesome (c1550) (16) William Hesome (c1577) (17) George Hesom (c1600) (18) John Heesom (1650) (19) Unknown Heesom (c1687) (20) Thomas Hesom/Hissom/Heysham (c1720) (21) David Heysham/Hissam (1762) (22) Jesse Hissam (1795) (23) Abner Hissam (1830) (24) Arthur W. Hissem (1866) (25) Leo Worth Hissem (1891) (26) Darrell Dean Hissem (1924)

I was born on 29 March 1952 at Luke Air Force Base, just west of Phoenix, Arizona. At the time my parents lived in the suburb of Glendale. My first memories are of living in Iowa near by Grandma Hissem, while my father was overseas with the Air Force, in Taiwan. After his return we moved to Bryan Air Force Base, near College Station, Texas. Assignments to Greenville AFB, Mississippi, and Williams AFB, Arizona, followed. My father then went overseas again, to Iceland, while the family stayed in Chandler, Arizona. On his return we moved to Webb AFB, Texas, from which Dad retired. We then moved back to Arizona, settling in Tempe, where my sister and I attended Arizona State University.

I earned a Bachelor of Science Degree in Sociology from Arizona State University (ASU) in 1973 and a Masters of Science in Systems Management from the University of Southern California (USC) in 1987, where Anita and I met, and a Certificate in Program Management from the Defense Systems Management College at Fort Belvoir, Virginia.

I married Anita Lee Montague in San Diego on 18 February 1987. Anita is the daughter of Lloyd Lee Montague, originally of Bishop, California. Lloyd is a retired Navy Captain, having served as a fighter pilot, flying the F-4U Corsair, F-6F Hellcat, AD-1 Skyraider and FJ Fury aircraft, and, later, as an intelligence officer. See the Wells and Montague pages for my interpretation of Anita's family background.

While working on an earlier Masters degree at ASU, that I never finished, I decided to chuck it all and join the Navy. Below is a photo from the day I signed up - nice hair huh?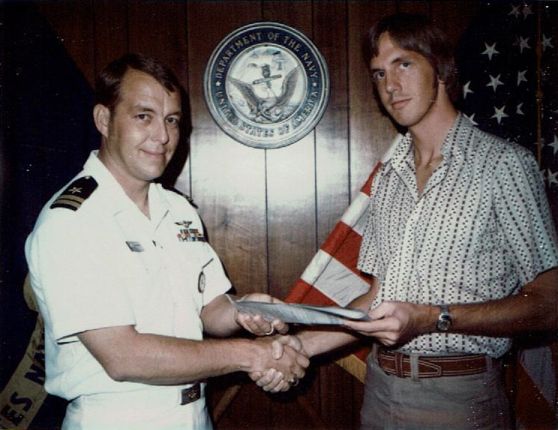 In October 1975, after selling my portion of the Citabria, I left for training at the Aviation Officer Candidate School in Pensacola, Florida. This is the school mimiced in the Richard Gere film "An Officer and a Gentleman," though they used an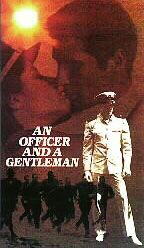 abandoned site in Washington state when the U.S. Navy refused to cooperate with the filming. While there is a lot of silliness in that movie, it is essentially correct in the behavior of the drill instructor, the climate of the school and the attitudes of the cadets [not to mention that of the local girls]. I was in battalion three, class 28-75 [ooh-rah!] and my drill instructor was Staff Sergeant Conners. Below is a photo of Battalion One. Our buidling looked the same, but on the next street over. By the way, they looked nicer on the outside than they did on the inside.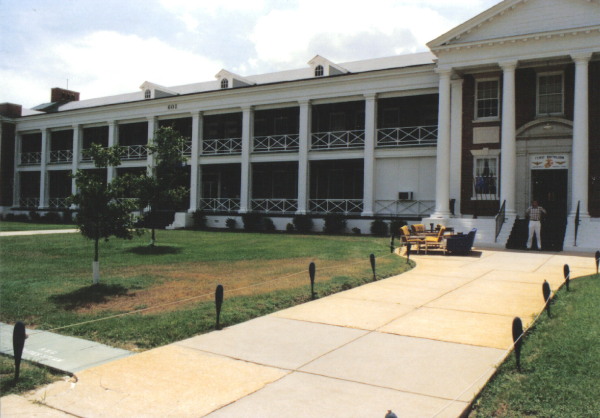 In February 1976 I was commissioned an Ensign.

Training continued after commissioning when I entered VT-10, the basic navigation school, followed by VT-86, the advanced navigation & radar school. My training was a combination of classroom, desktop trainers, simulators and flights in the T-2 and T-39 aircraft. It was in VT-86 that I was trained as a Radar Intercept Officer (RIO), that is, a backseater in Navy fighter aircraft. I earned my Naval Flight Officer 'wings' early in 1977.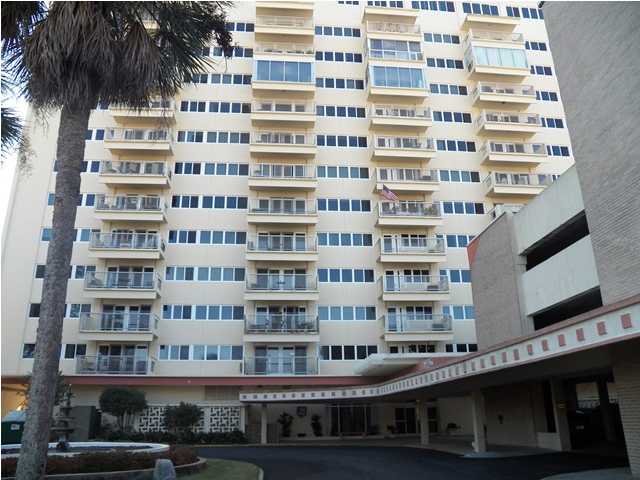 After commissioning I had moved into the Bachelor Officers' Quarters (BOQ) on base for a short time, then out into town to an apartment with my buddy, Scott Graves, who had commissioned in the class before me. We lived in a high-rise on Pensacola Bay, at the Bayshore Apartments, pictured at the right. This is now a condominium. We lived the high life for awhile, waiting for our training start date, with lots of pool and beach time, quaffing down quite a few Pina Colada's in the process. We chased the ladies of Pensacola, and Scott caught one.
Once our training began things began to move pretty quickly. I'll admit that I found VT-86 a tough school and I had some difficulty translating the 2 dimensional presentation of our primitive and very weak radar into a spatial picture of the intercept problem.
I then received orders to VF-121, the training squadron, or Replacement Air Group (RAG), for the F-4J Phantom fighter aircraft. The squadron was located at Naval Air Station (NAS) Miramar in San Diego, California. This was my first visit to the city in which I would eventually retire. The F-4 was the first "grey" airplane I got to fly in; that is, it was a combat jet, not a training command airplane, which were painted white. It was also huge. My first pre-flight was daunting.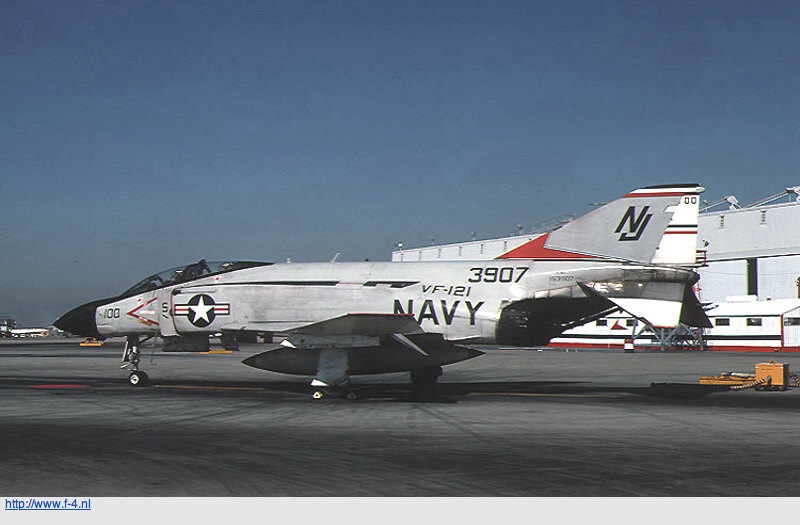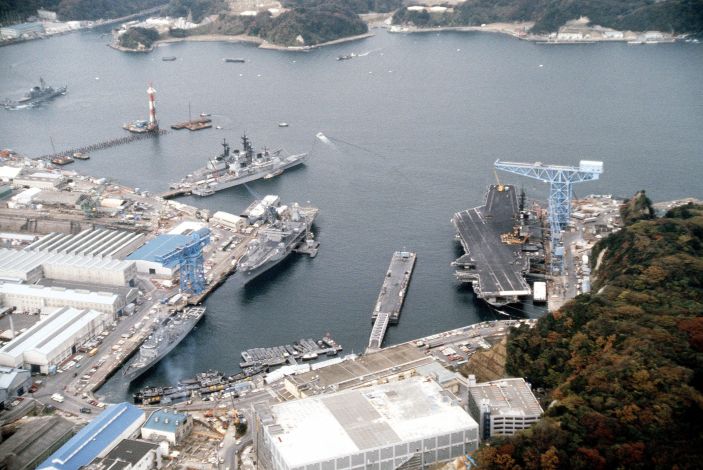 After a quick six months I finished training at the RAG and, to my shock, was ordered to VF-161, the Rock Rivers, onboard the USS MIDWAY in Yokosuka, Japan. Two excellent web sites for this ship are at CV41 and USS MIDWAY. Interestingly, that ship, now decommissioned, is docked in San Diego as a tourist attraction. My youngest son had his Eagle ceremony onboard. Below is a photo of the MIDWAY at it's pier on Yokosuka Bay. Most of the destroyers in this picture are of the Japanese Navy.
While the ship and airwing were very good, and worked better together then any I served with later in my career, I can't say I loved this tour. Yokosuka was a cold and dreary place, very industrial; I was a bachelor, forced to live onboard the ship for the entire 2 1/2 years I was there, with little night life and few date-able women outside the few Department of Defense school teachers, who had to fight off the men.
Below is a photo of the "Honch," the entertainment sector outside the front gate. I can honestly say I only went there when I was on duty with the Shore Patrol.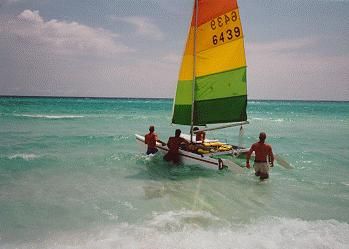 After that tour I received orders, in 1980, to become an instructor at VF-171, the East Coast F-4 RAG at NAS Oceana, Virginia. While living in the "party town" of Virginia Beach, I bought a Hobie 16 sailboat, like the one pictured to the left. A friend and I sailed it in the Atlantic for many years. The night life here was a better fit for a bachelor and, as a military town, geared to a young naval aviator.
After many years out of general aviation, I bought a Stolp Starduster II, a two-place, open-cockpit biplane. My father found it for me at Falcon Field, in Mesa, Arizona. That's it below, in a photo taken at Deer Valley airport, about two years before I bought the plane. I flew it back to the east coast (that's a long story best told over a beer) and based it at Portsmouth, Virginia.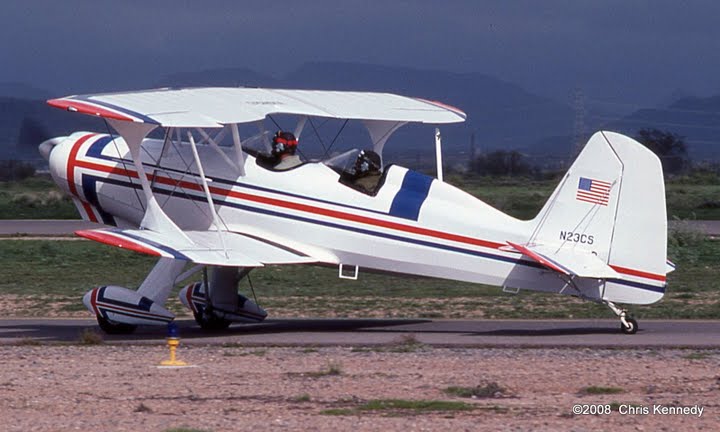 While I enjoyed being an instructor, when a position came open, I volunteered to go back to sea duty early and received orders to VF-21 in San Diego. I flew the Starduster from Virginia to San Diego while a British officer I knew from the squadron on exchange duty and his wife drove my car west on a vacation, sightseeing throughout the country. At the time VF-21 was flying the old F-4N, an updated version of the F-4B aircraft used during the Vietnam War. We deployed onboard the USS CORAL SEA, CV-43, and made an around-the-world cruise in 1984. The lowpoint came early in the cruise when cracks were found in the wings of our aircraft. The aircraft had to be flown off to a depot repair facility in the Philippines to be patched. It wasn't all bad because I was the officer-in-charge of the detachment. The highlight of the cruise was our passage through the Suez Canal into the Med, with a stop in Cannes, France. I never knew how good the LANT fleet sailors had it on liberty!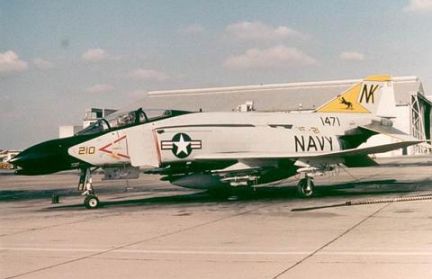 After an around-the-world cruise on the old USS CORAL SEA, the squadron transitioned to the F-14A Tomcat fighter. Following training at VF-124 at NAS Miramar, Roger Boenighausen, the Commanding Officer, and I went to Long Island to pick up one of the fighters fresh off the production line at Grumman and flew it back to San Diego.

In 1985 I was selected, along with pilot John Conkey, to go to the Navy Fighter Weapons School, TOPGUN. While "An Officer and a Gentleman" did accurately mirror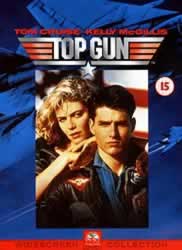 much of what went on at AOCS, the movie "Topgun" was wildly inaccurate in almost every detail. One of the few true things about it was that there was a Kelly McGillis-type character who analyzed combat engagements and crunched numbers. She did not, however, have such a central role. There was no top-crew award, the very idea of which was anti-thetical to the squadron's mission, and we didn't take steamy showers together after our flights. There was one good thing to come out of the movie, though. When someone asks what a RIO is, the answer is now simple: "Its Goose! The funny guy in the backseat who died when he ejected."
In 1985 the squadron deployed on the USS CONSTELLATION. During that cruise, and the work-ups leading to it, I was in charge of training and the creation of new Maritime Air Superiority tactics utilizing the F-14 and new F/A-18 aircraft. For those efforts I was selected the Pacific Fleet Naval Flight Officer of the Year in 1985. In a career you receive many awards, earned and unearned. Of this one, and the medal that went with it, I am quite proud.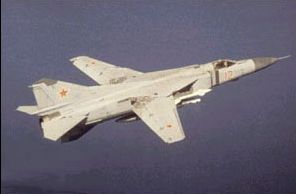 While on deployment, off the Kamchatka penisula, I and my pilot, Pete Romaneski, got a chance to tangle with Soviet Combat Air Patrol aircraft, some really pretty MIG-23's, who were guarding their airspace. They were fairly aggressive, the number two man trying to maneuver to our six [which we prevented], but when our wingman showed up they turned quite tame.
Heading back to shore duty in 1985 I was assigned to VF-126, the Bandits, an adversary squadron at Miramar. They flew F-5's and A-4's, and later F-16N's, and played the 'bad-guys' to the RAG and Fleet Squadrons. Utilizing Soviet tactics they helped Navy squadrons hone their skills against the most realistic opposition available. I was able to get quite a bit of stick time in the squadron's TA-4J's, like the one below. These were also used in the adversary mission, though of course they had less oomph that a single seat A-4F. I got to be pretty good at ACM (Air Combat Manuevering), or dogfighting, and took the opportunity to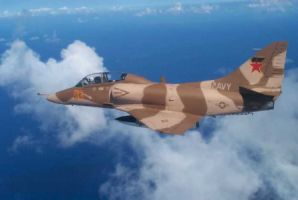 make my own Atoll kill's (including on Squatty, an old squadron mate from VF-21). The squadron also flew the T-2, teaching pilots how to recognize and recover from spins. Randy Cunningham, the Navy's only Ace in the Vietnam War, was the commanding officer of the squadron (yes, he went to Congress and embarassed himself, winding up in jail). I was the Maintenance Officer of the squadron.
While at VF-126 I took the opportunity to go back to school, earning a Masters degree from the University of Southern California. It was during one of these early classes that I met my wife-to-be, Anita Lee Montague. We were married on 18 February 1987. In 1989 my son Jeffrey was born. Anita is the daughter of Lloyd Lee Montague and Virginia Bassett.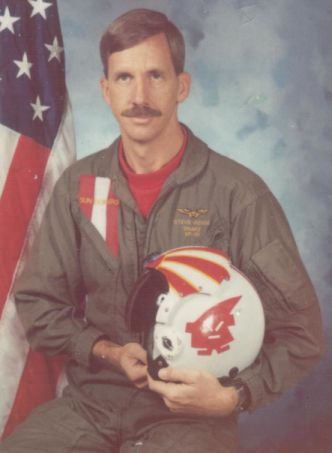 I was originally ordered to VF-194 after my tour in VF-126, but when that squadron was abolished I was rather suddenly sent to VF-111, the Sundowners. They deployed on the USS CARL VINSON in 1989. Around this time I sold the Starduster; as a father of two young boys I didn't have the time to fly it anymore.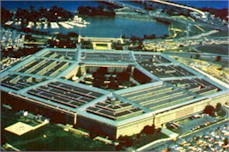 In 1990 I was sent to the Pentagon where I was assigned to the Office of the Assistant Secretary of the Navy for Research, Development and Acquisition. I became an action officer for Air-to-Ground ordnance, Unmanned Aerial Vehicles, and the Harpoon and Tomahawk missiles. At the end of my tour I was sent to the Program Manager's course at the Defense Systems Management School at Fort Belvoir, Virginia. My son Timothy was born at the hospital at Fort Belvoir in 1990.
I returned to San Diego in 1993 to be the Weapons Department Head onboard the USS KITTY HAWK, based at NAS North Island. After returning from a deployment in 1995 I transferred to my final Navy tour, as Executive Officer at the Fleet Air Control & Surveillance Facility (FACSFAC) San Diego, also located at NAS North Island.
In March 1999 I retired from the Navy [I still can't believe I'm not in the Navy anymore] as a Commander after almost 24 years of service. I had over 3000 flight hours and 800 carrier arrestments. In all that time, however, I never got any 'green ink' in my flight log. In the log book black ink is used for day flights, red for night flights, while green is reserved for combat missions.
Squadron Patches

Every squadron in the Navy, and in the world for that matter, has a squadron insignia and a patch normally worn by its personnel. The following are those I wore and still have on my flight jacket. By the way, every one of these squadrons has been disestablished (it wasn't my fault).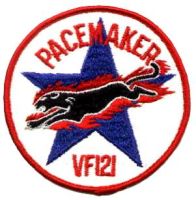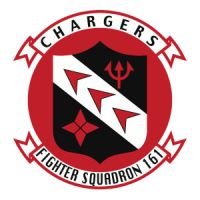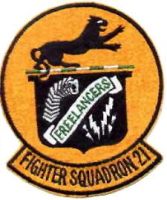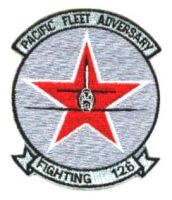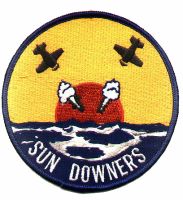 Pilots and NFO's in the Navy also all have nicknames. For pilots this is their radio call sign. My nickname was 'Snake,' though while in VT-86 it was 'Achmed.' During the time when I was in training in that squadron the Shah of Iran was still in power and he sent his pilots and NFO's to the Navy to train to fly his F-14's. Before the instructors at VT-86 had seen me they saw my name and assumed my last name, looking middle-Eastern, must mean I was an Iranian student and initially assigned me to one of their classes, which were separate. The mistake was discovered quickly, but not before my friends found out about it and dubbed me 'Achmed Mohammed Hissem.'
I now work for the Anteon corporation (then OSEC, Apogen, QinetiQ, and now Booz-Allen-Hamilton) as contract support to Shipboard Installations at the Space & Naval Warfare Systems Command (SPAWAR), in San Diego, below.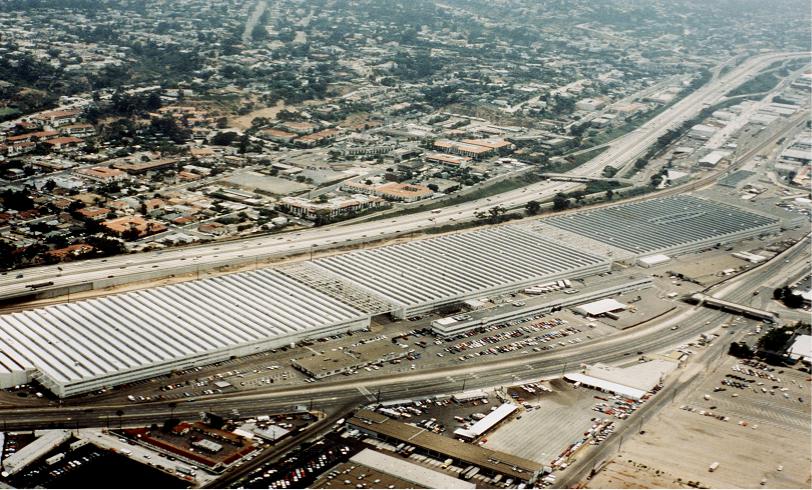 Anita and I live in the north county, in the suburb of Rancho Bernardo, just south of Lake Hodges.
In 2006 I couldn't stand renting Cessna's from the local club anymore and bought a 1/2 share in a Mooney 201, below, based at Montgomery Field, in San Diego. She's a beauty to fly, fast and solid, yet surprisingly docile in the landing pattern. I also recently picked up an Instrument license to more fully utilize the Mooney's capabilities - I went to the Sheble school in Kingman, Arizona, but that's another story to share over a beer. I've since discovered that the Mooney is an excellent instrument platform, and extremely stable on final.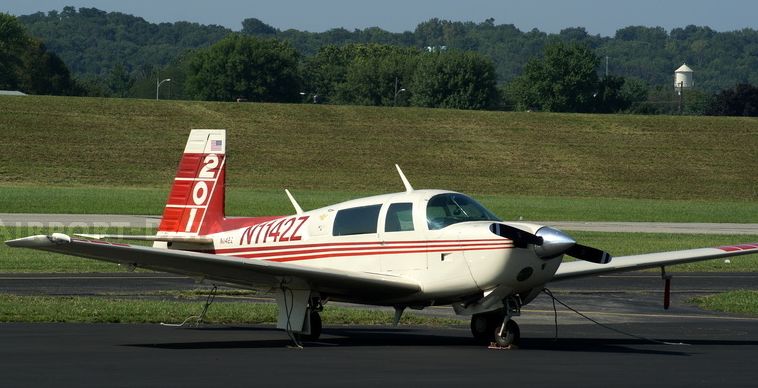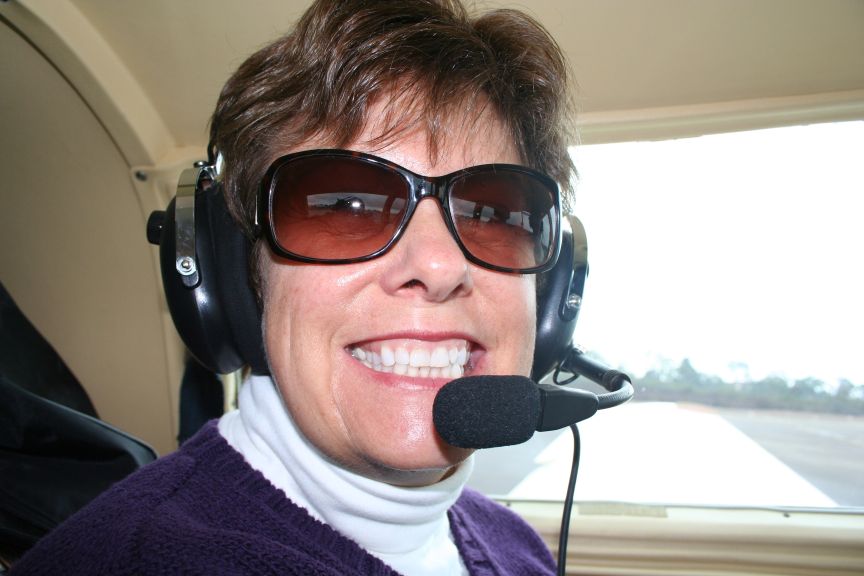 My Co-Pilot

Our children are,
(28) Jeffrey Lloyd Hissem (1989)
(28) Timothy Darrell Hissem (1990)

Historical Timeline: The 1990's

An era of ever increasing prosperity. The last decade of the Twentieth Century was dominated by the fall of the Soviet Union and the rejection of communism around the globe, with the exceptions of Cuba and North Korea. The Age of Information came to maturity. American politics in the last half of the decade were dominated by petty sex scandals.

- 1990 Iraq invaded Kuwait. America created a world-wide coalition to drive out the Iraqi's in "Operation Desert Storm."
- 1991 the Soviet Union officially ceased to exist as the nation split into a number of smaller countries.
- 1992 the World Wide Web began to impact the way we use computers.




Historical Timeline: The Twenty-First Century

America's position as the world's sole super-power uncontested. Terrorism, the warfare of the weak, took center stage as the Arab-Muslin world sought to redress their grievances.

- 2001 The twin towers of the World Trade Center were destroyed in a terrorist attack. Afghani Taliban government attacked after refusing to extradite Osama bin Laden and the Al-Quede terrorist network.
- 2003 Iraqi regime of Saddam Hussein deposed in Desert Storm reprise.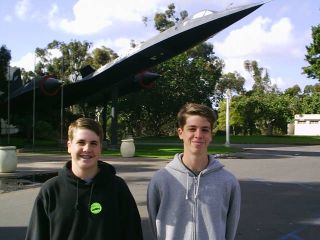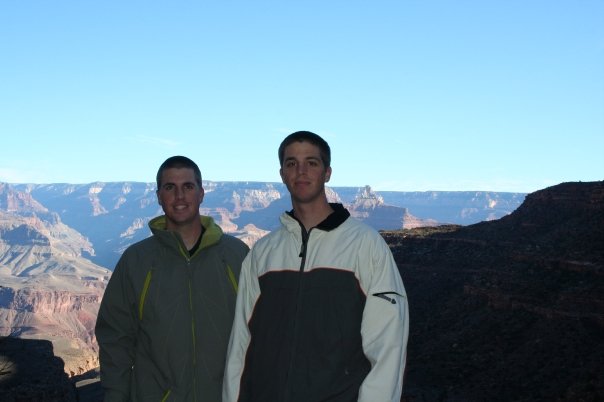 (28) Jeffrey Lloyd Hissem (1989)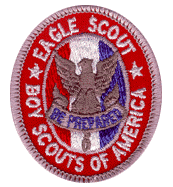 (15) Raphe Hesome (c1550)
(16) William Hesome (c1577)
(17) George Hesom (c1600)
(18) John Heesom (1650)
(19) Unknown Heesom (c1687)
(20) Thomas Hesom/Hissom/Heysham (c1720)
(21) David Heysham/Hissam (1762)
(22) Jesse Hissam (1795)
(23) Abner Hissam (1830)
(24) Arthur W. Hissem (1866)
(25) Leo Worth Hissem (1891)
(26) Darrell Dean Hissem (1924)
(27) Steven Dean Hissem (1952)
Jeff was born on 7 February 1989 at Sharp Hospital in San Diego, California and named for his maternal grandfather, Lloyd Montague.
In 1990 we moved to Springfield, Virginia while I worked at the Pentagon. In 1993 we moved back to San Diego, California where Jeff grew up, attending Westwood Elementary, and Rancho Bernardo Middle School and High School.
Jeff was a Boy Scout in Troop 685, attaining the rank of Eagle Scout. He was twice Senior Patrol Leader of his troop, a member of the Order of the Arrow, scouting's honor society, and chief of his local chapter. As an adult, he was an Assistant Scout Master for Troop 685.
Jeff attended San Diego State University, majoring in Computer Engineering.
Jeff is in the Air Force and stationed at Shriever Air Force Base in Colorado Srings where he specializes in computer techology.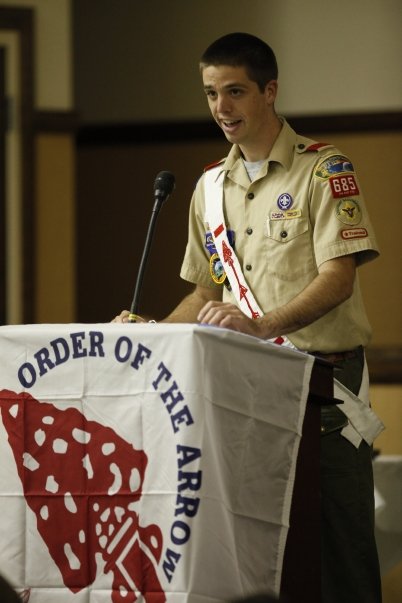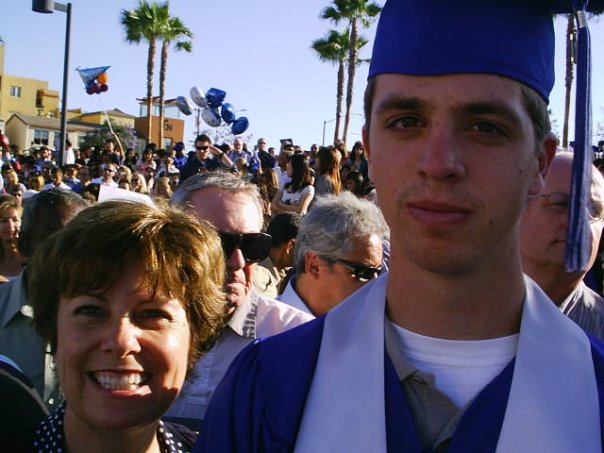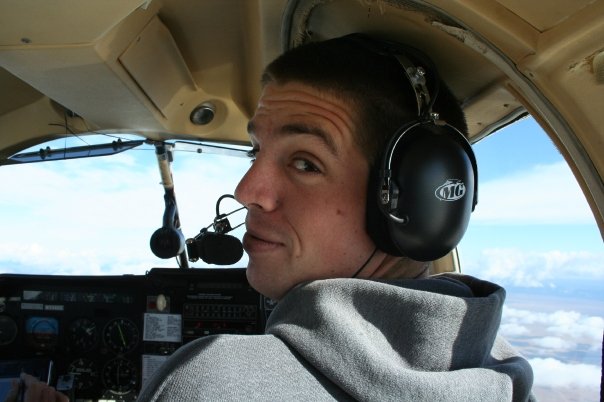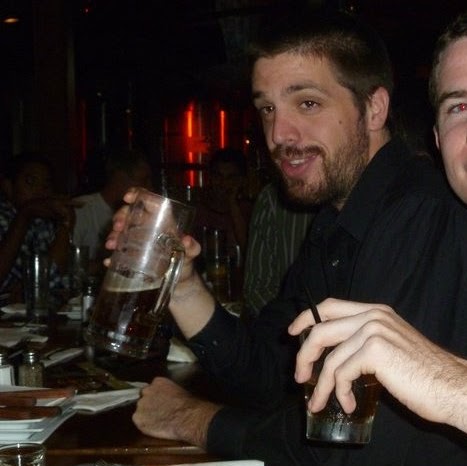 (28) Timothy Darrell Hissem (1990)
(15) Raphe Hesome (c1550)
(16) William Hesome (c1577)
(17) George Hesom (c1600)
(18) John Heesom (1650)
(19) Unknown Heesom (c1687)
(20) Thomas Hesom/Hissom/Heysham (c1720)
(21) David Heysham/Hissam (1762)
(22) Jesse Hissam (1795)
(23) Abner Hissam (1830)
(24) Arthur W. Hissem (1866)
(25) Leo Worth Hissem (1891)
(26) Darrell Dean Hissem (1924)
(27) Steven Dean Hissem (1952)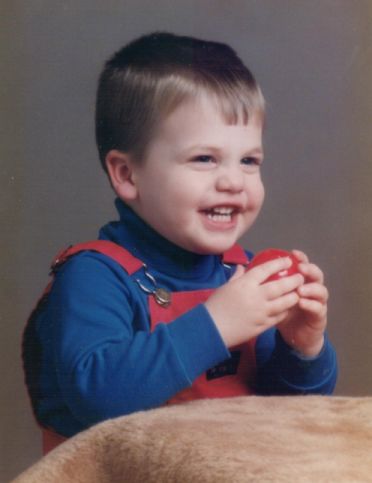 Tim was born on 11 April 1990 at Fort Belvoir, Virginia, just south of Washington D.C, and named for his paternal grandfather, Darrell Hissem.
In 1993 we moved back to San Diego, California where Tim grew up, attending Westwood Elementary, and Rancho Bernardo Middle School and High School.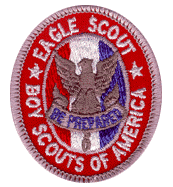 Tim was a Boy Scout in Troop 685, attaining the rank of Eagle Scout. He was a member of the Order of the Arrow, scouting's honor society, where he was Chief of the Tiwahe Lodge of San Diego and Imperial counties, and, as an adult, an Assistant Scout Master for Troop 685. His Eagle project was the construction of a trail and drainage "lens" on Lake Hodges, below, just north of our home in Rancho Bernardo.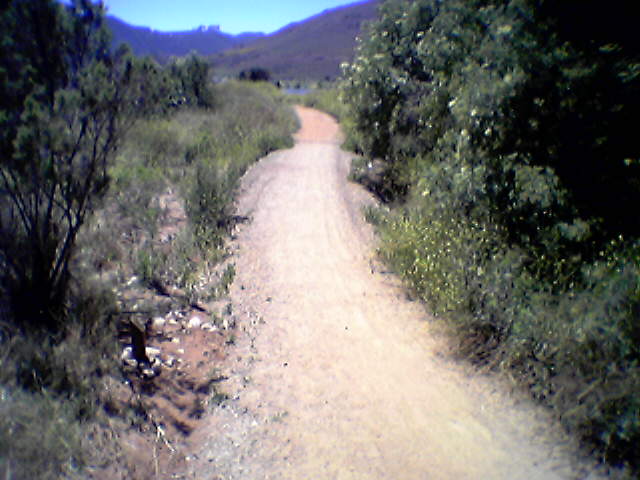 Tim graduated from the University of California at Riverside, with a bachelors degree in Geo Science Education. He was a member of the Army ROTC and was commissioned a 2nd Lieutenant upon his graduation from university. As you can tell from the photo below, taken on an ROTC field exercise, Tim is the youngest.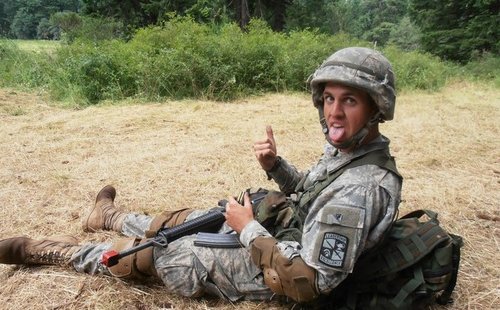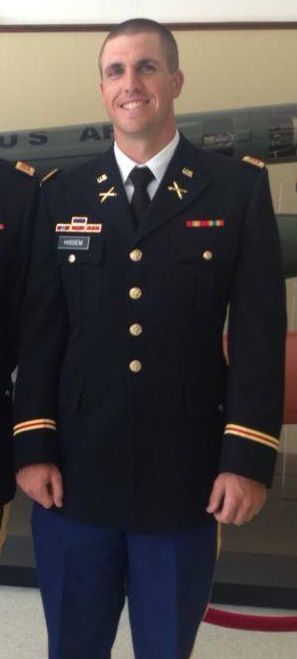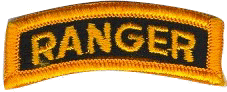 Tim is now a 1st Lieutenant in the Artillery. He is currently stationed at Fort Polk, in Leesville, Louisiana. Oddly, he's in the 10th Mountain Division, though I know of no mountais in Louisiana.
At the tail end of 2014 Tim went through Ranger training, completing the course, and earning the Ranger tab, right, in January 2015. Tim expects to deploy to Afghanistan in December.
On 2 July 2015 Tim and Alyssa Alvarado married in Leesville, Louisiana. Tim has just been selected for Captain and is currently the Executive Officer for Battery C, 5th Battalion, 25th Field Artillery Regiment, 3rd Brigade Combat Team, 10th Mountain Division (Light Infantry), Fort Polk, Louisiana. That's a mouthful . . .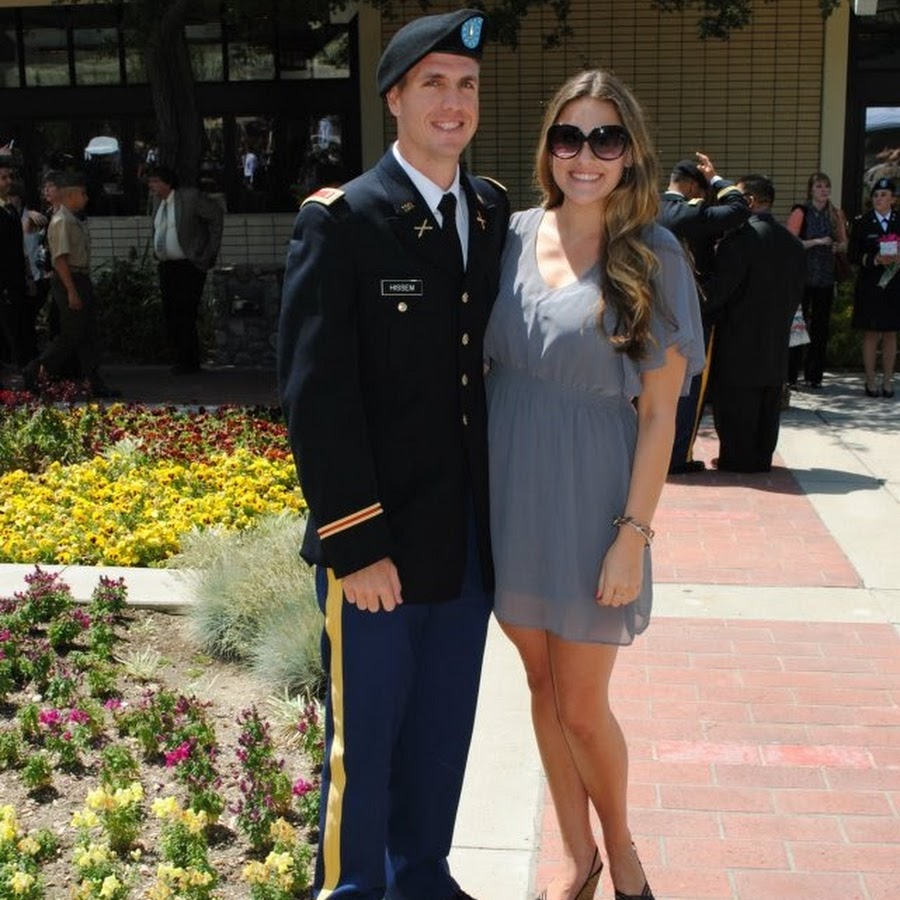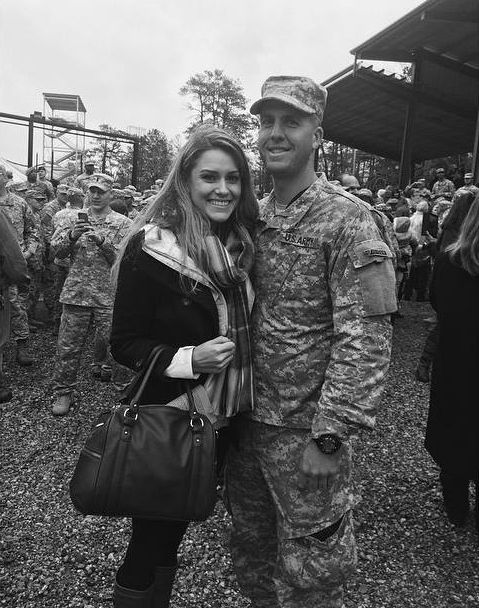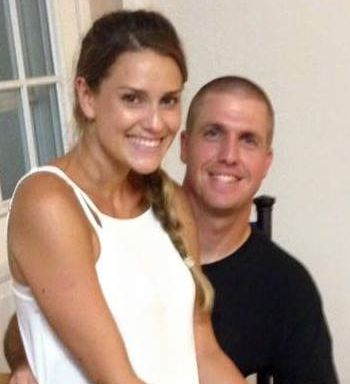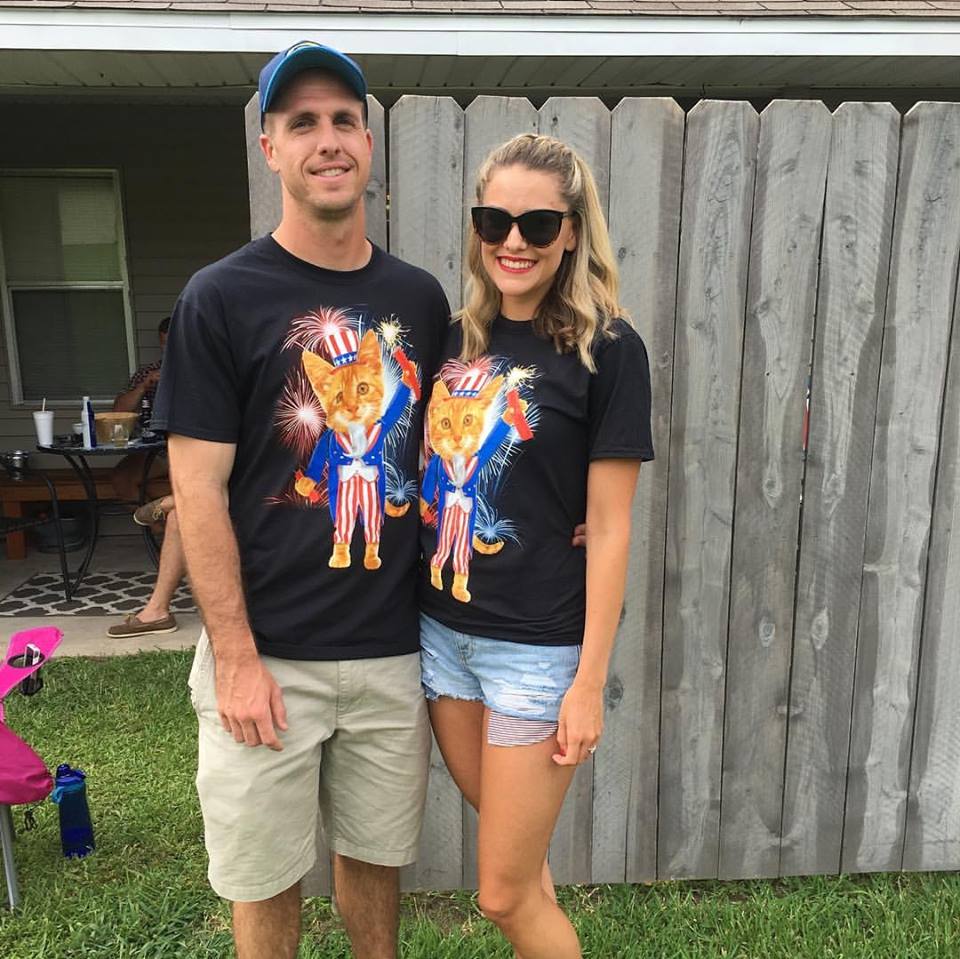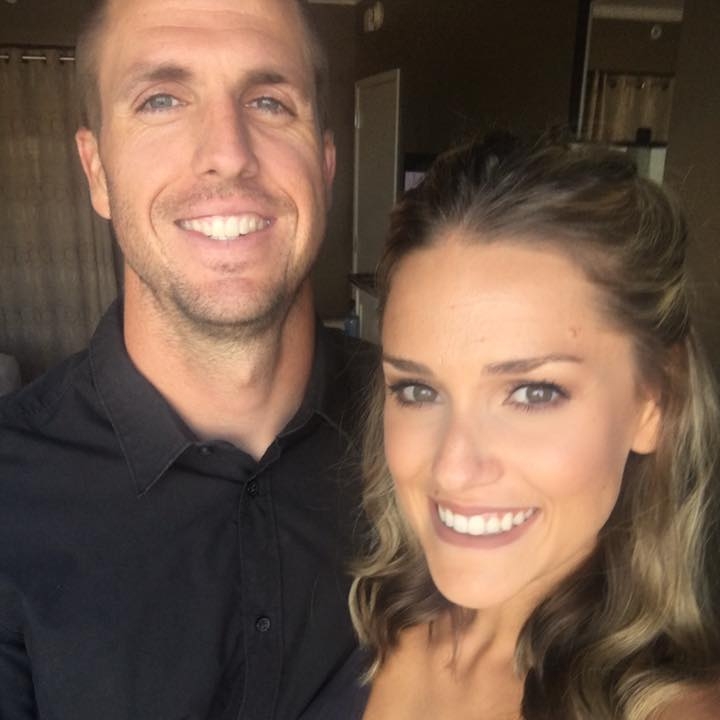 (26) Herbert Lozelle Hissem (1929)
(15) Raphe Hesome (c1550)
(16) William Hesome (c1577)
(17) George Hesom (c1600)
(18) John Heesom (1650)
(19) Unknown Heesom (c1687)
(20) Thomas Hesom/Hissom/Heysham (c1720)
(21) David Heysham/Hissam (1762)
(22) Jesse Hissam (1795)
(23) Abner Hissam (1830)
(24) Arthur W. Hissem (1866)
(25) Leo Worth Hissem (1891)
Herbert Lozelle Hissem, the son of Leo Worth Hissem and Lena May Six, was born on 4 October 1929. In the 1930 census of Milton, Jackson township, Van Buren county, Iowa as Herbert R. [sic] Hissem, 6/12. In the 1940 census of Milton, Jackson township, Van Buren county, Iowa as Lozelle Hissem, 10, in the 5th grade.
Herbert L. Hissem graduated from Milton High School in 1947.
Originally known as Herb, "Lozie" (the Depression made the name Herbert [Hoover] unpopular) served in the US Army Air Force following WW II after having been recruited by his older brother, Darrell.
Herbert Lozelle Hissem married Laura Joan Vincent on 9 November 1950 in Guadalupe, Texas - from "Texas County Marriage Records, 1837-1965". Guadalupe county is just east of San Antonio. Randolph Air Force Base is located there, while Lackland Air Force Base is to the west, on the other side of San Antonio.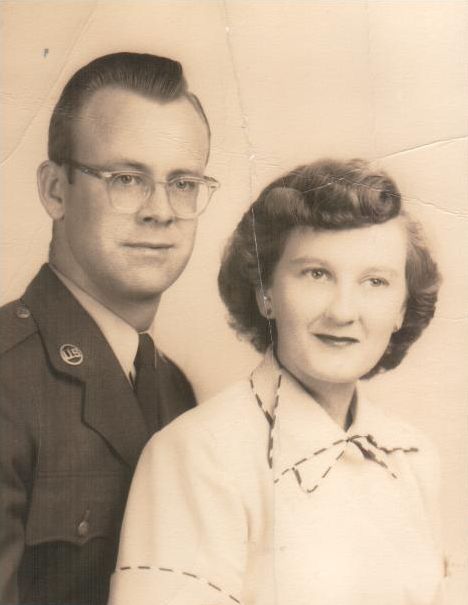 I believe Laura was the daughter of Earl Louis [or Lewis Earl] Vincent, who was born on 6 Febraury 1892 in Plainville, Illinois, and Laura [Schneider?]. They lived in Fort Madison, Lee county, Iowa [where Lozelle was later buried]. Laura Jo was born circa 1933 per the 1940 census. Her siblings were Earl, Harold and Billie. Laura appears to be in the 1948 Fort Madison High School yearbook.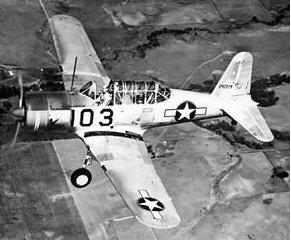 Like his older brother, Darrell, Lozelle loved flying and was a licensed pilot. At one time he owned a war surplus Consolidated Vultee trainer, like the one at left. Below is a photo of Lozelle, Laura and Keating.