In South Africa
Heesom's of East Yorkshire Who Emigrated to South Africa.

(26) Hubert Denys Alastair Heesom (1911)
(21) Thomas Heesom (1743) (22) Thomas Heesom (1773) (23) John Heesom (1808) (24) James Ernest Heesom (c1839) (25) Edwin Ernest Darley Heesom (1874)

Hubert Denys Alastair Heesom of Redhill, England. He was born on 21 [31] October 1911 in Redhill, Surrey, England, the fifth of five sons of Edwin Ernest Darley Heesom and Maude Agnes Miller. He entered Marlborough school in about 1925; his brother Alan had attended the same school, as did his nephew, Thomas. Hubert graduated from Cambridge with a BA degree.
"Camb.; BA Heesom, Hubert Denys Alastair, ( B 3), b. of EED Heesom, . . ." - from "Marlborough College Register."
In 1929 Denys joined the Port Line, a shipping firm and subsidiary of the great Cunard Line. As H.D.A. Heesom, of Commonwealth & Dominion Line Ltd., of London. This was another [earlier?] name for the Port Line.
- on 15 August 1930 Hubert Heesom, of Low Croft, Redhill, Surrey, an 18 year old student, arrived in Southampton, England, from Montreal, Canada, onboard the MONTCALM, of the Canadian Pacific Line.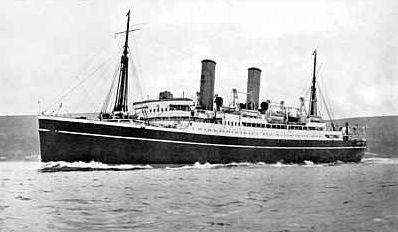 - On 26 January 1932 Hubert D.A. Heesom, of Redhill, a 20 year old shipping clerk, arrived in New York City onboard the SAMARIA, a Cunard ship.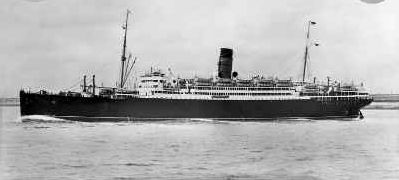 He moved to Coates Brothers & Co. Ltd., of London, in 1933. They are a manufacturing firm specializing in inks, resins and other coating materials. Hubert married Joy Dorothy Coates in September 1936, in Surrey. She was a daughter of George Coates, one of the owners of the firm.
Then, in 1936, Hubert emigrated to Durban, Natal, South Africa and took over the management of the South African branch of Coates Brothers. He served as Managing Director from 1936 to 1966.
". . . Denys Heesom has been in office as managing director since 1936 except for a three-year spell in Australia." - from "Cape Town" by John R. Shorten, 1963
On 22 May 1945 Hubert arrived in Liverpool from Capt Town onboard the ANDES, of the Royal Mail Line.
"Heesom, Hubert Denys, 33, c/o Coats Bros & Co. Ltd., Easton Street, London WC1, Director of S. Africa Companys"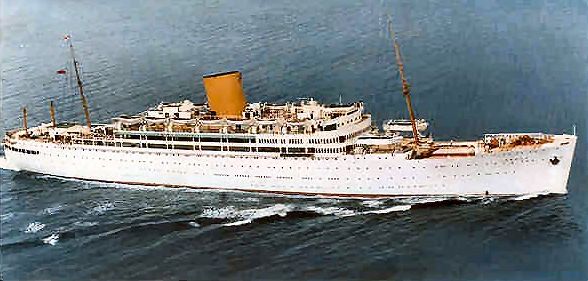 Hubert was made Chairman of Coates Brothers South Africa in 1966, serving until 1976.
"Heesom, Denys; Coy. Dir.;
Ed[itor]. Protea Cricket Annual of S.A. [a book]; SA Corr. "Wisden's Cricketers' Almanack" and "The Cricketer International"; Stat, to SA Cricket Union;
Mayor Betty's Bay;
1929-33 Port Line Ltd., Lon.,
1933-36 Coates Brothers & Co. Ltd., Lon.,
Coates Brothers (S.A.) Ltd., S. Africa; Mng. Dir. 1936-66, Chair 1966-76,
Past Chair SA Printing Ink Assoc.; Past Chair Cel. Botanical Society of S.A.; Hon. Life Mem. 1977.
Came to SA 1936; b. 21st Oct. 1911, Redhill, England;
Educ.: Marlborough Coll.;
sof [son of] Edwin Ernest Darley Heesom;
m. 2nd Aug. 1957 (2nd) Rona Maureen, dof Capt. G.E.M. O'Donnell. DSO, RN (Retd.). 3 s.
Clubs: Dbn.. WP Cricket. WP Sports. MCC, Cricket Writers'. Rec: Cricket Statistics, wild flowers, hacking alien vegetation.
Add.: 107 Cumberland, Three Anchor Bay, CP." - from "Who's Who in South Africa" of 1980
Second Denys married Rona Maureen O'Donnell, the daughter of Captain G.E.M. O'Donnell, DSO, RN (retired), on 2 August 1957.
Hubert died on 26 December 1976 in Seapoint, Cape Town, South Africa. His obituary,
"HEESOM, DENYS, who died suddenly but peacefully at Betty's Bay on September 23, was South Africa's principal cricket statistician and historian; and editor of The South African Cricket Annual. He was South African correspondent for Wisden. Born in Reigate, Surrey - he used to talk of seeing William Caffyn [a famous crickateer] there as an old man - he was educated at Marlborough and developed an intense interest in cricket and its folklore. Despite a successful business career he was able to devote a considerable amount of time to his hobby, which became a full-time occupation when he retired from business. His other interests were horticulture and music, and he had a wide knowledge of both."
Chairman, Flora Conservation Committee of The Botanical Society. A Denys Heesom medal was created by the Botanical Society in his honor. He had an extensive cricket memorabilia collection. This may be the D. Heesom who co-authored the James Heesom memoirs.

Possible descendents of Denys Heesom,
David Heesom, South African Financial Service Board

He had three sons, all the children of his first wife,
(27) Christopher Guy Heesom (1938)
(27) Jeremy Heesom (c1940)
(27) Edward Nicholas Heesom (c1942)


(27) Christopher Guy Heesom (1938)
(21) Thomas Heesom (1743) (22) Thomas Heesom (1773) (23) John Heesom (1808) (24) James Ernest Heesom (c1839) (25) Edwin Ernest Darley Heesom (1874) (26) Hubert Denys Alastair Heesom (1911)

Known as Guy. The son of Denys Heesom and Joy Coates, he was born in April 1938 in Durban, Natal, South Africa. He attended the Bishops Diocesan College, in Cape Town, below, boarding in White House, away from home in Durban.

Guy's son, Colin, writes,
"He [Guy] settled in Johannesburg, marrying in 1966.

He told me that he attended the London School of Economics in the early 60s for some sort of diploma. I'll check for more details. He attended Rhodes University, in Grahams Town in the then Cape Province, and obtained his LLB to become an advocate: this was before or at the time of marrying, for he worked in Johannesburg as a lawyer, but only briefly.

In 1971-2 he and Susanna, my mother, attended an evangelistic series near our home in Montgomery Park, northern Johannesburg, after which they mutually joined the Seventh-day Adventist Christian church at the Johannesburg North SDA Church congregation (at corner of Mendelssohn Rd & Anton van Wouw St), in Franklyn Roosevelt Park. We had been practising Anglicans till then. Rupert and I are still members of the SDA church.

In about 1974 we moved to Cape Town to be near my grandmother, Joy D Bennett (remarried), and to attend Helderberg College, the SDA South African seminary, to study theology - a new-found interest for him. He graduated in 1978.

Btw, the reference you have to Andrews Uni in MI is due to Helderberg College being affiliated academically to Andrews, which has a higher status in academia,....as far as I understand. Basically, it was a degree authorised essentially by the Andrews University, but granted by Helderberg.

He was offered a promising career in South African Adventism, in church leadership, but - so he told me - he didn't agree with important, optional training requirements for pastors not being made compulsory....Maybe I'd have taken the job, but he turned it down, preferring portfolio management, but having to be his own boss.

Till his dying day success eluded him, sadly. His theological acuity remained strong, though. He didn't quite emulate his father.

On Nov 21st 1979 Susanna, Cynthia [Colin's wife] and Colin were involved in a car crash in Kuilsriver, in Cape Town. Susanna died instantly, Cynthia suffered brain damage before not recovering from a coma, and Colin was relatively unscathed with a hairline fracture to his shin bone. Susanna and Cynthia lie buried at the Helderberg Church cemetry, in Somerset West.

In 1981 [Colin?] remarried Christabel Petty, also of British descent, who has four children from her first marriage. She has settled, as of now, in North Carolina, USA, very near her oldest son.
A 1979 graduate of Andrews University, an Adventist school in Battle Creek, Michigan - see above for an explanation of this.

He married Susanna Helena Maria Olivier.

He apparently brought his family to England in January 1988, at the age of 49. He died in September 1993 in Ardingly, near Haywards Heath, West Sussex, England.

His sons went to Bishops in Gray House. They were,
(28) Rupert Heesom
(28) Colin Heesom, who provided many of the updates in this section.

An Interesting Stray

"Heesom, Christopher and E. . . 2121" - from "Index of Heirs-at-Law, Next of Kin, Legatees, Missing Friends, Encumbrancers, and Creditors or their Representatives in Chancery Suits, Who have been Advertized for During the Last 150 Years" of 1872 by Robert Chambers and Edward Preston.


(27) Jeremy Heesom (c1940)
(21) Thomas Heesom (1743) (22) Thomas Heesom (1773) (23) John Heesom (1808) (24) James Ernest Heesom (c1839) (25) Edwin Ernest Darley Heesom (1874) (26) Hubert Denys Alastair Heesom (1911)

He attended the Diocesan College (Bishops), in Cape Town, boarding in White House, away from home in Durban.
Jeremy is the middle sibling, and all I know is that he farmed on the farm Sundrift, in Franschhoek [French Corner] near Stellenbosch [West Cape Province, near Cape Town], until his step-father, Maxwell Bennett, who ran the farm Zorgvliet, in Stellenbosch, died of a stroke in 1987. Jeremy stepped in to help after the first manager died in a farm accident.

Jeremy has now retired from Zorgvliet but still resides in Stellenbosch....he is on here, FB.

His first marriage, to Maureen, ended in divorce in about 1985. His married Norma van Wyk in about 1993. His three children are Marchelle, Lynda & Andrew, in descending order of age.
Jeremy's son, Andrew, attended Bishops in White House too. Jeremy's grandson, Jamian Heesom-Baron, the son of Marchelle, is also now at Bishops, in Gray House.

See the Jeremy Heesom family website at Hello from Stellenbosch. His son is,
(28) Andrew Heesom (1972), Bishops Diocesan College, Rhodes University, class of 1994; Lives in Cape Town, Western Cape; From Franschhoek, Western Cape; Born on December 27, 1972; DUR Pharmacist at Metropolitan Health Group; Sharpline Graphix Cape Town Area, South Africa [?]. His wife is Sheena. They have at least two girls, one of which is Luca Storm Heesom, born on 5 March 2012.
(28) Lynda Heesom, married Cam Broadrick (?). Dauther Trinity Joy Broadrick, born 27 February 2012.

John Richard Heesom

Son of Jeremy?

(27) Edward Nicholas Heesom (c1942)
(21) Thomas Heesom (1743) (22) Thomas Heesom (1773) (23) John Heesom (1808) (24) James Ernest Heesom (c1839) (25) Edwin Ernest Darley Heesom (1874) (26) Hubert Denys Alastair Heesom (1911)

He attended the Diocesan College (Bishops), in Cape Town, boarding in White House, away from home in Durban.
Nicholas (Nick) moved to England to - according to Nicholette - finish schooling at Oundle, having been at Bishops. He is married to Wendy (Wendy Mary Dobie Heesom), and has four children: Rufus, Venetia, Cloe, and Dudley. He has semi-retired to Hermanus, near Cape Town, SA, since about 10 years ago now.
Edward Nicholas Heesom, CEO of Electra Chemicals Ltd. of Tonbridge, Kent. A recent news article about Electra:
"Monday, 24 February, 2014 World trade is not always grand to observe but its influence can be enormous. Electra Polymers is just that. Down a small path deep in the Tonbridge countryside there is a building that hosts an international business based right here in Tonbridge. Inside is a hub of innovation and creativity coming up with new products for clients around the world. For three decades Electra Polymers has been a leader in the development and manufacturing of advanced specialty chemical and polymer products for the global printed circuit board (PCB) industry. I went to visit the Electra Polymers to hear about their business and learn what they are looking for from their next MP. I'm taking nothing for granted but I hope that will be me. Chairman Nicholas Heesom, John Heesom and Chris Wall showed me around. The advanced speciality polymers that are developed and manufactured on site are formulated to meet European and North American PCB market demand. Electra Polymers customers and/or their OEMs are many of the world's most respected PCB and electronics manufacturers, including Lear Automotive, Jaguar Land Rover, Mercedes-Benz, BMW, Ford, Airbus, Boeing, Ericsson, Motorola, 3 Com, Rolls Royce, Siemens. More recently Electra Polymers has developed and launched advanced 4th generation photo-definable product lines to meet demand from "mission critical" European, Israeli and US companies specializing in advanced materials and composites. It is this kind of innovation that has turned a Tonbridge firm into a global leader. This isn't just good for Britain, it's good for the area. The company's employees live locally and both benefit from and contribute to the excellent schools and facilities in the county. I was very impressed by the way Electra Polymers takes on receptive apprentices. That's good for everyone and leads to growth. But better still it keeps people living amongst their family and friends. Keeping industry in the heart of our communities is vital to ensuring we keep out towns and villages alive. Electra Polymers shows that this doesn't need to be visible to be international. It's an example of what can be achieved right here in Tonbridge. If elected, I will look forward to promoting businesses which make the most of our unique position to generate jobs and income locally."
His children,
(28) Rufus John Richard Heesom, of Electra Holdings Ltd., Electra Polymers & Chemicals Ltd. Other officers of the company included Edward Nicholas Heesom, John Richard Heesom and Wendy Mary Dobie Heesom. Of Tonbridge, Kent.
(28) Venetia Liberty Margaux Heesom (1977), Sales and Marketing for the Pitt Media Group
(28) Chloe Heesom, she went to Oundle School
(28) Robert Dudley Charles Heesom (1979), born in September 1979, in South Africa. Director of Pyxix Interchem Ltd. Director of Lintfield Capital Limited of Tonbridge, Kent. Residence: Roughway Mill Dunks Green, Tonbridge, Kent, United Kingdom.
He was born in September 1979 in Westminster, Greater London. I have a Dudley Heesom who is an executive with Electra Commodities Incorporated.
Mr Heesom is responsible for the development of Electra Commodities Inc activities in Sub-Saharan Africa.

Mr Heesom is President of the board of Electra Commodities Inc.

Mr Heesom is actively involved in the development of copper & cobalt mines in the Democratic Republic of Congo, the development of coal mining concessions in Mozambique and the development of chromium concessions in Zimbabwe.

Mr Heesom holds a Bachelor of Arts honours degree and Master of Arts degree in Economics & Chinese from Edinburgh University. Mr Heesom is fluent in English, Mandarin Chinese & French.
He speaks French and Mandarin Chinese, in addition to English.
A Stray

David Heysham

There was a South African fighter-bomber pilot of World War II, Group Captain David Heysham, Wg Cdr Operations at HQ DAF, developed a mobile method for aircraft vectoring and control, called "Rover David," a method of forward aircraft control for the close-air support of ground troops.
"These had been the brainchild of another young fighter commander, a South African, Group Captain David Heysham. The systems were simple. ..." - from "Italy's Sorrow: A Year of War, 1944-1945" by James Holland
Another reference called David a "fighter-bomber pilot who was now Group Captain Operations at DAF HQ." He created the mobile observation post in a lorry, or jeep and trailer, situated with the forward troops at brigade HQ and in direct VHF communtications with aircraft.
The Hesom's of South Africa (23) George Hesom (1811)
(22) James Hesom (c1781)

George, the son of James and Mary Hesom, was baptized on 22 December 1811 in Willoughby. In the 1841 census as a builder. He married Elizabeth Wade on 28 September 1841 at St. Andrew, Rugby, Warwick. Elizabeth was born in 1817. George died in June 1849 in Barnet, Middlesex. Elizabeth married Owen Owens, and then died in 1852.

Their two sons emigrated together to "Natal with the Byrne Settlers (in the NILE under Lidgett's scheme) with their Stepfather," Owen Owens, and their aunt, Alice Wade.
"It appears that Owen Owens's stepsons Robert Hesom and George Hesom* were both associated with . . . " - from "British Settlers in Natal, 1824-1857"
(24) Elizabeth Anne and Mary Hesom (1842)
(24) George Thomas Hesom (1843)
(24) Robert Hesom (1845)


The NILE

The NILE arrived at Port Natal, Durban, South Africa in September 1850. Passengers:
Hesom G.T.
Hesom Robt.
Owen Owens
Mrs. Alice Wade [and 5 other Wade's]
(24) George Thomas Hesom (1843)
(22) James Hesom (c1781)
(23) George Hesom (1811)
He was born on 28 September 1843 in Rugby, England, the son of George Hesom and Elizabeth Wade.
"I have found him and Robert on the Nile steamship leaving London and arrving Port Natal Sept 1850. Also on this boat. Mrs Alice Wade, J B Wade, Jos Wade, M Wade, W Wade, Wm Wade. On 26th apr 1850 John Wade, carpenter, wife Charlotte sons John B, Henry B left London on the Minerva arriving at Port Natal 3rd Jul. Prior to this John Wade farm servant wife Elizabeth, dr Eliza Mary left London 18th Apr1849 arr P Nat 18th Jul. James Arbuthnot,w Jane, Children William T, McDuff,Eva, Hubert, arrived in Natal 19th Sept 1850."
"Here is one of the articles I found amongst my Dad's papers. It is a newspaper clipping with nothing to indicate which newspaper, nor the date of publication, but presumably it would have been the local Pietermaritzburg paper. "City Streets ... No 10. An Interesting Life.

Both his parents being deceased, George Thomas Hesom came to Natal with the Byrne settlers (in the Nile under Lidgett's scheme) with his stepfather, Mr Owen and his aunt Mrs Wade.

In the middle 1850s, at the age of 13 years, Hesom traded in Zululand and Swaziland with his stepfather and Mr Vicar Brayhurst. These three Europeans penetrated north of the Lebombo mountains and to many Africans there. Hesom was the first white child they had seen.

As a lad Hesom knew the Zulu chief Chamu very well and had the almost unique experience of being held hostage by Mswazi, leader of the Swazis, on account of some alleged horse trading swindle by another white man.

Hesom was released but forbidden thereafter to enter Swaziland. Among the boers of the Transvaal, Hesom and Brayhurst bartered draperies and groceries for farming stock and wool. When he reached his majority, Hesom traded on his own account but heavy losses during years of depression made him give this up in favour of stock farming in the Biggarsberg vicinity. In 1882 he came to Pietermaritzburg where he joined his brother, Robert, as a butcher. When the latter died he took over the establishment and bought several others of like kind.

George Hesom retired from business and sat on the Pietermaritzburg City Council from 1908 to 1910. When he died in 1920 a 75 year link with Natal's history was broken."

Isn't it fascinating and quite amazing to know what courage, tenacity and spirit young George Hesom had! I have another article about somebody Kennard who was the father-in-law of V Wade, will post that next time. Until then, cheers everyone. Rosie"
He married Susannah Walker. At the age of 13 he was trading in Zululand with his stepfather. In 1902 he was a Councillor [for the city?]. He owned considerable property and there is a Hesom street named for him. He died in 1920 in Pietermaritzburg, South Africa.

His children were,
(25) Anne Hesom
(25) Edward William Hesom (c1870)
(25) Robert Hesom (1873)
(25) George Plummer Cyril Hesom (1898)

(25) Edward William Hesom (c1870)
(22) James Hesom (c1781) (23) George Hesom (1811) (24) George Thomas Hesom (1843)

He married Lydia Mary Ensor. Their children were,
(26) Anne Hesom
(26) George Hesom
(26) Gladys Hesom
(26) Grace Hesom
(26) Iris Lydia Hesom
(26) Leslie Hesom
(26) Vic Hesom, his children were Angela and Marian

(25) Robert Hesom (1873)
(22) James Hesom (c1781) (23) George Hesom (1811) (24) George Thomas Hesom (1843)

He was born on 13 October 1873 in Dundee, Natal, the son of George Thomas Hesom. Educatd at Maritzburg College. Robert fought as a corporal in the Boer War, serving from 29 September 1899 to 31 May 1902 - from the Anglo-Boer War website. Awarded King's, Queen's, and Diamond Jubilee medals. I have a "Hesom Robert, 888 regiment, G&I, 2nd battalion" in a roll of the Imperial Light Horse. G&I referred to his rank, though I haven't figured out what that means yet. Most of the other men were listed as Tpr [trooper], Sergt, or Lieut.

Imperial Light Horse

"The unit was raised in Johannesburg for service in the Second Anglo-Boer War on 21 September 1899 by Colonel Aubrey Woolls-Sampson. The first muster of the Regiment took place in Pietermaritzburg.

The first commander of the Regiment (consisting of 444 officers and men, chosen from 5,000 volunteers) was Colonel John James Scott-Chisholme, who led the unit at its first engagement, the Battle of Elandslaagte on 21 October 1899.

The Regiment subsequently saw service at the Siege of Ladysmith (where another Victoria Cross was awarded - to Trooper Herman Albrecht at Wagon Hill), Colenso, the Battle of Spion Kop and the Relief of Ladysmith. At Spioenkop, the ILH was successful in capturing Commandant Hendrik Frederik Prinsloo, the commander of the Carolina Boer Commando. The ILH was then specially selected to join the Mafeking Relief Column under Colonel Mahon. Eight men under Major Karri Davies of the ILH were the first to enter Mafeking on the night of 16/17 May 1900 to break the siege, followed up by the joint relief columns the following morning. 209 men who had been involved in Relief of Ladysmith and 33 who had been besieged there were in Mahoon's Column as were 420 men who had been in the Defence of Kimberley.

In late 1900 a second battalion - the 2nd Imperial Light Horse (2 ILH) - was formed, under Major Duncan McKenzie. Both Regiments then went on to fight in the South African Republic and the Orange Free State Republic until the end of the war." - from Wikipedia

He returned to England where he met and married Ida Constance Bowen, of Bilston, Staffordshire, England, on 22 July 1905.
"George Thomas had a son Robert and on the 18th July 1905 he married my great aunt Ida Constance Bowen In St Leonards church Bilston England. You can view that church at www. genuki bilston. For enquiries in South Africa look a Rutti Tuttis post above Bilston to South Africa and go to National Archives gov.za. On that sight there is loads of info on the hesom family. They really were pioneers. I havent so far been able to find a brother for George Thomas. Hesom is an unusual name in the uk and they all appear to come from Warwickshre. On the marriage record G.T is listed as a gentleman."
"Robert was born in South Africa and he and Ida met when he was invited to ride behind Queen Victoria's carriage on the occasion of her Silver Jubilee. I understand that they returned to South Africa in 1907 when my father, Bernard (their firstborn) was six months old. They had two other surviving children out of five born to them, Leonie and Jack. They lived a rather nomadic life stretching from Harrismith to Natal to the Kimberley diamond fields to Knysna and onward to Northern Rhodesia. Robert died in 1948 in Luanshya, Northern Rhodesia and Ida in about 1968 in Cape Town." - posted by Rosi
Assistant Manager of George North & Sons, Maritzburg.

Their children were,
(26) Bernard Hesom (c1905)
(26) Leonie Hesom

(26) Bernard Hesom (c1905)
(22) James Hesom (c1781) (23) George Hesom (1811) (24) George Thomas Hesom (1843) (25) Robert Hesom (1873)

His son was John.

(25) George Plummer Cyril Hesom (1898)
(22) James Hesom (c1781) (23) George Hesom (1811) (24) George Thomas Hesom (1843)

Or a grandson of George Thomas? "My grandfather was George Plummer Cyril Hesom, his father was George Thomas Hesom, and his father was George Thomas Hesom. I think that is what my mom said - which one is then Robert's brother? It sounds as though it was my grandfathers fathers brother. My grandfather was born 1898 in SA his father must then have been born at least 25 years before, he being the oldest. That would put it at 1873. So The GT senior was born in 1843. Yes the name is unusual. The name has died out on our branch there are no more men. All the offspring were girls. I have often wondered if they came down from Vikings, I live up Denmark and there is a place called Husum here. My grandad was very tall and blond a real Kirk Douglas/Spencer Tracey look alike, only better looking!!!!! There are also German Hesom's, I found one in Northern Germany."

(24) Robert Hesom (1845)
(22) James Hesom (c1781) (23) George Hesom (1811)

Robert, the son of George Hesom and Elizabeth Wade, was born on 7 December 1845 in Willoughby, Warwick, England. He married Mary Ann Newbolt [Newbold].

A "Pmb. [Pietermaritzburg] butcher," included in "British Settlers in Natal 1824-1857: A Biographical Register." Pietermaritzburg is the capital and second largest city of the province of KwaZulu-Natal in South Africa. It was founded in 1838. Popularly called Maritzburg, and abbreviated PMB. The city was originally founded by the Voortrekkers and was the capital of the short-lived Boer republic, Natalia. Britain took over Pietermaritzburg in 1843 and it became the seat of the Natal Colony's administration.

Robert and Ann had six children,
(25) George Hesom
(25) Walter Hesom
(25) Newbold Hesom
(25) Lilian Hesom
(25) Owen Hesom (1879), he served from 29 September 1899 to 31 May 1902 as a Trooper in the Natal Carbineers, a mounted infantry regiment, during the Boer War.
"In September 1899, the Natal Carbineers was mobilized for active service in the British campaign to subdue the Boer republics of the Transvaal and Orange Free State. The Regiment served until October 1900, when the Natal Volunteer Forces were demobilized. Some men continued their service in the Volunteer Composite Regiment until the end of the war in May 1902.

Ladysmith, KwaZulu-Natal: From 2 November 1899 until 28 February 1900 the bulk of the Natal Carbineers was besieged in Ladysmith, and played a prominent part in that famous siege. The most prominent military action was the attack by Colonial Forces on the Boer artillery emplacement at Gun Hill on the night of 7–8 December 1899. The Regiment lost heavily from the diseases that ravaged the garrison. A solitary squadron of the Natal Carbineers, the Estcourt-Weenen Squadron, avoided the siege of Ladysmith, and instead participated in the relief operations of Sir Redvers Buller. This squadron's most notable military action of this period was the disastrous battle of Colenso on 15 December 1899, when four men were killed. These were the most serious losses for any one action during the Anglo-Boer War." - from Wikipedia
He died on 1 September 1958 in Pietermaritzburg.
(25) Georgina Hesom

Maritzburg College

The following Hesom's graduated from Maritzburg College:
Hesom Edward W 1887
Hesom George 1887
Hesom Newbold 1887
Hesom Robert 1887
Hesom Walter R 1887
Hesom William W 1894
Hesom DRW 1916
Hesom GG 1912
Hesom GPC 1912
Hesom NH 1920
Hesom RM 1918

Georgina Elizabeth Hesom (1880)

Georgina Elizabeth, the daughter of Robert Hesom and Newbolt, was born on 29 August 1880 in Pietermaritzburg, Natal, South Africa. She died on 15 November 1958.

John Hesom

A modern day Hesom. Regional Investment Manager for BoE Corporate Property Investment partners


Haysom's in South Africa

Nicholas Haysom

"United Nations Secretary-General Ban Ki-moon has decided to appoint Nicholas Haysom of South Africa as Director for Political Affairs."